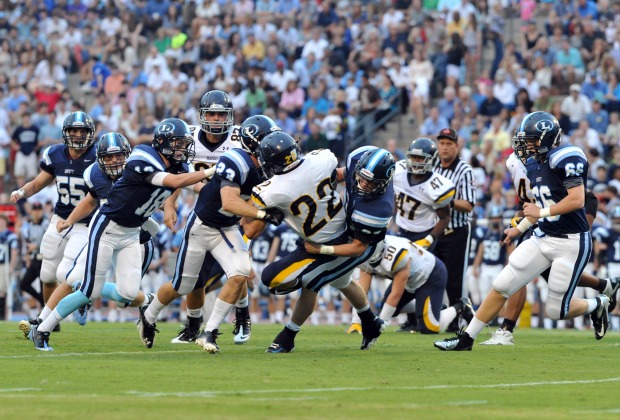 Photo by Perry McIntyre
We are less than six weeks from Georgia's newly classified regions opening up the 2014-15 school year and there are shifts and changes that set up must-see matchups this upcoming school year.
Reclassification drives competition. Prior to the 2012-13 school year, the GHSA expanded to a sixth classification for the first time in its history while also splitting Class A into separate private and public postseasons. This growth and change introduced a new era within the Georgia high school football landscape.
In the first two years under the newly-formed system we saw seven of 14 football state champions win titles for the first time in their school's history. The GHSA had crowned 294 football state champions in its 64 season before the 2012 reclassification and yet half of the champions in the last two seasons had never won the state crown before (Norcross, Gainesville, Jefferson, ELCA, Aquinas, Creekside, Marion County).
Changes create fresh starts for programs and the massive restructuring in 2012 provided every team in the state with a formula to pin to the bulletin board and use as motivation entering the new season. An individual team may be driven by a heartbreaking loss that ended the previous season but reclassification has the power to motivate on a state-wide scale.
POWERS COLLIDE…
Throughout Georgia high school football history, certain teams have overmatched their region opponents. With reclassification, you can bet that eventually these powerhouses will cross paths with equal competition. This was certainly the case with Camden County, which joined arguably the state's most competitive region last year.
Before 2012, Camden County was unchallenged in its region play. The Wildcats owned a streak of 94 consecutive region wins before entering the newly-formed Region 1-AAAAAA.
In the final region game of 2012, Colquitt County topped Camden 13-12 and served the Wildcats their first region loss since the 1999 season. It took just one year in the realignment to end a streak that had lasted nearly 13 years.
Tucker is accustomed to playing in a highly-competitive region and they face a new challenge as the school returns to Georgia's highest classification after spending the last two years in Class AAAAA.
The Tigers' jump ignites their rivalry with Lovejoy and they'll open the season on opening week's biggest stage in the 2014 Corky Kell Classic against defending Class AAAAAA state champion Norcross. The biggest game of Tucker's season might come later with a visit to Lovejoy on Halloween. Tucker beat Lovejoy 22-7 in the 2011 Class AAAA state championship game. Both schools lost in the state championship during their two years in different classifications.
NOTEWORTHY MOVES…
There are plenty of storylines to watch for with the 2014-16 changes. Region 1-AAAAAA lost Coffee and Brunswick to Class AAAAA and will add Lee County. Camden County will remain in Region 1 for football only.
Region 3 saw movement as Tri-Cities dropped a classification and Campbell, Pebblebrook moved in.
Region 4 traded Campbell and Pebblebrook for North Paulding and Region 5 added Pope while Region 6 added Habersham Central and Northview.
In Class AAAAA, Region 1 got a make-over with LaGrange, Carver-Columbus and Shaw. Current AAAAAA Coffee and Brunswick are now classed into Region 3 in a sub-region with Camden County, Glynn Academy and Ware County. Region 6 will divide a total of 12 teams into sub-regions with M.L. King, Miller Grove, Stephenson and Southwest DeKalb all housed in subregion A.
Region 5-AAAA welcomes Woodward Academy, which is moving up from Class AAA. Carrollton, Fayette County, Sandy Creek, Troup, Whitewater and Woodward Academy comprise a solid Region 5.
St. Pius X has a new Class AAAA home and will be in Region 6 with long-time rival Marist and the pair are joined by Arabia Mountain, Chamblee, Columbia, Cross Keys, Grady, Lithonia, Redan and Stone Mountain.
Region 7 welcomes newcomer (from Class AAA) Cartersville in a field with Gilmer, Heritage-Catoosa, Lafayette, Northwest Whitfield, Pickens, Ridgeland and Southeast Whitfield.
Buford will be in a nine-team Region 8 with Chestatee, Johnson-Gainesville, Madison County, Monroe Area, North Hall, North Oconee, Stephens County and White County.
Calhoun, Jefferson and Westminster are notable schools moving up to Class AAA in 2014. Reclassification will impact every sport but football will give the first-hand look this fall