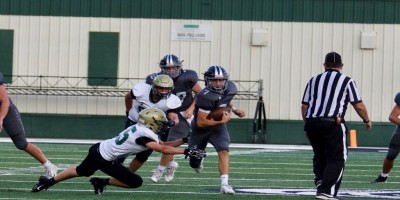 Photo By: Chip Cookston, Fellowship Christian
Junior quarterback Eli Hildebrandt rushed for two touchdowns and passed for another as Class A-Private No. 7 Fellowship Christian moved past Walker 47-0 on Monday.
Hildebrandt, who was 3-of-5 passing for 70 yards and a touchdown, scored on runs of eight and four yards and passed to junior tight end Brady Niblock for a 15-yard touchdown. Junior running back Murphy Reeves scored on a 95-yard kickoff return and a 5-yard run. Sophomore running back Josh Cole added an 8-yard run. Junior Matt Rodgers, who splits his time as a kicker and a running back, kicked three extra points in the first quarter and scored on a 47-yard touchdown run in the fourth quarter. Junior Will Peterson kicked two extra points in the third quarter. The Paladins led 27-0 at the break.
See the rest of the Monday scores below.
Football
Athens Christian 34, Pinecrest Academy 13
Creekview 46, Osborne 21
Denmark 1, Forsyth Central 0
Discovery 14, Meadowcreek 6
Duluth 40, Lakeside-DeKalb 0
Fellowship Christian 47, Walker 0
Islands 42, Calvary Day 21
Jefferson County 39, Butler 6
Johns Creek 42, North Atlanta 13
Long County 55, Bryan County 0
North Gwinnett 51, Norcross 21
St. Francis 49, Lakeview Academy 21
Tucker 17, Forest Park 0
Whitefield Academy 40, Mt. Pisgah Christian 6
Softball 
Arabia Mountain 10, Dunwoody 1
Bleckley County 4, Telfair County 3
Burke County 15, Jenkins County 0
Cairo 12, Thomasville 0
Cambridge 13, Centennial 0
Christian Heritage 6, Mt. Zion, Carroll 4
Coahulla Creek 4, Cedartown 0
Collins Hill 12, Duluth 4
Creekview 3, Harrison 1
Crisp County 3, Perry 1
East Laurens 8, Johnson County 6
Elbert County 18, Washington-Wilkes 0
Franklin County 8, Gainesville 0
Glascock County 11, Washington County 3
Glynn Academy 10, Bradwell Institute 0
Glynn Academy 16, Bradwell Institute 5
Haralson County 8, Central-Carroll 2
Harlem 10, Briarwood Academy 1
Hiram 3, Carrollton 1
Islands 17, Windsor Forest 0
Lovett 8, Pace Academy 1
Mays 28, Osborne 15
McIntosh County Academy 15, Montgomery County 13
Mt. de Sales 3, Strong Rock Christian 1
Mt. Paran Christian 7, North Cobb Christian 2
Mt. Pisgah Christian 15, Whitefield Academy 0
Newnan 12, Woodward Academy 0
North Atlanta 8, Northview 2
Northside-Columbus 9, Harris County 5
Northside-Warner Robins 18, Peach County 4
Pope 19, Chattahoochee 0
Richmond Hill 8, Brunswick 4
Riverwood 8, Campbell 6
Sequoyah 15, Blessed Trinity 3
Southwest DeKalb 10, Lithonia 0
Sprayberry 14, Douglas County 2
Stephens County 6, Hart County 5
Stratford Academy 9, First Presbyterian 0
SW Georgia Academy 11, Seminole County 3
Tift County 14, Worth County 2
Upson-Lee 16, Kendrick 0
Villa Rica 17, Rome 2
Wayne County 5, Camden County 4
West Hall 23, Central Gwinnett 4
Wheeler County 8, Toombs County 3
Volleyball
Callaway 2, LaGrange 1
North Cobb Christian 2, Old Dominion 0