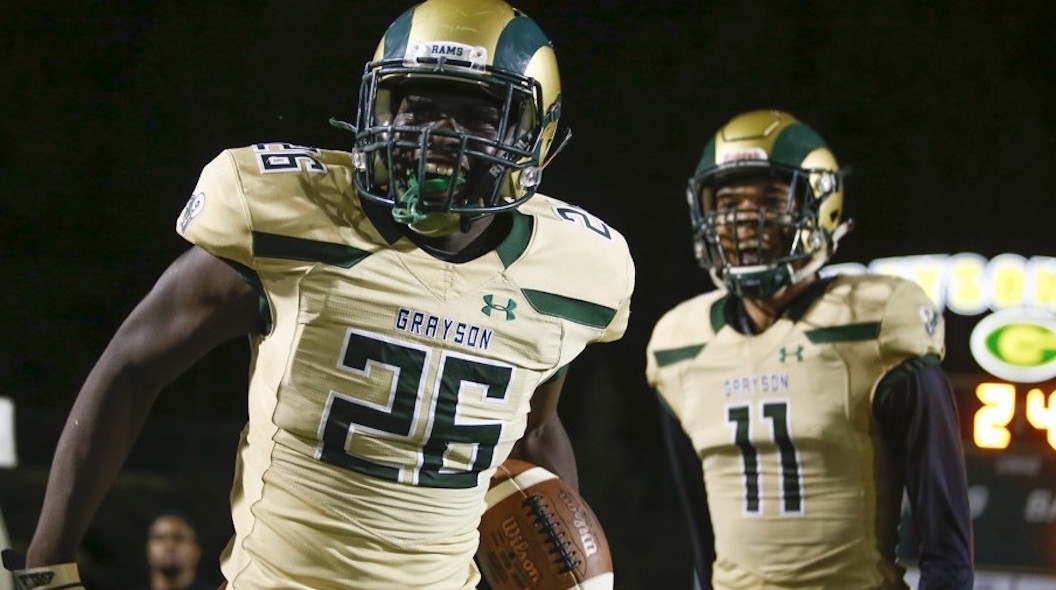 In Class AAAAAAAA, Grayson takes over No. 1 after scoring a 28-14 win over previously top-ranked Marietta. The Blue Devils dropped to No. 4.
Valdosta scored a thrilling 50-49 win over Colquitt County and remains No. 1 in Class AAAAAAA. Bainbridge narrowly keeps its No. 1 ranking in Class AAAAA after a 27-26 victory over Brooks County on Friday. Buford is No. 2 again this week. Kell fell to No. 10 after a 21-20 loss to No. 7 Rome this week.
Burke County replaced Thomson at No. 10 in Class AAAA. In Class AAA, both No. 1-ranked Peach County and No. 2-ranked Cedar Grove lost to higher-classed programs, yet each retains its spot in the poll. Crisp County re-entered the poll at No. 9 after a 27-14 victory over Class AAAAAAA Tift County.
Rockmart leads Class AA again this week ahead of Dublin and Hapeville Charter. Dodge County fell to unranked as Douglass entered the poll at No. 9.
Eagle's Landing Christian is the team to beat in Class A-Private again this week and the Chargers lead a top-5 which did not shift. George Walton fell from No. 9 to unranked as Holy Innocents' entered the poll.
Class AAAAAAA
1. Grayson
2. Lowndes
3. McEachern
4. Marietta
5. Colquitt County
6. Hillgrove
7. North Gwinnett
8. Archer
9. Parkview
10. Milton
Class AAAAAA
1. Valdosta
2. Dacula
3. Cofffee
4. Harrison
5. Allatoona
6. Houston County
7. Lee County
8. Dalton
9. Lanier
10. Northside-Warner Robins
Class AAAAA
1. Bainbridge
2. Buford
3. Warner Robins
4. Carrollton
5. Jones County
6. Dutchtown
7. Rome
8. Stockbridge
9. Wayne County
10. Kell
Class AAAA
1. Cartersville
2. Marist
3. Troup
4. Woodward Academy
5. Blessed Trinity
6. Sandy Creek
7. Cairo
8. Denmark
9. Flowery Branch
10. Burke County
Class AAA
1. Peach County
2. Cedar Grove
3. Calhoun
4. Pierce County
5. Greater Atlanta Christian
6. Hart County
7. Appling County
8. Lovett
9. Crisp County
10. Westminster
Class AA
1. Rockmart
2. Dublin
3. Hapeville Charter
4. Callaway
5. Washington County
6. Rabun County
7. Swainsboro
8. Brooks County
9. Douglass
10. Fitzgerald
Class A-Public
1. Clinch County
2. Irwin County
3. Pelham
4. Marion County
5. Mitchell County
6. Commerce
7. Trion
8. Bowdon
9.Wilcox County
10. Johnson County
Class A-Private
1. Eagle's Landing Christian
2. Athens Academy
3. Darlington
4. Wesleyan
5. Prince Avenue Christian
6. Aquinas
7. Fellowship Christian
8. North Cobb Christian
9. Holy Innocents'
10. Calvary Day