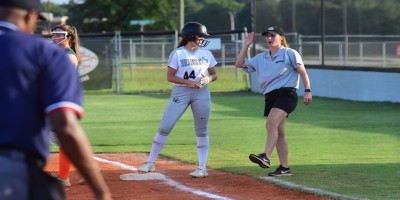 On the softball field, the class AAAAAA top-ranked Houston County Bears had a double header against class AAAAAAA ninth-ranked Lowndes. In game one, Houston County came right out of the gate with four runs in the bottom of the first inning. The Bears played lock down defense with senior Rylee Lamb on the mound. Lamb pitched for five innings, racking up four strikeouts while giving up only two hits for zero runs. As the Vikings offense failed to put points on the board, the Bears continued to put the bat on the ball, scoring two runs in the second inning while adding a single run in the third and fifth to claim the first game 8-0. Senior Madi Campbell and junior Makayla Krepps led the team with two hits each, one of which was a double for Campbell.
In game two, the Bears were held to just two runs in the first after giving up a run to Lowndes. They would soon break away and score six runs in the second and a final run in the fifth, giving up zero runs to the Vikings since their first-inning score. Junior Olivia Brown pitched three innings and collected three strikeouts, while freshman Hannah Cantrell pitched two innings and recorded one strikeout. Senior Carley Rollins and junior Elena Olson led the team with two hits each, with one of Olson's hit going over the fence for a home run to help walk away with the 9-1 win.
See the rest of the Saturday scores Below.
Football
Carver-Atlanta 58, North Springs 0
Jackson 30, Banneker 27
Ridgeland 25, Heritage-Catoosa 20
Softball
Cedartown 21, Troup County 6
Citizen's Christian 7, Thomas Jefferson 5
Haralson County 10, Adairsville 0
Hillgrove 11, Social Circle 4
Hillgrove 5, Walnut Grove 2
Houston County 8, Lowndes 0
Houston County 9, Lowndes 1
Morgan County 10, East Jackson 5
Mt. de Sales 2, Georgia Military 1
Mt. de Sales 9, Lake Oconee Academy 0
Ridgeland 12, Southeast Whitfield 6
Sonoraville 6, Haralson County 0
Stratford Academy 12, Lincoln County 0
Tattnall Square 5, Stratford Academy 1
Thomas Jefferson 12, Citizen's Christian 3
Troup County 6, Cedartown 4
Veterans 2, Thomas County Central 1
Walnut Grove 9, Social Circle 3
Volleyball
Apalachee 2, Athens Christian 0
Apalachee 2, Clarkston 1
Apalachee 2, Loganville 0
Apalachee 2, Monroe Area 0
Brookwood 2, Dacula 0
Buford 2, Brookwood 0
Eastside 2, Athens Christian 0
Gainesville 2, Cherokee Bluff 0
Gainesville 2, East Hall 0
Gainesville 2, North Hall 0
Gainesville 2, West Hall 1
Glynn Academy 2, Hilton Head Christian 0
Glynn Academy 2, Hilton Head, SC. 0
Grady 2, KIPP Atlanta Charter 0
Jackson 2, Central-Macon 0
Jackson 2, Kendrick 0
Jackson 2, Peach County 0
Jackson 2, Rutland 0
KIPP Atlanta Charter 2, Washington 1
Lakeside-DeKalb 2, Carrollton 1
McIntosh 2, Lakeside-DeKalb 0
McIntosh 2, Riverwood 0
Norcross 2, Lanier 1
North Hall 2, Johnson-Gainesville 0
North Hall 2, Lanier Christian 0
North Hall 2, West Hall 0
Peach County 2, Rutland 0
Peach County 2, Westside-Macon 0
Providence Christian 2, Collins Hill 0
Providence Christian 2, Grayson 0
Providence Christian 2, Mountain View 0
Providence School F.L. 2, Camden County 0
Providence School F.L. 2, Pepperell 0
Riverwood 2, Chamblee 1
Riverwood 2, Lakeside-DeKalb 0
South Atlanta 2, KIPP Atlanta Charter 0
Starr's Mill 2, Lakeside-DeKalb 0
Starr's Mill 2, Riverwood 0
Trinity Christian 2, Providence School F.L. 1