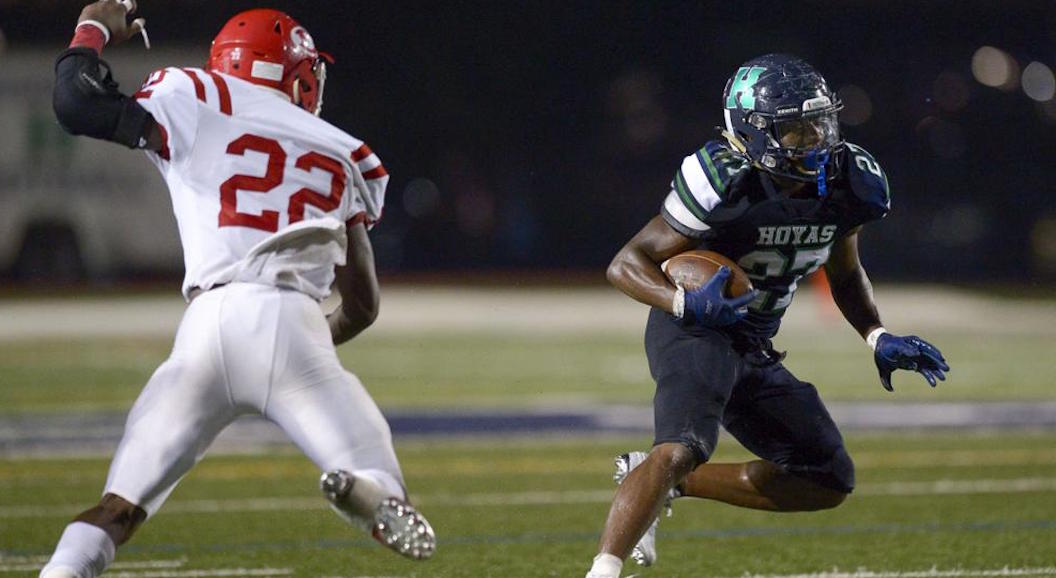 In Class AAAAAAA, Lowndes (6-0) takes over No. 1 after scoring a 24-0 win over rival Valdosta. Also, previous No. 1 Grayson dropped to No. 4 after getting defeated 31-7 by Colquitt County, which climbed to No. 3 after the victory. Milton fell from the top 10 after its 16-7 loss to Parkview dropped the defending champion Eagles to 2-3. Mill Creek, which is 4-1 and has a 10-7 win over Archer on its resume, makes its debut at No. 9 ahead of tenth-ranked Archer.
There is also a new No. 1 in Class AAAAAA, with Dacula taking over the top spot from Valdosta following the Wildcats' loss to Lowndes. Dacula moved to 5-0 after picking up a 35-0 win over Rockdale County on Friday and also have a 24-21 win over Mill Creek on its resume.
Bainbridge is at the top of Class AAAAA again this week after a 14-9 victory over Class AAA No. 9 Crisp County. Buford remains No. 2 in a top 5 that did not shift.
In Class AAAA, a very deep top 10 did not change its order this week. None of the top 10 experienced losses and the top 10 is playing so well that undefeated North Oconee is still sitting on the bubble.
After a non-descript weekend in AAA, Peach County leads in a top 5 that did not change.
Rockmart is the team to beat in Class AA again this week with Dublin, Hapeville Charter, Callaway and Rabun County chasing.
Athens Academy is at the top of Class A-Private again this week. Fellowship Christian, previously No. 6, enters the top 5 at No. 5.
Class AAAAAAA
1. Lowndes
2. McEachern
3. Colquitt County
4. Grayson
5. Marietta
6. North Gwinnett
7. Hillgrove
8. Parkview
9. Mill Creek
10. Archer
Class AAAAAA
1. Dacula
2. Valdosta
3. Harrison
4. Coffee
5. Allatoona
6. Lee County
7. Lanier
8. Dalton
9. Houston County
10. Johns Creek
Class AAAAA
1. Bainbridge
2. Buford
3. Jones County
4. Carrollton
5. Warner Robins
6. Dutchtown
7. Stockbridge
8. Rome
9. Kell
10. Griffin
Class AAAA
1. Cartersville
2. Marist
3. Woodward Academy
4. Blessed Trinity
5. Sandy Creek
6. Cairo
7. Troup
8. Denmark
9. Flowery Branch
10. Burke County
Class AAA
1. Peach County
2. Cedar Grove
3. Pierce County
4. Greater Atlanta Christian
5. Hart County
6. Liberty County
7. Appling County
8. Calhoun
9. Crisp County
10. Lovett
Class AA
1. Rockmart
2. Dublin
3. Hapeville Charter
4. Callaway
5. Rabun County
6. Swainsboro
7. Fitzgerald
8. Washington County
9. Brooks County
10. Douglass
Class A-Public
1. Irwin County
2. Clinch County
3. Pelham
4. Bowdon
5. Mitchell County
6. Commerce
7. Wilcox County
8. Manchester
9. Turner County
10. Lincoln County
Class A-Private
1. Athens Academy
2. Holy Innocents'
3. Darlington
4. Eagle's Landing Christian
5. Fellowship Christian
6. Wesleyan
7. Prince Avenue Christian
8. Aquinas
9. North Cobb Christian
10. Christian Heritage