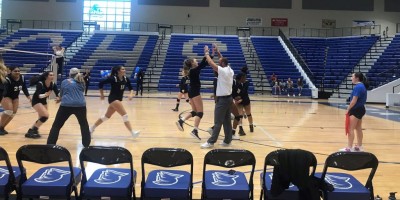 Softball and Volleyball competition continued across the state on Thursday as the seasons near an end.
On the softball field, teams are jockeying for playoff positions in the GHSA State Fast Pitch Softball Playoffs, which begin play on Oct. 8-9. Winners in the playoff brackets will funnel to the 8-team State Fast Pitch Softball Tournament bracket, which begins play for all classes on Oct. 24.
In Class AA competition, No. 2 Berrien beat Brooks County 11-3 in five innings on Thursday led by Layla Tisby, who was 4-for-4 with six RBIs on the night. Berrien scored five runs in the first inning and two runs in the second inning while holding Brooks County scoreless. Berrien scored three runs in the bottom of the fifth inning to end it. Junior Savannah Barfield was 1-for-3 with two RBIs. Kristen Meeler was 1-for-3 with two RBIs. Kimbo Murray was 1-for-3 with one RBI. Kristi Peters pitched five innings, faced 20 batters and struck out two batters.
On the volleyball court, programs are aligning themselves within their respective areas and regions for playoff positioning in the GHSA State Volleyball Championship tournament slated to begin on Oct. 19, for all classes.
Class AAAAAA No. 1 Sequoyah moved to 31-1 on the season and 8-0 in 6-AAAAAA with a 2-0 victory over Creekview. The Chiefs won the first set 25-8 and the second set 25-13. Class AAAAAAA No. 5 Rowell weathered a closely contested match against Class AAAA Denmark 2-0. The Hornets won the first set 25-23 and the second set 25-22. Roswell also took a 2-0 victory over Chattahoochee with set victories of 25-16 and 25-12. Class AAA No. 3 Greater Atlanta Christian beat Class A/AA-Private Providence Christian 3-0 with set victories of 25-23, 25-18 and 25-21.
See the rest of the scores below.
Football
Jenkins 20, Islands 7
Shaw 30, Hardaway 22
Westside-Macon 24, Central-Macon 20
Softball
Arabia Mountain 10, Chamblee 1
Berrien 11, Brooks County 3
Bowdon 5, Mt. Paran Christian 2
Buford 8, Walnut Grove 1
Charlton County 6, Brunswick 2
First Presbyterian 13, Glascock County 1
Franklin County 6, Jefferson 5
Gordon Lee 9, Bowdon 0
Hebron Christian 6, Prince Avenue 3
Jackson 8, Pike County 5
Jefferson 10, Jackson County 2
Jones County 8, Ola 7
Jones County 8, Ola 7
Locust Grove 3, Jones County 0
Madison County 9, Oconee County 4
Norcross 4, Brookwood 3
North Cobb 10, McEachern 1
North Paulding 2, Kennesaw Mountain 1
Northside-Warner Robins 14, Warner Robins 5
Oconee County 8, Stephens County 0
Pace Academy 12, Mt. Pisgah Christian 1
Peachtree Ridge 4, Collins Hill 0
Pope 12, South Forsyth 0
Providence Christian 18, Discovery 2
Roswell 4, Lambert 3
Tattnall County 9, Appling County 0
Tattnall Square 5, Stratford Academy 2
Telfair County 12, Echols County 0
Telfair County 20, Echols County 5
Wesleyan 8, Eagle's Landing Christian 0
Wilcox County 10, Clinch County 1
Woodland-Cartersville 4, Hiram 0
Volleyball
Alpharetta 3, Milton 0
Arabia Mountain 1, Jackson-Atlanta 0
Arabia Mountain 2, Stone Mountain 0
Brookstone 2, Shaw 0
Douglas County 3, South Cobb 1
Eagle's Landing Christian 2, Ola 0
Greater Atlanta Christian 3, Providence Christian 0
Harris County 2, Brookstone 0
Harris County 2, Shaw 0
Holy Innocents' 3, North Cobb Christian 0
Lakeside-DeKalb 3, Meadowcreek 0
Lanier 2, Duluth 0
Mill Creek 2, Lakeview Academy 0
Mill Creek 2, Winder-Barrow 0
Oconee County 2, Eastside 1
Putnam County 2, Washington-Wilkes 0
Roswell 2, Chattahoochee 0
Roswell 2, Denmark 0
Savannah Arts 2, St. Andrews 0
Sequoyah 2, Creekview 0
Sequoyah 2, Etowah 0
St. Vincents 3, Calvary Day 0
Upson-Lee 2, Mary Persons 0
Upson-Lee 2, Perry 1
Walker 2, Dunwoody 0
Walker 2, Peachtree Ridge 0
Woodville-Tompkins 2, Liberty County 0