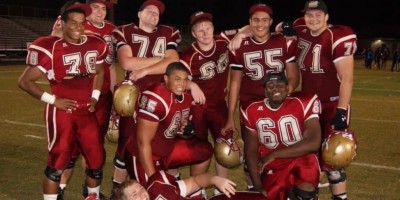 Credit: Courtesy of Joe Kelly
Class of 2014 Brookwood alum Kyle Gregory passed away Sunday afternoon at Houston Medical Center in Warner Robins following a rapid and deadly battle with COVID-19. The former offensive lineman and Georgia Southern graduate checked into the hospital on July 13. He developed pneumonia and communicated with family and friends virtually from his hospital bed. His younger sister Amber and mother Dawn Bristol Facetimed him on Saturday evening and were shocked and devastated the following day when the hospital informed them that Gregory passed away at 2:45 p.m.
"As they went to put him on a ventilator, that's when his oxygen dropped," said Amber. "Then his heart gave out. Doctors worked on him for an hour before they called it off."
News reached a devastated Brookwood community of former coaches and teammates that reflected on the positive attitude and caring, compassionate personality of Gregory.
"He did not play a lot, but he was what you love about great teams," said current Brookwood head football coach Philip Jones. "He sold out to Brookwood football and committed to his teammates and coaches and they loved him. I loved having him around. He had a huge smile and was always joking."
During his brief battle with COVID-19, Gregory reached out to some of his teammates from inside the hospital according to the AJC's coverage of the story.
"We were texting each other and expressing that we loved each other, so that was nice," said former teammate Griffen Perkins.
A 'gofundme' page was set up to cover the funeral costs for Gregory and by Tuesday afternoon had already eclipsed the goal of $17,000 with $18,025 in donations.