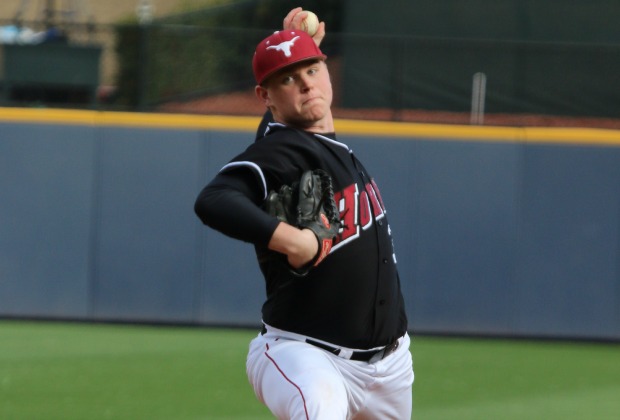 Whitney Reddin
-Lambert lost for the first time all season in its second-round series with Mill Creek. The No. 1 Longhorns won Game 1 12-0, but lost Game 2 6-5. Lambert is now 29-1.
-In a marquee second-round matchup, No. 3 Parkview swept No. 5 Walton in two competitive games. The Panthers will now face Region 1 champ Coffee in the second round, which has not yet lost in the playoffs.
-Class AAAAA No. 1 Whitewater (25-5) split its series with Hardaway and will play the rubber game tonight. Like Lambert, the Wildcats had no trouble in Game 1 (8-1), but lost Game 2 by a run (7-6).
-Class AAAA No. 1 Marist also will play Game 3 tonight after dropping Game 1 to Alexander. The War Eagles shut out the Cougars 9-0 in Game 2 to stave off elimination.
-Region 8-champion Walnut Grove raised a few eyes around the state by sweeping perennial-power Columbus out of the playoffs.
-Class AAA No. 1 Pike County split with Southeast Bulloch and will need to win tonight to avoid an early exit. The Pirates, which rose to No. 1 for the first time all year in the pre-playoffs rankings, dropped Game 1 7-6 before forcing Game 3 with a convincing 10-4 Game 2 victory. The winner of the series will draw Buford, which was the top-ranked team in Class AAA all year until the pre-playoffs poll.
-In Class AA, GAC rolled on with a sweep of Pepperell. The Spartans are the No. 4 seed out of Region 6, but have not yet lost a game in the state tournament. In fact, all four Region 6 qualifiers are still alive and three of them are through to the quarterfinals. Lovett, the defending state champion, lost Game 2 last night to Calhoun and faces a winner-take-all contest tonight.
-ELCA swept into the Class A-Private semifinals, making it the lone No. 1 to advance.