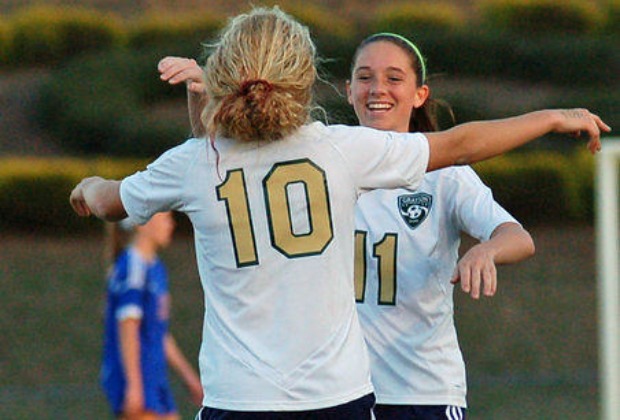 Richard Craine
What happens when Blessed Trinity and St. Pius X play in the same region? It makes for a brutal draw in the state tournament for at least a few teams. In this case it was bad news for Blessed Trinity (the No. 2 seed behind St. Pius X out of Region 6-AAA) and Buford (the top seed from Region 7), who had to face each other in the second round of the state tournament on Wednesday evening despite being ranked second and third in the entire state, respectively.
The Wolves had home-field advantage, but Blessed Trinity got a goal from Angela Bringmann in the third minute of the game and never looked back en route to a 3-1 victory. Although Buford equalized at 1-1 later in the first half when Elexa Bahr found the back of the net, the Titans pulled away with second-half scores by Caroline Cox in the 57th minute and Caroline Crain in the 73rd minute.
"We really battled and really fought," Buford head coach Crystal Fowler told the Gainesville Times. "The girls gave everything that they had; everybody on the team across the board…from the girls on the bench to the ones on the field, everyone was just putting their whole heart into it. I'm very proud of them."
Next up for Blessed Trinity in Saturday's quarterfinals is a visit to Pike County, which edged Islands 3-2. The Titans remain on a collision course for the title match with St. Pius X, which battled past Dawson County 1-0.
In Class AA, several of Blessed Trinity's former region rivals also took care of business on Wednesday. All four Region 6 squads punched their quarterfinal tickets; Greater Atlanta Christian rolled over Armuchee 10-0, Lovett handled Calhoun 5-1, Westminster blanked Jordan 10-0 and Wesleyan trounced Bremen 8-0.
Class AAAAAA action saw all three remaining Region 8 teams progress into the quarterfinals. Grayson got the best of Lassiter 4-2, while both Brookwood (over Walton) and Parkview (over Peachtree Ridge) notched 2-1 victories on the road. Second-ranked Grayson, however, had a much tougher test than the final score indicates. In fact, the Rams trailed 2-1 when Lassiter scored with 6:14 remaining in the contest but they forced overtime on a goal by Ella Stevens with 2:50 left. Stevens and Jennifer Westendorf both scored in the second overtime period to finish the comeback win with a flurry.