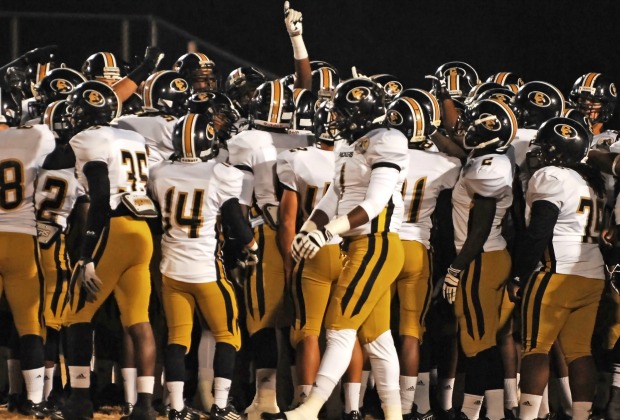 Sonny Kennedy
Class AA No. 1 Lovett held off a game Laney squad and undefeated Creekside advanced past North Paulding in Class AAAAA in the quarterfinals round of the GHSA state football playoffs.
See below for those recaps and more.
Class AAAAAA
Colquitt County 42, Dacula 17: Colquitt County surged to a 28-3 lead at halftime and had a 35-3 advantage heading into the fourth quarter before Dacula scored two late touchdowns with a running clock. The visiting Packers amassed 402 yards of total offense and Daniel Mobley passed for 250 yards and two touchdowns. Mobley opened the scoring with a touchdown pass to Kiel Pollard. Sihiem King and Tim Sanders rushed for touchdowns to help Colquitt County pull away.
Dacula got on the scoreboard with a field goal in the second quarter after Colquitt County scored the game's first 21 points. The Falcons tried to make things interesting in the fourth by scoring off consecutive turnovers. Nick Mollica returned an interception 72 yards before Aaron Grove threw a touchdown pass to Kelan Fraise. Bryce Bartlett returned an interception for a score on Colquitt County's ensuing possession. However, the Packers safely recovered an onside kick and Mobley rushed for a touchdown to account for the final margin.
Norcross 28, Lowndes 7: Norcross quarterback A.J. Bush was 11-of-25 passing for 148 yards and two touchdowns and rushed 12 times for 56 yards and a 17-yard score. Josh Boyd rushed for 73 yards and a 10-yard scoring run for host Norcross, which led 28-0 in the third quarter and benefited from five Lowndes turnovers. Marques Solomon and Maaseiah Francis caught touchdown passes from Bush.
North Gwinnett 35, Hillgrove 31: North Gwinnett relied on C.J. Leggett to get the win on the road as he ran for four touchdown's in the game. The only other Bulldog score came off a Daniel Imatorbhebhe 10-yard touchdown reception from Hayden Sphire. Imatorbhebhe's touchdown was with 1:35 left in the game. The Bulldogs held Hillgrove to three points in the fourth.
Class AAAAA
Creekside 41, North Paulding 14:  Dexter Knox led the visiting Seminoles to a 17-7 halftime lead and help them extend it in the second half with his efforts on the ground. Knox accounted for four rushing touchdowns, three of which came in the second half. Dejuan Duncan also caught a touchdown pass from Felix Harper.
Gainesville 42, Mundy's Mill 28: Deshaun Watson injured his non-throwing shoulder in the first quarter, but still managed to account for six total touchdowns. He finished with 342 yards and four touchdowns on 24-of-30 passing for the host Red Elephants. Watson also rushed the ball 10 times for 38 yards and two touchdowns including a 12-yard run.
Kell 52, Warner Robins 28: Host Kell opened the game with a 16-play drive and a 22-yard Cammeron Massung field goal to take an early 3-0 lead. Julian Burris added a Longhorns' touchdown that resulted from a Warner Robins' interception. The Demons missed a 38-yard field goal attempt and Kell quarterback Cameron Rosendahl found Taylor Henkle for an 80-yard touchdown. Errol Breaux added to the Longhorns' lead with the first of his three touchdown runs and Burris returned a kickoff 97-yards for another Kell touchdown. Itabari Mason scored Kell's final points on a 6-yard touchdown run in the fourth quarter.
Tucker 29, Ware County 0: Quarterback Joe Farrar rushed for 86 yards and touchdowns of 10 and five yards for host Tucker. Defensive back Yaquis Shelley had an interception return for 80 yards for a score, and Eric Weber made field goals of 42 and 35 yards. Tucker also picked up a safety when Ware County was called for intentional grounding in the end zone.
Class AAAA
Carrollton 24, Stockbridge 14: The visiting Trojans managed just 195 yards, all on the ground, but did enough to advance to the semifinals for the first time since 2010. Carrollton quarterback Wil Garrett attempted just one pass, which was intercepted. Jarvis Terrell led Carrollton on the ground with 86 yards and a 44-yard touchdown run late in the fourth quarter.
Marist 42, Burke County 20: Visiting Marist rushed for 427 yards, including 258 in the first half, and did not attempt a pass. The War Eagles scored less than a minute into the game on a run by quarterback Chase Martenson and led 21-13 at the half. Martenson scored four times, including a 55-yard run early in the third quarter, and Marcus Miller scored twice. Marist did not punt.
Griffin 32, Sandy Creek 26: Visiting Griffin trailed by nine points midway through the final quarter. Quarterback Jaquez Parks found Christian Owens for a 6-yard touchdown pass to cut Sandy Creek's lead to 26-24. The Bears' defense forced a three-and-out on the following possession and Parks orchestrated a 64-yard game-winning drive that was capped off with a 1-yard touchdown run by Telly Sloan and a successful 2-point conversion. The game featured eight total turnovers and Jordan Colbert scored Griffin's first points on his 78-yard interception return for a touchdown.
Wayne County 51, Alexander 21: Wide receiver Krenwick Sanders scored four touchdowns (three receiving and one rushing) for host Wayne County. A.J. McGill and Anfernee Jordan added rushing scores for Wayne County, and Levontae Larry had an interception return for a touchdown. Hux Riddle added a field goal for the Yellow Jackets.
Class AAA
Callaway 35, St. Pius X 21: Callaway running back Eddie Culpepper rushed 16 times for 143 yards and touchdowns of four and 59 yards, and Tez Parks rushed for scores of 22 yards and 47 yards to go with 128 yards rushing. Dre Martin returned an interception 42 yards for a touchdown for host Callaway.
Ringgold 35, Central-Carroll 10: Quarterback Slade Dale rushed for two touchdowns and threw a 50-yard touchdown pass to Christian Plott in Ringgold's home win. Kile Sholl and D.L. Goins added rushing touchdowns for Ringgold, and the Tigers' defense got a fumble recovery and an interception.
Washington County 46, Blessed Trinity 17: Melvin Hill rushed for 202 yards and five touchdowns to lead Washington County past Blessed Trinity. The visiting Golden Hawks picked off four passes, all by defensive back D.J. Sanders. Sanders also caught a touchdown pass from A.J. Gray, who accounted for 127 yards through the air. Washington County led just 19-17 in the third quarter before running off 27 straight points.
Class AA
Benedictine 35, Calhoun 14: Benedictine capitalized on six Calhoun turnovers. Michael Huggins rushed 15 times for 86 yards and touchdowns of 27 and seven yards, and also recovered a fumble on defense for host Benedictine. J.J. Gaines had 15 rushes for 102 yards and a 10-yard score, and Kyle South and Chance Jackson also scored for the Cadets.
Brooks County 42, Bowdon 26: Malkom Parrish threw for four touchdown passes as Brooks County pulled away from Bowdon after leading just 16-13 at halftime. Parrish connected with Deric Herring twice and also tossed scoring strikes to his brother, Ijonn, and to Devon Wims. Martavius Brooks also rushed for an 88-yard touchdown for the host Trojans.
Buford 36, Carver-Columbus 6: Visiting Carver-Columbus sailed its snap into the endzone for a Buford safety. The Wolves added to their 2-0 lead with a pair of Matthew Bonadies field goals and a 10-yard run by quarterback Taylor Mitchell to extend the lead to 15-0. Evyn Cooper capitalized on a Noah Hickey fumble and ran in for another Buford touchdown two plays later. Carver-Columbus forced three Buford turnovers in the second quarter and scored on a 10-yard Jawon Pass touchdown run to cut the lead to 22-6. After a scoreless third quarter, Buford added a Thomas Wilson 16-yard touchdown run and a 26-yard touchdown pass from Mitchell to Tyler Shipman.
Lamar County 35, Jefferson 24: Lance Austin and Quay Searcy helped Lamar County overcome Jefferson. The host Trojans scored 21 unanswered points to begin the second half after trailing 17-14 at the intermission. Searcy had an interception return for a score and a touchdown catch. Austin rushed for two touchdowns in addition to his hookup with Searcy. Lawrence Austin tacked on Lamar County's final score.
Lovett 35, Laney 33: Lovett trailed 20-7 at the half, but rallied with three third-quarter touchdowns to take a 28-20 lead. Lions running back Grant Haley had four touchdown runs, including the game-winning 57-yard scamper with 6:09 left. Horatio Keller had three touchdown runs for host Laney. Haley finished with 219 rushing yards.
Class A
Aquinas 35, Mount Paran 32: Aquinas scored all 35 of its points in the first half and held off a furious Mount Paran rally. Liam Welch rushed for a 9-yard touchdown and threw scoring strikes to John Morris and Shalom Alvarez to break a 14-14 tie. The host Irish got scoring runs from Morris and Daniel Lindsey.
Calvary Day 33, Prince Avenue Christian 14: Quarterback Michael Peterson threw three touchdown passes, two to Derek Kirkland and one to Milan Richard, for host Calvary Day. Robert Heyward rushed for 182 yards and two touchdowns from 42 and 48 yards. Calvary Day, which also got a safety to cap the scoring, scored 33 unanswered points.
Eagle's Landing Christian 24, Darlington 10: The host Chargers led 17-0 at the half using an Isaac Barber 25-yard field goal, a Lane Timson 8-yard touchdown run and a Jordan Long 50-yard touchdown pass to Jamaal Tooks. In the second half, Timson scored on an 8-yard run.
Hawkinsville 23, Clinch County 8: Fullback J.D. Burden rushed for touchdowns of 75 and seven yards for visiting Hawkinsville and quarterback Dakota Sloan scored on a sneak. Hawkinsville got an early safety to go up 2-0 after Clinch fumbled out of its own end zone. Neither team scored after halftime.
Marion County 24, Dooly County 21: Trailing 21-14 during the fourth quarter, the host Eagles scored 10 unanswered points for the victory. Quarterback Justin Eckert accounted for two touchdowns on a 1-yard run and a 21-yard pass to Jacob Dixon. Johnny Royal tied the game late in the fourth quarter with a 25-yard touchdown run and A.J. Wells won it on a 23-yard field goal.
Mount Pisgah 15, Holy Innocents' 7: Aaron Winchester led the host Patriots by completing 15-of-24 passes for 226 yards and two touchdowns while rushing the ball 24 times for 147 yards. Oz Dixon caught five passes for 77 yards and a touchdown. Ben Miller also caught a touchdown to go with 78 yards receiving on four catches.