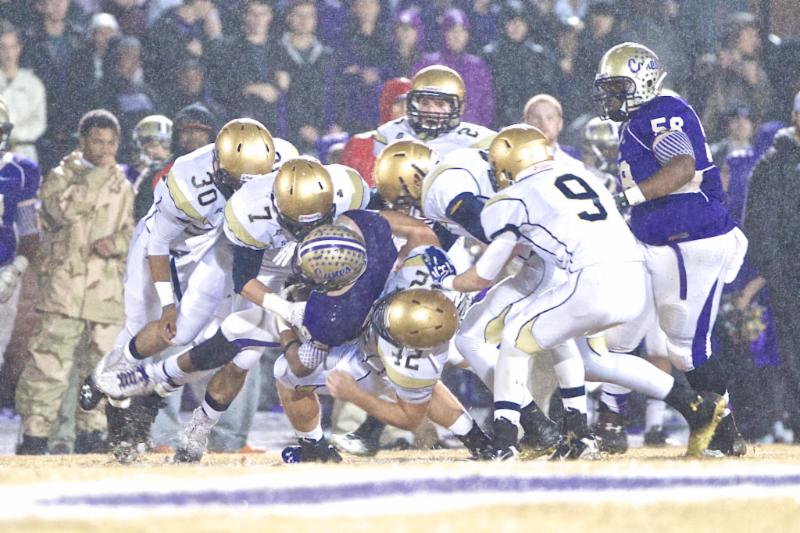 Erin Sheppard
Class AAAAA No. 4 Creekside at No. 8 North Paulding
North Paulding was as impressive as any team in the state last week with its 35-7 dismantling of a talented Stephenson team. In a classification full of high-scoring offenses, the Wolfpack may be the most dynamic. They have scored 27 or more points in each game and no less than 35 since a 31-28 win over South Paulding on Oct. 4. QB Chase Noonan heads the Wolfpack attack and has thrown for more than 2,500 yards this season. The North Paulding defense, however, is also no slouch. Brandon Townsend intercepted Stephenson QBs four times last week and returned two for touchdowns. North Paulding has given up more than 14 points just once in its last five outings.
Creekside, meanwhile, is undefeated this season. The Seminoles have taken down quality teams like Langston Hughes, a region champion in Class 6A, Whitewater, McIntosh and, most recently, Harris County last week. The Berry twins, Evan and Elliott, are the younger brothers of NFL star Eric, and are each committed to Tennessee. They lead a solid Creekside defense that has not allowed more than 23 points all season.
Whether or not North Paulding can score in bunches as it has all season is the matchup to watch here. Creekside may be the best defense the Wolfpack has seen.
Pick – North Paulding 31, Creekside 24
Class AAAAAA No. 4 North Gwinnett at No. 6 Hillgrove
The Bulldogs slipped past Archer last week on a last-second field goal by Michael D'Angola. North Gwinnett trailed 20-7 in the latest of a few shaky efforts this season. While North's offense is among the best in 6A, the defense has shown signs on multiple occasions of not being completely reliable.
Hillgrove may have the edge on defense, but the offenses are very similar. Each team is quarterbacked by the head coach's son and each features an electric running back and wide receivers capable of SportsCenter's top 10 plays.
While Cobb teams have not had much success against their Gwinnett counterparts, Hillgrove has a legitimate shot at pulling what would be considered a mild upset here. However, conventional wisdom loves the lines of scrimmage Region 7 teams tend to possess, and that will be the Bulldogs' decisive edge in this game.
Pick – North Gwinnett 31, Hillgrove 24
St. Pius X at Class AAA No. 5 Callaway
The Golden Lions made me look good last week with their 31-19 upset at Cartersville , and this time I am another one of their opponents on upset alert. Coach Paul Standard's team is solid, if not spectacular, in all facets of the game, and I think this week they have another chance to take down another highly-ranked foe.
The Lions lost three games to quality competition this season and dropped out of the rankings, but last week showed that St. Pius X can play with anyone. Meanwhile, Callaway features an athletic team, led by bigtime recruits Taz Parks and KeShun Freeman, a Georgia Tech commitment. The Cavaliers rushed for 425 yards last week in a 49-21 beating of Pierce County (which was also on Upset Alert).
Pick – Callaway 24, St. Pius X 20
Class AA No. 4 Calhoun at No. 7 Benedictine
Calhoun got by one of the state's top offenses last week with a 31-30 win over GAC. The Yellow Jackets are used to being the favorite in the Class AA playoffs, but were ranked "just" No. 4 going into the postseason. However, last week's win over the No. 2 Spartans earned coach Hal Lamb's team some much-deserved respect around the state.
This may be Benedictine's best team in decades, possibly ever. Coach Danny Britt has led the Cadets to a 12-0 season thus far, but Calhoun may be its toughest challenge yet. The Cadets like to run the ball with multiple backs sharing the load, including QB Stevie Powers and J.J. Gaines. Benedictine ran for 292 yards last week in a rout over a pretty solid Fitzgerald squad.
Pick – Calhoun 31, Benedictine 28
Bowdon at Class AA No. 6 Brooks County
Bowdon surprised much of the state last week with its 48-14 waxing of Washington-Wilkes and returns to the gridiron again this weekend to try to pull another upset, this time of a talented Brooks County squad led by QB and UGA commitment Malkom Parrish.
Brooks County's offense has been nearly unstoppable since a 13-7 win over Early County in late September, but its defense has been susceptible, giving up more than 20 points in six of seven games.
Bowdon, meanwhile has been kind of unpredictable on both sides of the ball, scoring 19 in a loss to Heard County and 20 in a win over Model the next week, and giving up 42 to Heard County, but less than 20 in all but four of its games this season.
Pick – Brooks County 34, Bowdon 28