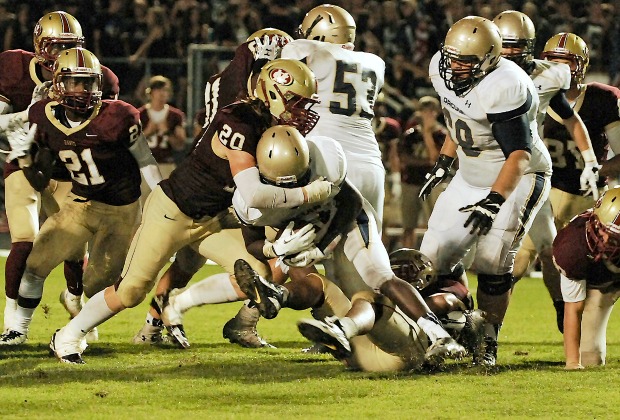 Sonny Kennedy
Archer scored 21 unanswered points following a brief 7-0 deficit as it pulled off a 35-14 victory over Central Gwinnett in Region 8-AAAAAA action. Gabe Tiller completed 21 of 32 passes for 277 yards and four touchdowns to lead the visiting Tigers, who won their fifth game in a row after a 0-3 start.
Tiller found Dylan Singleton with a 41-yard touchdown strike to begin the scoring and also connected with Ryan Nails and Jamyest Williams in the first half. Central Gwinnett got within 21-14 in the final quarter, but Kyle Davis returned the ensuing kickoff 85 yards for a touchdown. Nails soon hauled in a 38-yard scoring pass from Tiller to put the exclamation point on Archer's win.
This post will be updated throughout the evening.
Class AAAAAA
Alpharetta 24, South Forsyth 14: Austin King found Rustin Suter for two touchdowns as the Raiders were able to hold on against visiting South Forsyth. Alpharetta led 17-9 at the half after King found Suter from 13 yards out with 45 seconds left in the first half. Suter also broke free on an 82-yard reception for the Raiders' first score of the night. Tyler LaFlamme recorded 108 yards with 60 coming via the ground. The star running back was held in check by the Raiders defense led by defensive end Andrew Butcher, who tallied two sacks. Matt Moore had the game-clinching score after stepping in front of a Matthew White pass and returning it 55 yards with 6:25 remaining in the game. King went 13 of 25 for 244 yards and two scores in the win for Alpharetta.
Centennial 27, North Forsyth 3: James Kelley caught touchdown passes of 5 and 80 yards from Casen Conway to lead visiting Centennial, which led 21-3 at halftime. Aaron Turk (6-yard run) and Luther Martinez (7-yard run) also scored on the ground. Defensive tackle Jimmy Walton had five tackles-for-loss for the Knights, who also had a fumble recovery by Chris Calhoun.
East Coweta 28, Douglas County 14: East Coweta ran for 250 yards and got touchdown runs from four players to roll past Douglas County. The Indians got touchdown runs from Carlos Ford (2 yards), DeVonte Brown (2 yards), Lernilous Newsome (12 yards) and Will LaGuardia (7 yards). Douglas County quarterback Malik Oliver completed 18 of 35 passes for 231 yards, including a 50-yard touchdown pass to Donovan Richardson. Oliver also completed a 6-yard touchdown pass to D'ondre Glenn.
Lambert 33, West Forsyth 27: Tanner Hall caught two first-half touchdown passes from Drew Cole and booted a 28-yard field goal to help visiting Lambert take a 23-13 halftime lead. West Forsyth cut the deficit to 23-20 with a Hampton McConnell touchdown pass to Nathan Schmitz in the third quarter and grabbed a 27-23 lead in the fourth quarter on a 92-yard Grant Anderskow touchdown reception. Lambert's Trevor O'Brien ran for a game-winning score with 22 seconds left.
McEachern 40, Kennesaw Mountain 14: Sam Jackson rushed for 189 yards and three touchdowns to lead visiting McEachern past Kennesaw Mountain. Jackson scored on runs of 52, 48 and 15 yards. The Indians also got a 7-yard touchdown run from Quay Holmes. Bailey Hockman threw for just 78 yards, but tossed a pair of scoring strikes to Tyler Smith, from 33 and 21 yards away. McEachern led 20-6 at halftime and 28-6 going into the fourth quarter.
Mill Creek 51, Collins Hill 7: Mill Creek led 14-0 after one quarter, 23-0 at halftime and 37-0 going into the fourth quarter as it coasted past visiting Collins Hill. The Hawks scored the game's first 51 points before Collins Hill finally got on the scoreboard with 32 seconds remaining. Johnathan Hawkins scored four rushing touchdowns, including three in the first 14 minutes of the game and his first from 40 yards out early in the opening quarter. Brian Efianayi also had a touchdown for Mill Creek.
Milton 30, Woodstock 13: A Chris Turner touchdown run and an 85-yard touchdown pass from Austin McLeod to Obe Fortune gave visiting Milton an early 14-0 lead. Micco Brisker pushed the lead to 20-0 lead with a 1-yard rushing score. Woodstock's Justin Agner ran in a touchdown and threw for a score in the third quarter but a 43-yard McLeod to Fortune touchdown pass and an Ethan Suda 36-yard field goal gave Milton its 30-13 lead.
Mountain View 42, Meadowcreek 0: Alex Scott passed for two touchdowns and Nick Harris rushed for two as Mountain View outscored host Meadowcreek 21-0 in each half of its shutout. Scott connected with Kielan Whitner and Andre Joseph for first-quarter scoring strikes. Harris extended the Bears' lead to 28-0 early in the third quarter before Sam Freitas threw a 15-yard touchdown pass to Andrew Pettit. Basil Anderson capped off the scoring with a touchdown run in the fourth quarter.
North Paulding 42, Marietta 41: The Wolfpack held off the visiting Blue Devils in a back-and-forth game. Kyle Banks threw five touchdown passes for North Paulding, connecting with D.J. Owens for four scores and Brad Swan for one. North Paulding totaled 100 yards rushing in the first half and held a 20-14 lead. Meshach Mays scored on a 14-yard run. Swan recovered a late onside kick to secure the win for the Wolfpack after Marietta failed on a 2-point conversion with 39 seconds remaining.
Northview 37, Chattahoochee 7: D.J. Pearson had three touchdown passes for visiting Northview. Jair Anderson caught two of the touchdown passes, while Ricci Nuckles caught the other. Josh Moran and Devin Johnson had rushing scores, and Peyton Ericson hit a 34 field goal for the Titans. Matt Ferguson and and Troy Sawyer both had interceptions for Northview, which led 17-7 at the half.
Parkview 49, Shiloh 27: Parkview racked up 604 yards of total offense to pull away from host Shiloh. Jack Chambers passed for 262 yards and rushed for 103 of the Panthers' 342 yards on the ground. Chambers accounted for six total touchdowns, three passing and three running. Tyler Fleetwood hauled in five catches and scored once. Cameron Watson rushed for 103 yards and scored both a receiving and a rushing touchdown. Shiloh got within 35-27 in the third quarter before Parkview finished off the night with 14 straight points.
Peachtree Ridge 35, Norcross 2: Na'Ceem Antenor rushed 27 times for 150 yards and three touchdowns, including a 62-yarder, to lead host Peachtree Ridge. Quarterback Chance Thrasher was 14-of-22 passing for 210 yards and two touchdowns, a 76-yarder to Connor Heyward for his only catch and a 27-yarder to Christian Sutton, who had six catches for 74 yards. The Peachtree Ridge defense had three interceptions and a fumble recovery.
Pope 39, Lassiter 35: Pope outscored Lassiter 14-0 in the fourth quarter and Carson Day rushed for a touchdown from four yards out with six seconds remaining to give the Greyhounds a dramatic victory. Day accounted for all five of Pope's touchdowns, three on the ground and two on receptions from Taylor Wolf. The final score was set up by a crucial third-down pass to Patrick Burke for 30 yards down to the Trojans' 6-yard line. Brendan Johnson kicked a 22-yard field goal for the Greyhounds.
Roswell 31, Cherokee 21: Host Roswell opened the game with a 54-yard touchdown pass from James Whitaker to Sheldon Evans. Evans added two rushing touchdowns and Ben Hogan kicked a 37-yard field goal to give Roswell a 24-7 halftime lead. Ashley Spencer hit Andrew Harris for a Cherokee touchdown in the first half and found Montrell Washington for a touchdown in the third quarter. Whitaker increased Roswell's lead to 31-14 with a touchdown pass to Jacari Harris. Brittain Brown ran in Cherokee's final score.
South Gwinnett 32, Berkmar 0: South Gwinnett led 19-0 at halftime and 32-0 after three quarters prior to a running clock in the fourth. Quarterback Josh Shim left with an injury early in the first quarter, but Seth Johnston filled in to throw touchdown passes to Xavier Dupree, Colby Ransom and Noel Hussey. The Comets also got a 22-yard blocked punt return for a touchdown from Justin Mascoll. Roberto Lindsay opened the scoring with two first-quarter field goals.
Tucker 55, Alcovy 0: Host Tucker totaled more than 400 yards of offense. Quarterback Garrett Rigby completed 4-for-8 passes for 108 yards and three touchdowns before giving way to Daniel Chattman, who tossed a 41-yard strike for a score on his only pass. Receiver Delvin Weems caught nine passes for 121 yards and a pair of touchdowns. Jonathan Ledbetter made an impact on both sides of the ball, scoring on a 50-yard touchdown reception and an 80-yard fumble return.
Class AAAAA
Alexander 32, East Paulding 29: After trailing 19-10 at the half, Alexander rallied to win at home over East Paulding. Baylor Whitfield went 18-of-22 for 172 yards and one touchdown. Mikell Lands-Davis carried 20 times for 122 yards and three touchdowns. Isaac Zico caught four balls for 80 yards and one score. Andrew Chandler tacked on a 34-yard field goal and went 3-for-3 on extra points. East Paulding rushed for 236 yards and three scores while totaling 48 yards passing in the loss.
Creekside 38, Banneker 6: Host Creekside rushed out to an 18-0 lead in the first quarter. A pair of safeties in the Banneker-end zone along with a pair of touchdowns by Gino Appleberry to set the tone. The Seminoles totaled over 500 yards of offense with quarterback Felix Harper leading the way, completing 12-of-16 passing for 198 yards for two scores. Joseph Perkinson and Myles Clark each recorded a touchdown reception in the contest.
McIntosh 51, Forest Park 22: McIntosh quarterback Duke Kinamon passed for three touchdowns and ran for two to lift the Chiefs past Forest Park. Kinamon scored on runs of 2 and 16 yards and completed touchdown passes of 19 yards to Chandler Birrell and 52- and 37-yarders to Taylor Casterline. The Chiefs also got a 1-yard touchdown run from Avery Hurns and a 16-yard touchdown run from backup quarterback Hunter Best. Spencer Barker added a 30-yard field goal. Forest Park opened the game with a 95-yard kickoff return for touchdown by Lester Miller. Miller also scored on a 71-yard run.
Miller Grove 48, Dunwoody 21: Meco Jackson had three rushing touchdowns and a 95-yard kickoff return for a score for host Miller Grove in its win at Avondale Stadium. Quarterback Johnathan Mitchell had two passing touchdowns, one each to Rayshod Tillman and Brian Reed, and also had a rushing touchdown. The Wolverines' defense recovered two fumbles.
Mundy's Mill 33, Starr's Mill 16: Kylid Hylton ran for 180 yards on 14 carries and scored three touchdowns on runs of 6, 45 and 56 yards to lead Mundy's Mill past Starr's Mill. Hylton has now rushed for 994 yards this season. Mundy's Mill also got a 12-yard touchdown run from Marquarios Crutchfield, who finished with 42 yards on eight carries. Quarterback Rodriquez Gates completed 12 of 18 passes for 164 yards.
New Manchester 42, Chapel Hill 10: Visiting New Manchester rolled Chapel Hill after a slow start. The Jaguars trailed 3-0 after the first quarter, but outscored the Panthers 42-7 the rest of the way. Omahri Jarrett punched in a 5-yard run to get the Jaguars on the board. Tabashi Thomas threw four touchdowns hooking up with Jacob Battle for scores of 15 yards and 65 yards. Tyrone Scott also caught a 15-yard touchdown pass and Tyler Simmons busted a 55-yarder to pay dirt. Simmons also returned a kick 80 yards for a score.
Sequoyah 38, Rome 21: The Chiefs came away with a crucial road victory after one of the team's finest performances of the season. Trey Mitchell rushed for two touchdowns and caught an Austin Tracy screen pass that was taken in for a score from 60 yards out. Billy Lummus and Derrion Rakestraw both collected interceptions in the win. Stephen Anderson returned a kick for six. Ethan Riggle connected on a 35-yard field goal. Sequoyah outscored the Wolves 24-7 in the second half to pull away with the win.
Stephenson 33, M.L. King 7: Host Stephenson took a 14-0 lead into halftime following 1-yard rushing scores by running back Ivonte Patterson and quarterback Dewaan Ford. The Jaguars continued the one-side affair with a pair of Patterson touchdowns in the second half, including a 15-yard scamper. Ford proved to be a dual threat, finding Tyler Taylor in the end zone for a passing score. The Jaguars defense stifled M.L King, forcing three turnovers in the game.
Stockbridge 36, Woodland-Henry 7: Twenty-eight unanswered points for host Stockbridge propelled the Tigers to victory after holding just a 1-point lead at the half. Jairius Shade scored on a 6-yard run to take an early 8-0 lead. Kobie Lain hit Justin Strozier from 10 yards out to bring the Wolfpack within one. Malachi Brown tossed a 39-yard pass to Jacob Pinch to go up 15-8 in the third. Brown found the end zone once more on a short run and Jamari Clark scored from 12 yards out to put the game out of reach.
Villa Rica 55, Hiram 48: After falling in a 27-0 hole, the visiting Wildcats rallied to win in dramatic fashion. The tide began to turn after a safety which helped spark Villa Rica. Noah Smith hit on 24 of 36 passes totaling 362 yards and five scores. The Wildcats managed 500 total yards of offense. Marquis McPhal rushed for 78 yards and one score on 20 carries. Kris Ballinger caught nine balls for 157 yards and two scores including a 78-yard reception. Yassar El-Amin hauled in 10 catches for 155 yards and three touchdowns with his longest being 41-yards. Malik Thompson intercepted a pass. Jacob Lester threw for 120 yards in the loss while the running game for the Hornets racked up 363 yards.
Warner Robins 51, Lakeside-Evans 49: In a wild game that featured three kickoff returns for touchdowns, Warner Robins got an 8-yard touchdown run from Terry Harris with a little more than five minutes remaining in the game to get past Lakeside-Evans. The teams swapped leads five times in the final quarter-and-a-half. Lakeside's Stephen Houzah returned two kickoffs for touchdowns, the last one with eight minutes remaining to give Lakeside a 49-45 lead. He also had a 93-yard kickoff return in the middle of the third quarter. Warner Robins' Reggie Gordon had an 80-yard touchdown return in the middle of the second quarter. The Demons' Jacquan Burns had touchdown runs of 10 and 1 yards, and Ivan Corbin also had touchdown runs of 22 and 8 yards. Tyrome Tharpe added a 60-yard interception return for a score for Warner Robins that was matched by Lakeside's Jordan Rogers, who also scored on a 60-yard interception return.
Whitewater 30, Fayette County 0: Christian Wafford and Jay Ashley scored two touchdowns each to lead Whitewater to victory against cross-county rival Fayette County. Wafford scored on runs of 20 and 66 yards. Ashley, who completed 5-of-8 passes for 60 yards, scored on runs of 9 and 1 yards. Liam Voigt added a 26-yard field goal. McIntosh led 17-0 at halftime.
Winder-Barrow 35, Clarke Central 29: Winder-Barrow erased a 23-14 fourth-quarter deficit to beat Clarke Central for the first time in school history. Winder-Barrow quarterback Noah Chapman threw a 3-yard touchdown pass to Cale Horne to give visiting Winder-Barrow a 7-3 lead at the end of the opening quarter. Clarke Central claimed a 16-7 lead midway through the third quarter before CeCe Green got Winder-Barrow rolling again with a 1-yard touchdown run. Cedar Shoals' Jaqua Daniel pushed it back to a 2-score game with a 34-yard touchdown run before Green dominated the final quarter with three more touchdown runs.
Class AAAA
Buford 58, North Oconee 3: Five different Buford players scored touchdowns in the first half as the visiting Wolves remained undefeated by rolling over North Oconee. Jordan Perlotte rushed for two scores, with his first coming late in the opening half after Alan Frazier recovered a fumble on the Titans' 1-yard line. T.D. Roof, Martin Mangrum, Evyn Cooper and Isaac Nauta also found the endzone on offense for Buford. David Curry added a punt return for a touchdown.
Carrollton 35, Troup 22: The host Trojans were out-gained 370-227, but led throughout after opening an 18-0 second-quarter lead. Troup lost three fumbles which led to 15 Carrollton points. Jarvis Terrell led the Trojans with 84 rushing yards and two touchdowns. Carrollton quarterback Clay Marlar rushed for and passed for one score each. The Trojans led 35-8 midway through the court before Troup scored two late touchdowns.
Eastside 47, Hampton 14: Eastside got off to a quick start thanks to Carlos Huggins who scored on a 40-yard run up the middle. Huggins struck again in the first quarter to build the lead to 14-0. Quarterback Austin Holloway scrambled for another Eastside score before Hampton was able to get on the board to cut the lead to 21-6. Anthony Brown added a rushing touchdown to carry the Eagles into halftime up 34-6.
Jonesboro 45, Mount Zion-Jonesboro 0: Jonesboro got two touchdown runs from Curtis Sabree Jr. and two touchdown passes from quarterback Jason Sears to outclass neighboring rival Mount Zion. Sabree Jr. scored on runs on eight and five yards. Sears completed a 45-yard touchdown pass to James Walker and a 68-yard touchdown pass to Jyair Mincey. Khallel Morton added a 6-yard touchdown and Cedric Pugh scored on a 25-yard run on a fake field goal attempt on the last play of the half.
Locust Grove 37, Henry County 30: Cameron Maddox led the Wildcats to a wild win at home by passing for 201 yards and rushing for 163 while totaling four touchdowns. Locus Grove held a 13-9 lead at the half, but found itself down 30-19 heading into the fourth. Maddox scored on a 29-yard run and connected on a two-point conversion to Aubry Payne with 1:03 remaining to cut the lead to 30-27. Locust Grove then was able to recover an onside kick and march down the field to set up a 12-yard field goal from Voshon Ramcharan to tie the game as regulation expired. Overtime ended quickly after Caleb Huntley scored on a 7-yard run on the third play of the drive. A Wildcat interception ended the game and wrapped up the win. Justin Howard and Tyris Gresham scored rushing touchdowns for Henry County. Darren Jackson completed at 60-yard touchdown pass to Barnett Bailey in the loss.
Marist 41, Columbia 0: Ian Gipson made the most of just eight carries as Marist's senior fullback turned them into 115 yards and two touchdowns to help the host War Eagles overwhelm Columbia. The Eagles kept it relatively close until Marist scored 21 points in the final nine minutes of the first half. That propelled the War Eagles to a 28-0 halftime lead. Charlie Utsch came up with Marist's biggest defensive play of the night by recovering a fumble in his team's territory with Columbia trailing just 7-0 in the second quarter.
St. Pius X 70, Arabia Mountain 32: Visiting St. Pius X rushed for 527 yards on 51 rushes while not attempting a single pass. Ransom Klinger (five carries, 136 yards) rushed for three touchdowns, Joey Connors (nine carries, 163 yards) rushed for two touchdowns, and Dalton Wilson and Grant Holloman each had a pair of scores. Arabia Mountain's Jakobi Meyers was 23-of-42 passing for six touchdowns and 295 yards and rushed for 122 yards.
Class AAA
Decatur 35, Therrell 7: Decatur quarterback Devontae Carter threw for 155 yards and two touchdown passes to lead the visiting Bulldogs to a win at Lakewood Stadium. Demetrius Harris had two rushing touchdowns and Grant Walker had a 46-yard rushing score and a 21-yard touchdown reception. Dennis Bell caught a 75-yard touchdown pass and the Decatur defense got two turnovers with a Tray Tice interception and a Terrill Hall forced fumble and recovery.
Westminster 42, Douglass 8: Two Wildcats surpassed 100 yards rushing, as Zay Malcome rushed eight times for 138 yards and three touchdowns (1, 8 and 12 yards) and Merrick Sims rushed nine times for 112 yards and a 9-yard score. Ian Ude had a 10-yard rushing touchdown and backup quarterback Keller Harper had a 22-yard rushing score. Of host Westminster's 372 offensive yards, 350 were on the ground. The Wildcats led 35-0 after the first quarter.
Class AA
Greater Atlanta Christian 38, Holy Innocents' 0: Darius Slayton scored on a 47-yard pass from Davis Mills and on defense with a 75-yard interception return for a touchdown, both in the second quarter. GAC scored all of its points before halftime, with Slayton's interception return coming just two seconds before the break. Mills had two touchdown passes for the host Spartans, the other a 40-yard pass to Justin Phan, and opened the scoring with a 5-yard rushing touchdown. Jaelen Venable had a 4-yard rushing score and Will Kenworthy hit a 31-yard field goal for GAC.
Lovett 30, Wesleyan 24: Lovett raced to a 24-6 halftime lead at Wesleyan, after scoring twice in the last 1:12 of the half. Wesleyan quarterback Banks Ramsey completed 20 of 31 passes for 237 yards and two touchdowns while running back Jordan Argilag rushed for 164 yards and two scores. Lovett was led by quarterback Willie Candler's three scores and 184 total yards. Lovett's Jack Barnes recovered a blocked punt for a score just before the half.
Class A
Athens Academy 60, Providence Christian 0: Athens Academy surged to a 39-0 halftime advantage and maintained its shutout of visiting Providence Christian the entire night. Will Corry rushed for a 75-yard touchdown and caught a 20-yard scoring strike from Drew Richardson to lead the Spartans. Richardson completed all eight of his pass attempts for 153 yards and he also tossed a touchdown to Mason Jones. Connor McCleary capped off the scoring with a 55-yard interception return.
Christian Heritage 26, Walker 7: Visiting Christian Heritage looked for a spark trailing 7-3 at halftime. Tyson Cooper provided it on the first drive of the third quarter, breaking off a 44-yard run that set up a 12-yard touchdown run by Matt Cook. Cooper continued to carry the offensive workload with a pair of rushing scores, including a 30-yard run. After moving the ball well through the first two quarters, Walker had two turnovers in the second half and could not get back in sync offensively.
Mt. Paran 42, Trion 0: The Eagles had no problem at home with Trion, even though Mt. Paran only ran 20 plays compared to Trion's 67. The Bulldogs tried to control the ball and keep Mt. Paran's explosive offense off the field using a rushing attack. The Eagles still managed to outgain Trion 264-207. Emoni Williams returned the second-half kickoff 81 yards and also led the Eagles in rushing with 88 yards. Taylor Trammel returned an interception 77 yards and carried 11 times for 80 yards in the win. Jake Allen went 3-for-3 for 85 yards and one 57-yard passing touchdown to Williams.
Mount Pisgah 64, King's Ridge Christian 22: The visiting Patriots jumped to a 29-0 lead before compiling 425 rushing yards and seven total rushing touchdowns in a rout over King's Ridge. Oz Dixon opened the game with the first of his two touchdown runs and Mount Pisgah quarterback Aaron Winchester rushed for two touchdowns before tossing scores to Ben Miller and Jacob Greene to make it a 36-7 lead. Nicky Piccapietra, Michael Provost and Michael Garrison rushed for the Patriots' final three scores.
St. Francis 14, Whitfield Academy 7: After a scoreless opening quarter for both teams, visiting St. Francis erased a 7-0 halftime deficit with a sack, fumble and recovery for a touchdown. The offense found the endzone with 5:36 left on a 9-yard touchdown run by senior Knox Edenfield to take a 14-7 lead. St. Francis fumbled the ball to Whitfield with 2:17 left, but the defense stuffed the WolfPack on a 4th-and-four and ran out the remaining 1:16 to move to 6-2.