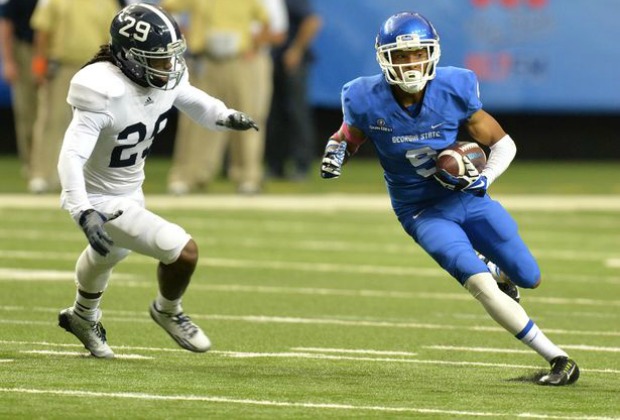 AJC.com
Georgia State knew there would be a lot of fans attending its game against Georgia Southern on Saturday afternoon. In fact, there were 28,427 fans in attendance, and the reason for that is there are a ton of Southern alumni that live in the Atlanta area and they wanted to show they are the real GSU.
Georgia State was able to score the first points in the first ever meeting between the schools as Will Lutz kicked a 44-yard field goal in the opening series in the first quarter. But it was all Georgia Southern after that and the Eagles came away with a 69-31 win over the Panthers.
"Give credit to Georgia Southern credit for coming in here and doing what they did offensively, Panthers head coach Trent Miles said. "Defensively, it's an unacceptable performance by us. We didn't give ourselves a chance."
Georgia Southern came into the game as the No. 1 rushing team in the country, averaging 370 yards per game. The Eagles nearly doubled that total as they rushed for 613 yards and averaging 9.7 yards per carry.
"Offensively, we made a new FBS rushing all-time school record; we are excited about it," Georgia Southern head coach Willie Fritz said. "Our receivers, offensive line and backs did real well. We ran triple option. When we run triple option, there are many possibilities of turnovers. We had no turnovers today."
After the Panthers scored on the opening series, the Eagles answered with two touchdowns in the first quarter. Running back Matt Breida scored on a 7-yard run and quarterback Kevin Ellison scored on a 9-yard run. Breida finished with 201 rushing yards and four touchdowns, while Ellison ran for 120 yards and two touchdowns.
"I knew that was a good offense. I don't think they punted at all in the second half," Miles said. "They did what they wanted. First, we'll evaluate ourselves as coaches and then I'll evaluate the defensive staff and then we'll evaluate the scheme and then we'll evaluate our scheme and then we'll evaluate everything and it'll start tonight."
The Panthers kept the game close in the first half, only being down 27-17. Quarterback Nick Arbuckle threw a 3-yard touchdown pass to Donovan Harden early in the second quarter, and Arbuckle found Harden again later in the quarter with a 59-yard score. Harden had a career day, racking up 11 receptions for 186 yards and four touchdowns. Harden's reception and yards total are now school records.  Arbuckle finished with 408 yards, four touchdown passes and one interception.
"It's hard to get excited about breaking the record, especially when I dropped the potential fifthtouchdown pass," Harden said. "That's the only thing I'm thinking about right now.  "Give Georgia Southern credit for coming out here and playing.  I don't think we did."
In between the two touchdowns by Georgia State in the second quarter, Georgia Southern was able to match the Panthers thanks to scores by Zach Walker and L.A. Ramsby.
The second half belonged to the Eagles as they outscored the Panther 42-14. Breida scored two touchdowns in the third quarter and one in the fourth. Ramsby added another touchdown in the third and the reserves got the last two scores of the afternoon.
With the win, the Eagles improve to 6-2 while the Panthers fall to 1-7 and have now lost six consecutive games. Georgia Southern are undefeated in Sun Belt Conference play and will put that on the line Thursday when they face Troy. Georgia State will look to snap its losing streak when they travel to Boone, N.C. on Saturday to face Appalachian State.