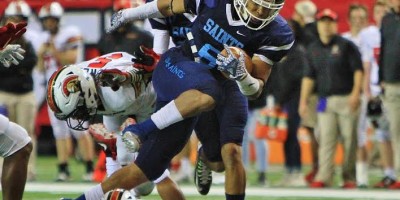 Class AAAAAA
Valdosta 17, Tucker 7
In an evenly matched game which Valdosta outgain Tucker 310 to 262, the Wildcats clinched their 25th state championship and first since 1998. Josh Belton was efficient under center, completing 16-of-24 passes for two touchdowns and one interception. He hit Damarrias Morrow to take an early lead from 35 yards out at the 7:32 mark and then struck again, finding J.R. Ingram from 14 yards away to make it 14-0 heading into the second quarter. Davis Baldwin added on a 44-yard field goal to make it 17-0 at halftime, as the Wildcats dominated Tucker with 230 yards of offense to the Tigers' 86, forcing four punts in the first half.
At the 2:03 mark of the third quarter, Chris Broadwater got loose and punched in an 8-yard score, but Tucker couldn't sustain any drives afterwards. In the loss Broadwater ran for 109 yards on 15 carries. Quarterback Xavier Shephard finished 9-of-19 for 105 yards and an interception.
For Valdosta, Belton tacked on 53 rushing yards to keep the Tigers defense honest. Tevin Gray gained 50 yards and Hunter Holt added 41. Ingram caught six passes for 82 yards while Morrow added four for 55.
Class AAAAA
Rome 16, Buford 7
It was an inauspicious start for the Rome Wolves as Buford's Anthony Grant returned the opening kick 95 yards to set up a 1-yard touchdown plunge from T.D. Roof, but after that it was all defense as Rome held off Buford for their first title in school history, 16-7.
Emanuel Gonzalez nailed a 24-yard field goal at the 3:36 mark of the second quarter to enter the break trailing 7-3. With starting running back Jamious Griffin out for the game due to injury after rushing for 25 yards, fellow sophomore Knox Kadum was asked to carry the load under center. While he struggled through the air (6-for-20, 82 yards, 2 interceptions), his elusiveness gave Buford fits, rushing for 125 yards and  two touchdowns on eight carries, including a 28-yard scoring run in the third quarter to take the lead.
Quenterrious Kennemore stuffed Chris Turner on the Buford 26 with 1:43 left on fourth-and-inches to stop Buford. Rome, facing a fourth-and-two on the Buford 18, saw Kadum keep the ball on a read option, sucking the defense into the middle of the line as Kadum snuck outside for a touchdown to put the game out of reach.
With the loss, it marks the first time since 2005-06 that Buford hasn't won a state title in a two-year span.
Class AAA
Cedar Grove 30, Greater Atlanta Christian 19
A preseason dislocated knee nearly ruined Stanford-commit Davis Mills' final season under center for Greater Atlanta Christian. That knee, which stood up since his return in game three of the season, finally gave way as Mills was knocked out of the state title game during GAC's opening drive and forced the five-star quarterback to sit on the sideline and watch Cedar Grove capture its first ever state title, 30-19.
Following Oklahoma State-commit Jelani Wood's 32-yard swing pass to Tre Shaw that gave Cedar Grove an early 7-0 lead, Mills led the Spartans on a drive and picked up a 29-yard gain down the left sideline on a keeper, but Jadon Haselwood landed a vicious blow to the head that should have been ruled targeting, and sent Mills down awkwardly on his knee, forcing backup Jonathan Rose to take over the quarterbacking duties.
The Spartans picked up a three points on a Brooks Buce 40-yard field goal. Cedar Grove responded with a Solee Fofana 31-yarder.
GAC marched down the field but was stopped on the 5-yardline, handing the ball back to Cedar Grove. The Saints poured on a 95-yard drive and took a 17-3 lead on a Grant Walker 3-yard run. Things got worse on the ensuing drive as Shaw returned a Rose interception 34 yards to make it 23-3 heading into the half.
The Spartans didn't go down without a fight, even without the nation's top ranked quarterback. Kyler McMichael ran in a 9-yard touchdown at the 2:55 mark of the third quarter, but GAC could not finish the extra point, leaving it a 23-9 deficit. Eleven seconds later after a failed onside kick, Woods was unable to handle a snap and the Spartans fell on it. On fourth-and-goal with 8:49 remaining in the fourth quarter, Rose hit Jonathan Burke on a 6-yard pass to make it 23-16.
Tony Wyche stripped Darrell Neal, giving the Spartans the ball back with 7:45 left in the fourth and marking the Saints' third consecutive turnover, following a Trey Morrison interception of Woods. Sean Henderson in place of injured Brooks Buce who was hurt on the failed onside kick due to another Saints shot to the head, sank a 32-yard kick at the 6:03 mark to claw to within 23-19.
Cedar Grove delivered the dagger on a Woods to Dennis Bell jump ball from 17 yards out to take a 30-19 lead with 2:16 left.
Woods finished 12-of-18 for 144 yards, two touchdowns and one interception. Walker rushed for 133 yards and one score on 21 carries. GAC received 99 yards passing from Rose and 67 yards rushing and a touchdown from McMichael.
Class A-Private
Eagle's Landing Christian Academy 34, Fellowship Christian 27
Sloppy offense dominated the first half as Eagle's Landing Christian committed three penalties and sophomore quarterback Brayden Rush went 0-for-5 with two interceptions, but the Chargers were able to take a 14-7 lead into the half and found a way to hold off an upstart Fellowship Christian team in double overtime, 34-27, as the Chargers repeated as state champions and captured their third title.
Trevor Gear keyed the Chargers' ground game, rushing for 102 yards on 14 carries and scoring a 21-yard touchdown to open the scoring. Early in the second quarter, Fellowship Christian answered with a Jack Hardin 2-yard keeper. On the ensuing kickoff however, Justin Menard returned the kick 90 yards to take a 14-7 advantage.
Hardin finished 14-of-21 for 144 yards with an interception and scored two touchdowns on the ground with 64 yards rushing as his 19-yard run in which he bounced off the offensive line and sprung down the right sideline for a touchdown tied the game at 14-14 with 7:41 left in the third quarter. At the 11:23 mark of the fourth quarter Garrett Depew sank a 25-yard field goal to go up 17-14. ELCA answered on Jelan Pearson's 45-yard touchdown run to regain a lead but with 2:08 remaining, Merrick Haigler ran in a 2-yard score to make it 24-21 in favor of the Paladins. Alex Usry knotted the game up with 6 seconds left when he booted a 34-yard field goal to force overtime.
In the first overtime, both teams traded field goals. Josh Mays punched in a 1-yard score to take a lead for the Chargers, putting the pressure back on the Paladins to force a third overtime. On fourth-and-five, Hardin was forced out of the pocket and saw his pass attempt fall incomplete as Eagle's Landing Christian survived.
"I love how my boys fight. They fought and things didn't go right, there in the fourth quarter for us, but obviously I want to praise Fellowship Christian for what a great job that they've done," said ELCA head coach Jonathan Gess.
Rush finished 7-of-16 for 78 yards, highlighted by his late drive to help ELCA tie the game up with 6 seconds left in the fourth. In the loss, Ryan Reid caught seven passes for 80 yards. Andrew Johnson rushed for 86 yards.