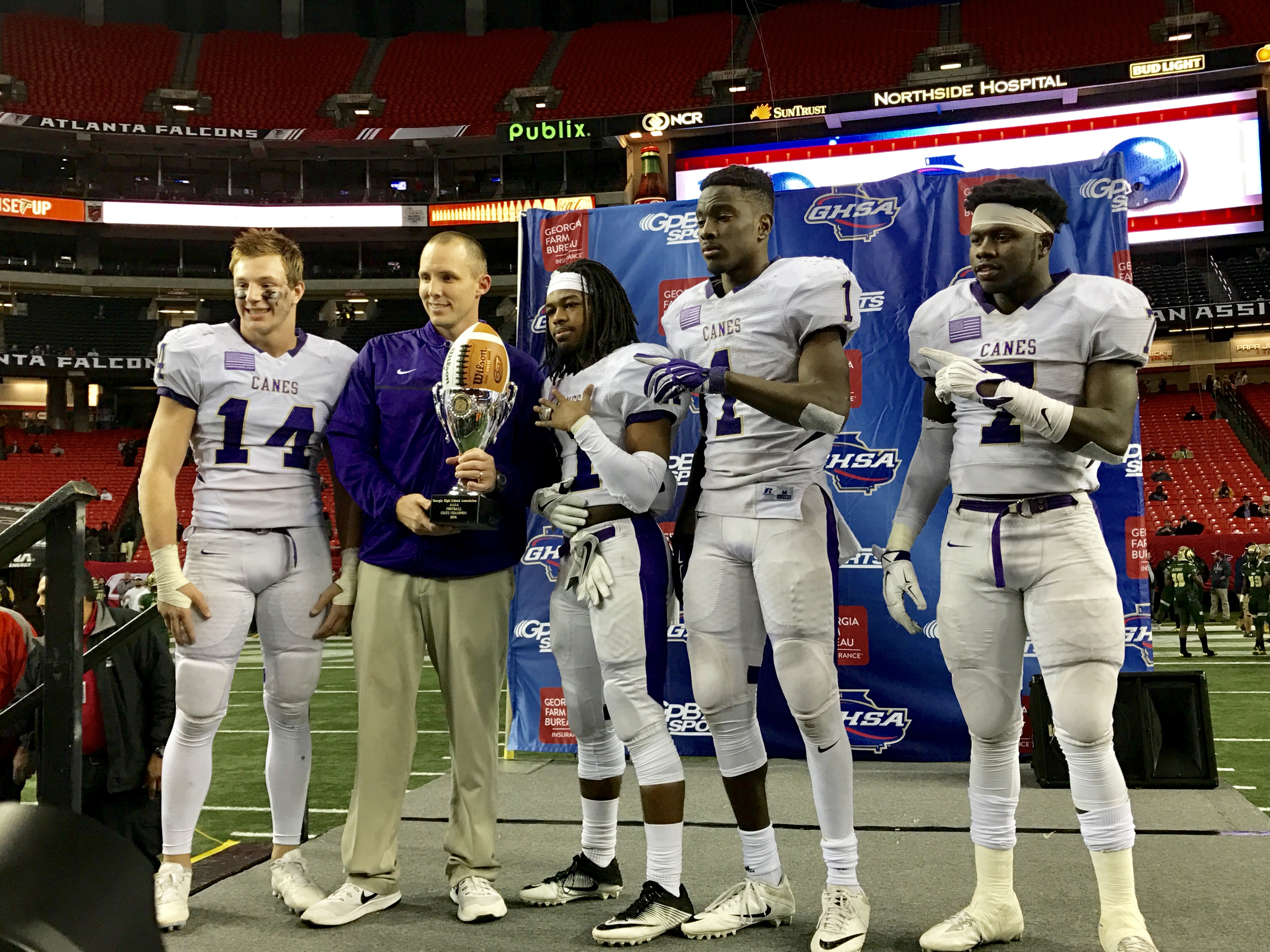 Class AAAAAAA
Grayson 23, Roswell 20 (OT)
A game that culminated with a dramatic series of ebbs and flows ended its regulation with a buzzer-beating Roswell touchdown before Grayson kicker Will VanPamelen booted through a 25-yard game-winning field goal in overtime to crown the Rams Class 7A state champs. Roswell took a 7-0 lead into the second quarter after Malik Willis built the early edge with a 26-yard touchdown pass to Corey Reed. Grayson quarterback Chase Brice found Deangelo Gibbs for a 34-yard touchdown midway through the second period, but the Rams missed the PAT and still trailed 7-6. On the final snap of the half, Roswell's Turner Barckhoff extended the lead to 10-6 with a 47-yard field goal. The teams went scoreless in the third quarter and Roswell's defense continued shutting down the Grayson offense until midway through the second quarter. Barckhoff had added pressure to the Rams' comeback attempt with a 29-yard field goal less than two minutes into the final quarter that made it a 13-6 game. Grayson had just three first downs all game long as they trailed by a touchdown in the fourth quarter but they were able to move the chains four times and cap off a 98-yard scoring drive with a 62-yard Jaquavius Lane touchdown reception. They would miss the potential game-tying PAT, however, and kick the ball back to Roswell still trailing 13-12. Grayson's defense got the stop it needed and the offense took over at its own 39-yard line with 3:42 left. On the sixth play of what turned into a 61-yard touchdown drive, Brice tossed a screen pass to Lane, who took it all the way for a 35-yard touchdown with just 1:04 left. It was Brice's third touchdown pass of the game. With an 18-13 lead, Grayson elected to go for a 2-point conversion. Brice looked right and then lobbed a pass back to a wide-open Lane in the left corner of the end zone to push the lead to 20-13. Roswell used the remaining 1:04 on the clock to perfection on the game-tying drive that started at its own 30-yard line. Willis completed a 9-yard pass to Christian Ford, scrambled for nine yards and used a 13-yard pass to get across the field. Willis connected with Sheldon Evans for eight more yards and hit Reed out of bounds at the Grayson 20-yard line with five seconds left as Roswell burned its last timeout realizing there was time for just one more play. Grayson called a timeout of its own once the defense could see the formation, but it didn't matter. Willis connected with Kentrell Barber on a skinny post route down the right hash marks as Grayson watched him Barber run right past a frozen secondary untouched. Barckhoff's point after was good and the teams entered overtime tied 20-20. Roswell won the overtime toss and elected to go on defense first in the extra period. Grayson's possession resulted in VanPamelen 25-yard field goal that proved to be the game-winner. Roswell failed to gain a yard in the overtime and Barckhoff's 32-yard attempt on 4th and 10 sailed wide right as Grayson clinched the state's first-ever Class 7A title. Grayson head coach Jeff Herron also made history in his first season at the school, becoming the first head coach in state history to lead three different schools to state titles (Oconee County, Camden County). Roswell held Grayson to just eight rushing yards in the losing effort, but Brice was clutch with 18-of-27 passing for 238 yards and three touchdowns with one interception.
Class AAAA
Cartersville 58, Thomson 7:
Cartersville's Trey Creamer ran in two first-quarter touchdowns and hauled in a 20-yard touchdown pass from Trevor Lawrence to open the second quarter as the Purple Hurricanes set the tone for a 58-7 blowout victory over previously unbeaten Thomson. With the Class AAAA championship-clinching victory, Cartersville became the 11th team in state history to post back-to-back 15-0 seasons as they took home back-to-back titles for the first time in program history. Thomson dialed up a trick play to finally get on the board in the second quarter as sophomore Demekus Taylor connected with wide receiver Trey Parker on a 59-yard touchdown pass to cut the deficit to 21-7. Lawrence answered with an 18-yard touchdown pass to two-way star Avery Showell with 5:09 left in the half, and Cartersville kicker Johnathan Cruz closed out the half with a 50-yard field goal and 41-yard field goal in the final 1:38 of action. Thomson was 0-4 on third downs in the first half as Cartersville maintained possession for 14:42 of the 24-minute half and ran 44 plays to its 28. Thomson ended up fumbling the ball seven times and lost five of them, including a forced fumble by Xavier Coaxum that was recovered by Trase Fezzia and returned 60 yards for touchdown to start the second half scoring. Creamer scored his fourth touchdown 1:23 later on a 1-yard touchdown run to give the Purple Hurricanes a 48-7 lead. Coaxum came out of the endzone to high-point a Thomson pass and intercepted the ball at the 1-yard line on the ensuing possesion. On the next snap, Creamer exploded for a 72-yard gain that eventually set up Cruz's third field goal of the game, which was a 37-yarder that put the Purple Hurricanes up 51-7 entering the final quarter. With a running clock in the fourth quarter, Nique Williams capped off the scoring with an 8-yard touchdown run with 4:35 left. Creamer finished with a team-high 107 rushing yards, three rushing touchdowns and two receptions for 28 yards and a score to pace Cartersville. Lawrence was 14-of-34 passing the ball for 196 yards and two scores. Showell caught two passes, including his 18-yard touchdown grab in the second quarter, and added three tackles for a loss and a sack defensively. Thomson was led by a 101-yard receiving effort by Parker and 84 net rushing yards by Mike Thomas.
"I missed this opportunity last year," said Cartersville head coach Joey King as he addressed his players from the championship podium. "I love you, and it's your blood, sweat and tears that got us here."
Class AA
Benedictine 49, Fitzgerald 26
As Benedictine set out to defend its 2014 state title in last year's playoffs, Fitzgerald scored a 54-28 victory to end the Cadets season and continue its own run to 2015 state champs. On Saturday, the two most recent Class AA state champs met in the finals and Benedictine opened up a massive 35-6 lead less than 15 minutes into the game before clinching a perfect season and 49-26 victory. J.D. King gave Fitzgerald its only lead of the game with a 36-yard touchdown run and the point after failed to keep it a 6-0 edge. Terrick Smalls produced two 1-yard touchdown runs before Travis Blackshear closed the opening quarter with a 64-yard touchdown catch from Nick Iannone to make it a 21-6 game. John Kennedy ran in a 7-yard touchdown just over a minute into the second quarter and with 9:08 left in the half, Tyleek Collins escaped for a 43-yard Benedictine touchdown to make it 35-6. Fitzgerald closed out the half with a 33-yard touchdown pass from James Graham to Damien Devine and another unsuccessful extra point made it a 35-12 halftime advantage. James Graham produced a 6-yard touchdown run midway through the third quarter and found the end zone again with 6:38 left in the fourth quarter to bring Fitzgerald within a touchdown (35-26). Benedictine's defense helped close out the game and hold off the comeback attempt. Tyleek Collins ran in a 7-yard touchdown with 1:38 left to cushion the lead to 42-26 and on the next possession, John Kennedy intercepted Graham and returned it 43 yards for a game-clinching touchdown. Despite the late interception, Graham produced an incredible championship performance. The dual-threat quarterback finished with 162 passing yards off of 7-of-16 attempts and added a team-high 188 rushing yards off 28 carries. Fitzgerald outgained Benedictine 473-to-368 in total yards.
Class A-Public
Macon County 35, McIntosh County Academy 0
Twenty seasons after Macon County (12-2) captured its first and only state title (1996), the Bulldogs poured on a 21-point fourth quarter at the Georgia Dome on Saturday to run away with a 35-0 win over McIntosh County Academy in the Class A-Public title game. K'Hari Lane got Macon County going with 1:29 left in the first quarter with a 13-yard touchdown pass to Jared Daniels. The teams went scoreless for the next 16:09 until Lane connected with Trey Brown on a 28-yard touchdown pass with just 20 seconds left in the third period to cap off a seven-play, 57-yard drive. In the final frame, Jared Daniels rushed for a 19-yard score to make it 21-0 with 9:20 on the clock. Lane found Brown for the duo's second touchdown of the second half from 21 yards out as Macon County expanded its lead to 28-0 with 4:04 left. Less than three minutes later, Lane iced the game with his fourth touchdown of the game and his third score to Brown on a seven-yard completion. Macon County accumulated a 346-to-159 edge in total yards and forced four fumbles, while recovering three in the shutout. McIntosh County, which finished the season 10-3, was just 1-of-11 on third downs. Defensively, McIntosh County produced six sacks, including three by Barry Johnson. Lane battled the pressure by finishing 16-of-23 passing for 183 yards and four touchdowns. On the ground, Daniels produced a game-high 121 yards off of 11 carries to go with his 19-yard fourth quarter score.