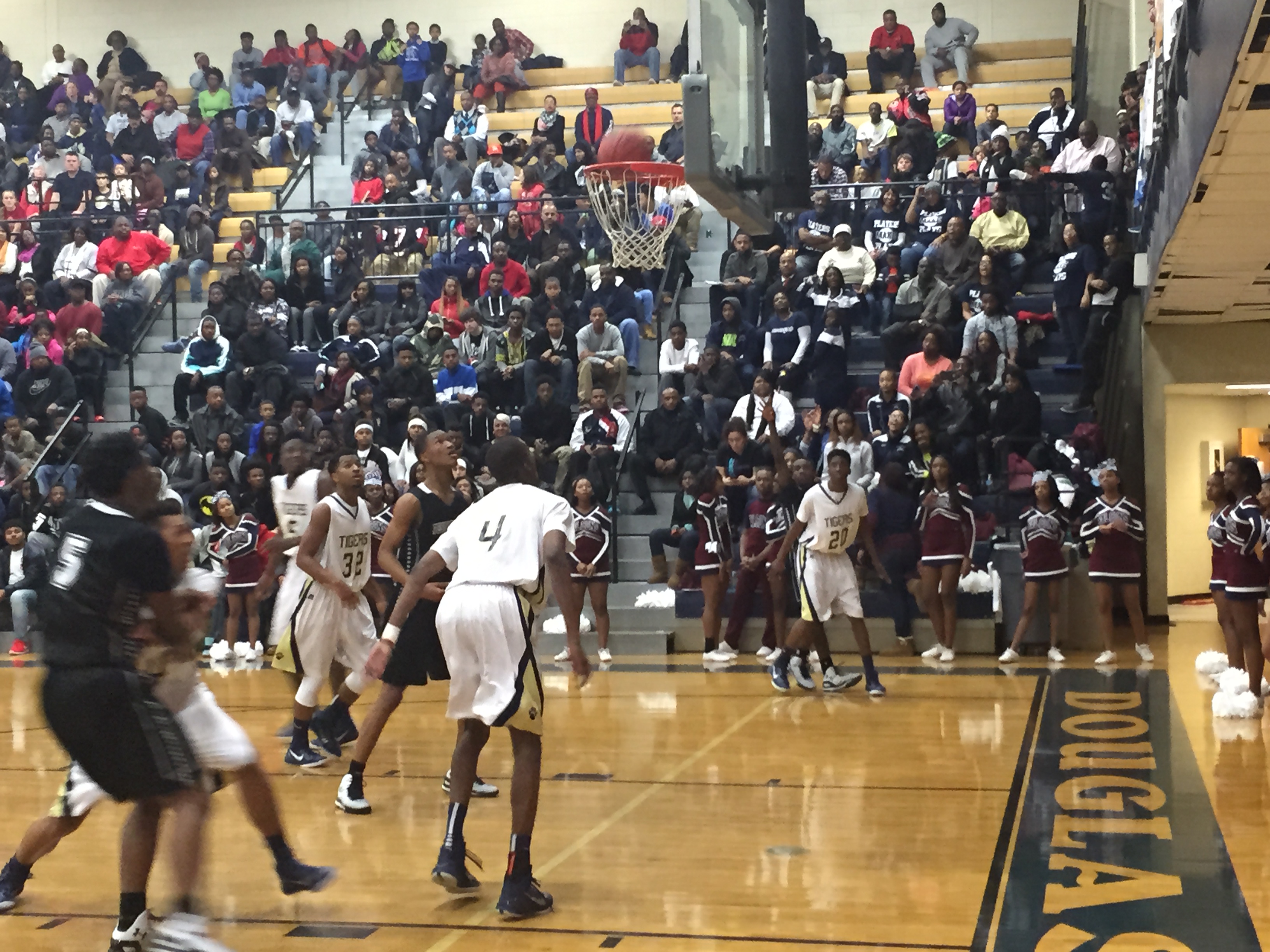 Photo by Craig Sager II
The visiting Pebblebrook boys built a 40-23 halftime lead before running away and adding to a lopsided 87-62 win over Douglas County Friday.
"Our motto is win the quarter," explained Pebblebrook head coach George Washington.  "I told our guys at halftime if you don't win the third quarter our two quarters won't mean anything. So we won the third quarter and just put the pedal to the floor."
Contributions came throughout Pebblebrook's star-studded lineup but it was Clemson-commit Ty Hudson who had the hot hand early. Hudson netted 14 of his 22 points in the first half, including three 3-pointers in the second quarter, to give Pebblebrook, ranked No. 3 in Class AAAAAA, the 17-point halftime lead. Derek Ogbeide, a future UGA big man, opened the second half with back-to-back dunks and scored eight of his 19 points in the third quarter to give the Falcons a commanding 64-49 lead. Pebblebrook junior Jared Harper stepped up late and closed the game with eight points in the fourth quarter, while tying his senior teammate Hudson with a team-high 22 points. Pebblebrook's Thrae Mitchell also reached double-digits with 16 points. Pebblebrook improves to 12-2 and remains undefeated in Region 3 at 6-0.
Douglas County, ranked No. 6 and now 11-4 and 5-1 in the region, got its scoring from Brandon Robinson (15), K'Ja Johnson (15) and Corey Tillery (11) but was never able to keep pace with the Falcons. Douglas County's struggles carried over to the foul line where they shot a dreadful 1-of-8.
Wheeler 71, Woodstock 30: Wheeler, the top-ranked team at Class AAAAAA, now 15-1 and 7-0 in Region 5, went on a 21-3 run after the first quarter and never looked back. Jaylen Brown led the Wildcats with 24 points while Noah Frith led the host Wolverines (3-12, 1-8) with seven.
Miller Grove 81, Druid Hills 29: Aiden Saunders scored 17 points to lead visiting Miller Grove over Druid Hills. Gamaun Boykin added 14 points and four steals while Lamont West finished with 12 points and six rebounds as the top-ranked team in Class AAAAA went to 14-3 overall and 5-0 in Region 6. Druid Hills fell to 6-10 and 2-5 in the region.
Milton 54, Walton 52: Quart'e Sapp scored on a tip-in late in the fourth quarter to help the visiting Milton (9-7, 6-3 in Class AAAAAA Region 5) Eagles slip past Walton (7-7, 3-3). Chris Lewis led the Eagles with 20 points and three other players added eight points. Walton's Josh McGrath scored 20 points in the loss.
Columbia 77, Stone Mountain 53: Columbia, ranked No. 4 in Class AAAA and now 12-4 overall and 7-2 in Region 6, was led Justin Longstreet's 17 points followed by Micaiah Henry who had 10 points, 16 rebounds and nine blocks. Chris Jones led Stone Mountain (12-5, 7-3) with 15 points.
Alexander 69, Chapel Hill 56: Host Alexander (8-6, 5-3 in Class AAAAA Region 5)  led 30-28 at the half, but the Cougars were able to go on a 39-28 run led by Artavius Love with 24 points and Trae Jones added 15. Chapel Hill fell 6-9 and 3-5 in the region.
Girls
Douglas County 54, Pebblebrook 42: Douglas County's Amira Atwater netted seven points in the first quarter and led host Douglas County with a team-high 17 points as the Tigers topped visiting Pebblebrook. Douglas County jumped to a 14-6 lead at the end of the first quarter and used a 7-2 run to close the second quarter to take a 24-14 halftime lead. Brandi Brown sparked Pebblebrook with a game-high 18 points and helped fuel the Falcons as they outscored Douglas County 19-15 in the third quarter but it would not be enough. Pebblebrook eventually cut the lead to four points in the final quarter but clutch foul shooting by Douglas County's Santasia Faust iced the game. Pebblebrook moved to 10-6 overall in Class AAAAAA and 5-1 in Region 3.
St Pius 54, Arabia Mountain 43:  St. Pius, the top-ranked team in Class AAAA and 15-1 and 11-0 in Region 6, was led by Asia Durr, one of the top players in the state, who had 31 points while Miah Allen had nine. Arabia Mountain's leading scorer was Nia Sapp with 13 points and they are now 7-6 and 5-4 in the region.
North Forsyth 53, Chattahoochee 36: North Forsyth's Caroline Bowns had 21 points and Lochlain Corliss had 16. North Forsyth, 15-2 and 9-1 in Region 6, is ranked No. 6 at Class AAAAAA. Chattahoochee is 10-4 and 5-4 in the region and was led by Fiena Gore with 13 points and Aysia Key with nine.
Norcross 55, Duluth 37: Norcross' Taylor Mason led the way with 16 points followed by  Ty Gillespie with 15 points and Bash Perry with 10. The Blue Devils led 31-21 at the half and are ranked No. 8 in Class AAAAAA with a 14-2 record overall and are 6-0 in Region 7. Duluth is now 11-6 and 3-3 in the region.
Hillgrove 48, Marietta 33: Hillgrove, 9-5 overall and 4-2 in Region 4, led by eight at the half and then ran away from behind 12 points each from Victoria Jackson and Briana Bogglan while Jaya Smith and Tene Thompson each had nine. Marietta fell to 8-8 and 1-5 in region 4.
McEachern 86, North Paulding 35: Class AAAAAA No. 3 ranked McEachern and Te'a Cooper, who will be playing at Tennessee next season, pushed the team's record to 11-2 overall and 4-1 in Region 4 with an easy win over North Paulding. McEachern had 48 points in the second half. Cooper had 28 points followed by Lynsey Whilby's 17 and 16 from Jada Lewis. North Paulding (5-9, 0-5) was led by Tatyiana McClendon's 12 points and eight rebounds.
Archer 59, Berkmar 29: Archer's Amber Skidgel had 17 points, Autumn Newby had 13 points, 11 rebounds and four assists and Madison Newby finished with nine steals and six assists. Linsey Marchese also had nine points and six assists for Archer, ranked No. 4 in Class AAAAAA. Berkmar was led by Hylan Clayton, who scored nine points and Jirah Simpkins and Jasia Paraoan each had six. Archer is 12-3 overall and 6-1 in Region 8 while Berkmar dropped to 9-6 and 2-4.
Buford 56, North Oconee 21: Buford, ranked No. 3 in Class AAAA and 12-4 overall, was led by Corey Staples with 16 points and five rebounds. The Wolves also got 10 apiece from Katy Bisges and Marissa Bruce. Cameron Williams led North Oconee (10-4) with 11 points.
Parkview 47, Dacula 30: Parkview, ranked No. 7 in Class AAAAAA and now 10-3 and 6-0 in Region 8, was led by Vicky Harris who scored 16 points and had 13 rebounds. Dominique Leonidas also provided 16 points and six assists for the Panthers. Dacula falls to 9-6 and 3-3 in the region.