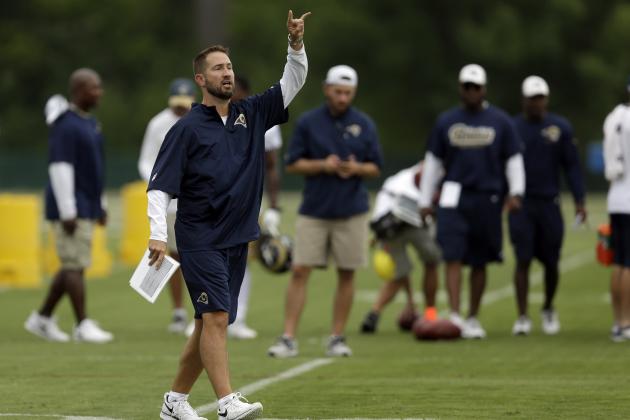 Jeff Roberson
Just a couple of days removed from the news that Georgia was going with longtime NFL offensive coordinator Brian Schottenheimer to lead their offense, head coach Mark Richt sat down beside him to answer questions from the media. Richt started off the press conference by talking about how excited Georgia was to have Schottenheimer aboard.
"Brian is a guy that we've got an awful lot of faith in to come in and run our offensive team," Richt said. "We're just thankful that he has decided to work his way into the college ranks and choose Georgia."
Schottenheimer's coaching career dates all the way back to 1997, when he broke into the NFL as a young assistant coach with the St. Louis Rams. He would soon join his dad Marty in Kansas City for one year as an assistant coach with the Chiefs. He would then coach at Syracuse and then Southern Cal for the next two years, before returning back to the NFL. He has been on an NFL coaching staff since the year 2000.
With the hiring of Schottenheimer from the NFL, many have questioned whether or not he can translate to the college level. He believes that he can, because of his prior work in the NFL with some young quarterbacks like Drew Brees and Phillip Rivers in San Diego.
"It seems like wherever I've gone there's always been young quarterbacks and with that comes a challenge," Schottenheimer said. "But, at the same time it's fun. That's a passion of mine. I love working with quarterbacks. I love developing quarterbacks. Drew has become one of my best friends in the World. The time we spent together both on the field and in the classroom, we certainly had some success. Again, that's a passion of mine and something I think I'm pretty good at. I look forward to trying to continue that tradition on here."
Schottenheimer says that he hasn't gotten too deep into personnel or any other part of the program that he will concern himself with for his day-to-day duties. He did say he has been viewing recruit film and has been on the phone with some potential Bulldogs.
He even went further to say that he plans on working very closely with the rest of the offensive coaching staff to put the group in the best position to work at a high level.
"The good thing about me is that I'm coming into a situation where there's a bunch of really good coaches on the staff," Schottenheimer said. "We're not going to re-invent the wheel. I think philosophically we see things the same way with the 'pro-style' offense. We're going to run the football, obviously that's a big part of what we're doing. It was really kind of an easy fit and an exciting fit, because not a lot of teams in college football are doing it that way."
Shortly after answering that question, Richt was asked whether or not the remaining offensive coaches were planning to stay with the Georgia program. He says as far as he knows wide receivers coach Tony Ball, tight ends coach John Lilly, and running backs coach Bryan McClendon plan on staying at Georgia.
When asked about getting to know the terms of this offensive scheme, Richt says they'll teach Schottenheimer those parts of the Georgia 'pro-style' attack. This is so they can get him caught up to speed, as opposed to the numerous players on the offensive side of the ball learning his terms.
When Georgia takes the field this fall in their season opener against Louisiana-Monroe, it will begin Schottenheimer's 18th season in coaching competitive football. He joked that he wanted to be a golfer when he grew up and says because he got his hands beat up in football that was out. He says that he knew pretty quickly that he wanted to be like his father Marty and Uncle Kurt by following their footsteps into the coaching field.
"Truly around the age of 18 or 19," Schottenheimer said. "Actually that's why I transferred from KU (Kansas) to Florida, is that I wanted to go down there and learn the 'pro-style' offense from coach (Steve) Spurrier. From that point on, I never looked back."
Yes, the hated rival Florida. Schottenheimer finished up his final three years of playing college football in Gainesville with the Gators. This fact actually came up, when he and Richt were asked who the better quarterback was during their playing careers. On that, Richt said you would have to ask his own mother. But the differences between Georgia and Florida were worked on during the interview.
"Somehow the term 'Gatorade' got brought up," Richt said. "We're actually Powerade here. We talked about the game that we have in Jacksonville and he did refer to it as the 'Florida-Georgia Game.' I said that's rule number two, it's the 'Georgia-Florida Game.'"
Schottenheimer quickly interjected to agree with Richt's point in a joking manner.
"That almost did me in truth be known," Shottenheimer said with a smile. "That almost did me in, so I've been watching it real close from that point on.
The chemistry between Richt and Schottenheimer seems to already have a good foundation. The coaching staff as a whole for Georgia is also a fan of the new offensive coordinator. In fact, Richt had all of them sit in on the interview with Schottenheimer.
Schottenheimer did add that former offensive coordinator Mike Bobo reached out to him through text message to wish him luck. He says that speaks to Bobo's character to take time to do that.
The team is now still trying to find a new offensive line coach. Richt says he would like to have one hired soon for last-minute recruiting purposes. However, he's more concerned about hiring the right coach.