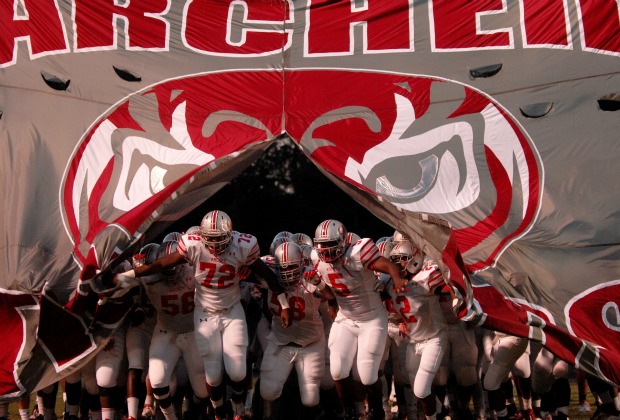 No. 5 Norcross held off a late charge by Region 7-AAAAAA rival Mill Creek while Archer edged Dacula also in Gwinnett County. See below for more of our high school football recaps.
Class AAAAAA
Norcross got the upper hand of a second straight thriller between the two region rivals. The Blue Devils, who prevailed 41-34 last year, barely held on this time for a 49-41 win in a big Region 7-AAAAAA duel. Visiting Norcross led 35-14 at the half and quickly extended the advantage to 49-14 after recovering a fumble on the opening kickoff and eventually returning another fumble 95 yards for a touchdown.
When linebacker Kevin Mouhoun went down with an injury, it opened the floodgates for Mill Creek. Daniel David led the Hawks with two touchdown runs and two scoring strikes to DeVozea Felton, but they were stopped twice in the last four minutes of a one-possession game.
Alpharetta 21, South Forsyth 0: The visiting Raiders took care of business on the road against South Forsyth behind the performance of quarterback Josh Dobbs. Dobbs passed for more than 200 yards, including a touchdown pass to Daniel Clements and two touchdown runs.
Archer 17, Dacula 14: Sean Fowler rushed for 137 yards and a touchdown for visiting Archer. Fowler also hauled in a scoring strike from Gabe Tiller, who finished with 117 passing yards. Dacula nearly erased all of a 14-0 halftime deficit behind two Marcus Cox touchdowns, an 82-yard reception and a 55-yard punt return.
Central (Ala.) 33, East Coweta 31: The Red Devils came out on the losing side of a see-saw battle just west of the state line. Dee Godfrey led an East Coweta offense that gained 487 total yards by rushing for 187 yards and three touchdowns on 17 carries. Central took the lead for the final time with just over two minutes left in the game.
Collins Hill 40, Mountain View 7: Collins Hill thrashed the visiting Bears behind a strong rushing attack. The Eagles had 247 rushing yards and were led by Thomas Harris, who had 92 yards and a touchdown, and Tyler Henderson, who had 85 yards and two touchdowns. Quarterback Brett Sheehan threw for 112 yards to go along with 59 yards rushing and one touchdown on the ground.
Duluth 52, Meadowcreek 6: Tyler Campbell rushed for 200 yards and three touchdowns and also threw for 70 yards and a score as the host Wildcats rolled. Jordan Dooley added 50 rushing yards and two touchdowns and Jordan Dandridge had a touchdown reception to help snap Duluth's 3-game losing streak and keep Meadowcreek winless.
Etowah 26, Roswell 14: Matt Bowling carried the ball for 92 rushing yards and a touchdown to help lead the visiting Eagles over the Hornets. Stanlee Logue and John Oliver each added rushing scores to seal the victory. Etowah improved to 3-2 on the season while Roswell fell to 1-4.
Grayson 45, Shiloh 27: The visiting Rams scored all six of their touchdowns on the ground and mixed in a field goal before Shiloh finally got on the scoreboard thanks to a Grant Swinton 96-yard kickoff return. Wayne Gallman and Aares McCall each scored a pair of touchdowns for Grayson. Jordan Germany and David Fennell also scored for the Rams.
Hillgrove 38, Campbell 0: Troy Thompson was 10 of 15 passing for 144 yards and touchdowns to Richard Hallman and Evan Engram for visiting Hillgrove. Backup quarterback Elijah Ironside threw a touchdown pass to Omar Black and ran for an 11-yard score, and Andrew Vaughn added a 40-yard field goal. Hillgrove, which gained 435 total yards, led 31-0 at halftime.
Lambert 21, North Forsyth 7: Quarterback Brock Maxwell scored on rushes of 37 and one yards, and Jake Vazquez put the game away with five minutes to play in the fourth quarter with a 3-yard rushing score. Lambert improved to 5-0 with the home win.
Lassiter 30, Woodstock 7: Lassiter quarterback Eddie Printz threw for 170 yards and a score while Patrick Levandoski returned an interception for a touchdown. Willie Police ran or a 4-yard score in the third quarter to extend the host Trojans' advantage to 16-7. Blake Wilson ran for a 26-yard touchdown for Lassiter.
Lovejoy 58, Druid Hills 3: Lovejoy excelled in all three phases of the game to roll over host Druid Hills. The Wildcats got a blocked punt return for a touchdown by El Malik Roberson and an interception return for a score from Randy Anyanwu. Travis Custis rushed for two touchdowns and Alejandro Bennefield added four through the air.
Milton 34, Wheeler 14: A pair of Milton running backs, Treyvon Paulk and Peyton Barber, ruined the Wildcats' homecoming. Paulk carried the ball 22 times for 177 yards, including a 53-yard scoring scamper. Barber added 128 yards and two touchdowns on 17 carries. The visitors never trailed in the contest.
North Cobb 48, Harrison 14: Nick Miller had 232 all-purpose yards for North Cobb including two receiving touchdowns and a 90-yard touchdown run. Cameron Albright had a rushing and receiving touchdown as well as an interception in the end zone on defense. Quarterback Tyler Queen and running back J'vonte Herrod also rushed for scores.
Rockdale County 9, Morrow 0: The Bulldogs notched their first victory of the season over the visiting Mustangs. Rockdale County took its first lead of the season on a first quarter safety, and added a touchdown in the third quarter for the only scoring of the game. The win was the Bulldogs' first in their last 13 games dating back to 2011.
South Gwinnett 42, Central Gwinnett 28: Jordan Ramey threw touchdown passes to L.J. Gainey (62 yards) and Coray Keel (38 yards) and ran for a 10-yard score for the visiting Comets. Keel also caught a 77-yard pass from Bernard Morrison, and Roberto Lindsay made a 26-yard field goal to cap the scoring. South Gwinnett led the entire game.
Walton 21, Cherokee 7: The host Raiders benefitted from another big game from star running back Tyren Jones. Jones scored from 18 and 47 yeards and went over the 1,000-yard mark for the season. Parker McLeod threw the Raiders' first touchdown of the game, but had to leave due to an ankle injury in the fourth quarter.
West Forsyth 40, Centennial 6: Wolverines quarterback A.J. Erdely threw three touchdown passes to running back Jake Wieczorek in the first half. Wieczorek also scored on a 14-yard run and Trevor O'Brien ran it in from 35 yards for a 40-0 lead. Centennial scored in the second half on a 44-yard touchdown pass from Chase Rosenberg to Christian Robinson.
Class AAAAA
Creekview 31, Osborne 0: Creekview, which led 14-0 at halftime, poured in 17 more points in the fourth quarter on 1-yard touchdown runs from running back Will Kirby and quarterback Hayden Hall and a 27-yard field goal by Connor Fraser. Hall's 57-yard touchdown run in the first quarter opened the scoring.
Drew 14, Starr's Mill 6: The visiting Titans held the host Panthers to just five first downs on 113 total yards. Lester Knauls capped a 73-yard drive with a 1-yard touchdown run with 2:10 remaining to seal the victory. Drew improved their record to 3-1, while dropping Starr's Mill to 2-3.
Flowery Branch 35, Salem 16: The visiting Falcons took down the Seminoles behind the leadership of quarterback Jackson McDonald, who accounted for all five of the Falcons' touchdowns. He had three passing touchdowns along with 48-yard and 19-yard touchdown runs. The Seminoles struggled to convert on scoring chances missing two field goals and not taking advantage of two second half turnovers.
Gainesville 42, Heritage-Conyers 14: The Red Elephants dominated the visiting Patriots. Dual-threat quarterback Deshaun Watson completed 17 of 24 passes for 277 yards and three touchdowns and rushed the ball 17 times for 120 yards and two touchdowns. Watson's leading receiver was Rodney Lackey, who had four receptions for 147 yards and a touchdown.
Harris County 37, Douglas County 31: After trailing 28-13, the visiting Tigers came back to win in double overtime. Harris County scored twice and converted a 2-point conversion late in the fourth to send the game into overtime. Esaias Chapman ran four yards for a touchdown in the second overtime to put the Tigers up six. Douglas County fumbled on their first play sealing the victory for Harris County.
Mays 32, North Atlanta 10: The host Raiders did much of their damage in the first half to defeat the visiting Warriors. Mays quarterback Trevon Jones threw for three touchdowns, while DeAngelo Yancey caught two scores to help pace the win. Mays improved to 2-3 on the season, while North Atlanta remained winless.
Riverwood 55, Northview 27: The host Raiders ran over the Titans behind Tyler Blake's two rushing touchdowns. William Holiday recovered a fumble and Marcus Rosser added a 70-yard touchdown run to keep Riverwood undefeated entering next week's Region 7-AAAAA matchup with Kell, while Northview remains winless on the season.
Sequoyah 41, Sprayberry 34: Senior running back Blake Ingleton ran for more than 200 yards and scored all six touchdowns for the Chiefs, including the tie-breaking touchdown inside two minutes to play, as visiting Sequoyah held on for the win. The Chiefs later forced a turnover on downs to secure the victory.
Tucker 67, Lakeside-DeKalb 7: The Tigers mixed a little pass with a running game by committee approach to cruise past neighbor Lakeside-DeKalb at Adams Stadium. Juwaan Williams and Joe Farrar combined for 115 yards and three passing scores. Chauncey Rivers caught one of Williams' touchdown throws and added a 20-yard fumble recovery for another score. Even though no Tucker back rushed for more than 100 yards, the team totaled 397 yards on the ground.
Union Grove 23, Northgate 0: Union Grove had been shut out last week by Whitewater, but this time it returned the favor against Northgate. The visiting Wolverines were led on offense by Austin Brown, who caught two touchdown passes from Jonathan Slade. Miles Vaughn added a rushing touchdown and Shawn Davis booted a 28-yard field goal.
Whitewater 48, Forest Park 7: Kendall Conley rushed for three touchdowns and Christian Wafford rushed for two in the Wildcats' home win. Tight end Wyatt Burke caught a 9-yard touchdown pass. Whitewater led 35-0 at halftime.
Class AAAA
Carrollton 66, Columbus 0: The hot Trojans rolled to a 51-0 halftime lead and cruised behind a stout defense that allowed minus-19 total yards. Carrollton had 324 rushing yards, as six Trojans ran for scores. Columbus was held to minus-39 rushing yards.
Jonesboro 34, Woodland-Stockbridge 20: Mario Atkinson threw two touchdown passes to Dereon London and one to Taurean Ferguson for the host Cardinals. Wide receiver Cameron Sutton had a 12-yard rushing score out of a "Wildcat" formation, and Kenneth Hillman had a 2-yard rushing score.
Locust Grove 19, North Clayton 12: Keenan Wise ran for touchdowns of 10 and 11 yards to help Locust Grove to the road win. Cortez McDowell had a 5-yard touchdown run to open the scoring. Locust Grove batted down a pass on fourth down with under a minute to play to seal the win.
Monroe Area 33, Lanier 20: The Purple Hurricanes were perfect in the first half, scoring on each of their four possessions in the first half at Lanier. Quarterback Stanton Truitt scored on an 8-yard run and threw two touchdown passes to T.J. Sigmund, one coming on a fake punt. Kwan Brooks scored the Purple Hurricanes' other touchdown on a 91-yard run. Kicker Cody Brown kicked four extra points and added 35-yard field goal. A linebacker Andrew Shoemaker for a safety capped the scoring for Monroe Area.
Riverdale 52, Eagle's Landing 36: The hosting Raiders tallied more than 400 yards rushing in a high-scoring contest to defeat the visiting Eagles. Kamhad Magwood led the way with 134 yards and four rushing touchdowns while Deon Jones carried the ball six times for 113 yards and a score.  Tikeem Cooper added another 112 rushing yards and a touchdown and Trey Sanders also contributed with an 89-yard kickoff return score.
Class AAA
Buford 63, Banks County 0: The visiting Wolves led 49-0 and kept Banks County to minus-5 yards of offense at halftime. Dontravius Wilson had two touchdowns, a 45-yard run and a 13-yard fumble return, as did Sean Reynolds with a 24-yard run and an 11-yard reception. Starting quarterback Montgomery VanGorder and backup Taylor Mitchell each had a touchdown pass.
St. Pius 48, Towers 6: St. Pius coach Paul Standard won the 100th game of his career as seven different Golden Lions scored. The visiting Titans were held to 116 yards of total offense while St. Pius accumulated 353, including 248 on the ground. The Golden Lions led 42-0 at the half.
Thomson 20, Westminster 10: Chris Jordan rushed for 158 yards and two touchdowns as Thomson erased an early 10-0 deficit to get past Westminster. The visiting Wildcats did not have halfback Nigel Walker and starting quarterback Jake Forte for most of the game due to injuries. Jordan clinched the win with an 80-yard scoring jaunt in the fourth quarter one play after Westminster missed a potential go-ahead field goal.
Class AA
Ft. Payne (Ala.) 28, Lovett 14: Visiting Ft. Payne tallied 380 total yards as quarterback Dale Jackson completed 20-of-28 passes for 175 and two scores while rushing or 83 yards and a touchdown. For Lovett, Willie Candler threw for 155 yards and a touchdown while rushing for 58 yards and a touchdown.
Class A
North Cobb Christian 47, Cross Keys 7: Kendall Crute was a one-man show for the host Eagles. Crute scored on a 47-yard touchdown run on the first play from scrimmage, then threw for a 27-yard score and added a 103-yard interception return for another six points. Miller Forristall, David Brittingham and Daniel Galanos also found pay dirt for North Cobb Christian.
Our Lady of Mercy 33, Pace Academy 21: The Bobcats showed no mercy to the host Knights behind a stellar performance from quarterback Dylan Terrell. Terrell completed 5-of-8 passes for 94 yards and a touchdown along with 52 yards and a pair of touchdowns on the ground. Defensively, Kyle Wilkins dominated for the Bobcats with 12 tackles including three sacks.
Pinecrest Academy 35, Hebron Christian 0: Jimmy Strom carried the ball into the end zone four times and had another 100-yard rushing game as the visiting Paladins shut out the host Lions 35-0. Pinecrest has won three straight since losing its opening game, while Hebron fell to 1-3 on the season.
Stephen Black, Ryan Caiafa, Sean Conway, Ricky Dimon, Alex Ewalt, Brian Jones, Robby Kalland and Jay Underwood contributed to this report.