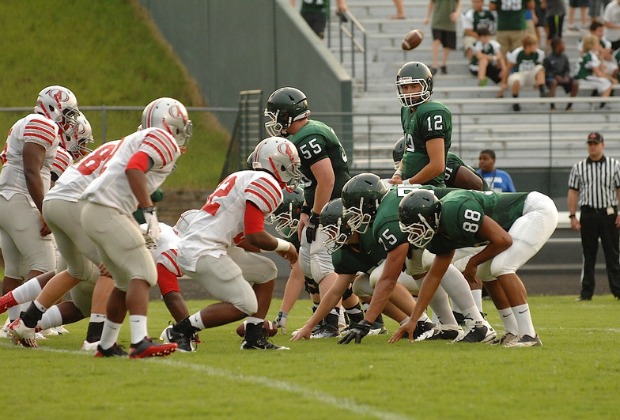 Sonny Kennedy
By Stephen Black, Ryan Caiafa, Sean Conway, Joe Deighton, Robby Kalland, Jay Underwood
Brookwood doubled up Central Gwinnett, Centennial won its second in a row, Hughes continued its magical run by beating Newnan, Walton edged rival Wheeler, Westminster blew out Wesleyan and Johns Creek got past Lambert in some of the highlights in tonight's gridiron action. See below for these recaps and more.
Class AAAAAA
Archer 42, Berkmar 0: John Gillis intercepted a Berkmar pass early, and the Tigers were off and running. Moments later, Ernest Alexander found the endzone on a 34-yard dash. Backfield mate Sean Fowler led Archer's ground attack with two rushing touchdowns. Brandon Weber also had an interception for Archer.
Brookwood 42, Central Gwinnett 21: The halftime score was 14-14, but the host Broncos busted loose in the second half with 28 straight points. Kyrin Priester caught a 34-yard touchdown pass for Brookwood and Matthew Price returned an interception 48 yards to the end zone to complete the second half scoring for the Broncos.
Centennial 22, South Forsyth 10: Quarterback Chase Rosenberg and receiver Christian Robinson hooked up for two touchdowns, five in their last two games, both wins. Rosenberg threw for 233 yards on 15 of 29 passing. South Forsyth opened the scoring on a 35-yard reverse by Sam Walker. The Knights tied it on a 28-yard pass from Rosenberg to Robinson. Centennial went up 15-7 midway through the third on another pass, this time 16 yards from Rosenberg to Robinson. The War Eagles closed to within five on a 25-yard field goal by Brandon McKay but the Knights put it away on a 65-yard interception return by Kola Balogun.
Collins Hill 56, Meadowcreek 10: The visiting Eagles were led by quarterback Brett Sheehan, who completed 17-of-19 passing for 300 yards and five touchdowns in the first half. Justin Wyatt had three catches for 47 yards and two touchdowns and Julian Williams had four catches for 88 yards and a touchdown. Grant McDonald and Quincy Jones also had touchdown grabs.
Douglas County 21, Westlake 6: The host Tigers led 14-6 at halftime. Running back Anthony Gardner scored two first half rushing touchdowns and added a third in the second half for Douglas County. The Tigers' defense held the visiting Lions scoreless in the second half.
East Coweta 44, Tri-Cities 15: The host Indians led 30-0 at the half. Bryce Gemmel threw two touchdowns passes to Markell Boston, one for 48 yards and the other for 54 yards. Dee Godfrey added two rushing touchdowns from 15 yards and five yards. Weylin Orr also scored twice on the ground with runs of 23 yards and six yards.
Etowah 26, Cherokee 9: The visiting Warriors opened the game with a safety, but the Eagles amassed 229 yards of rushing. Brandon Engle led Etowah with 109 yards on 16 carries and a touchdown. The Eagles led 20-9 at the half and kicker Ryan Hopper tacked on two field goals for the only scoring in the second half.
Langston Hughes 34, Newnan 14: The visiting Panthers were led by running back Keion Davis who had 149 rushing yards and two touchdowns. Quarterback Kenny Moxey completed nine-of-14 passes for 100 yards and a touchdown for the Panthers. Kinan Humphrey added a seven-yard touchdown run for Langston Hughes.
Lassiter 47, Milton 30: Eddie Printz passed for 395 yards and four touchdowns to help the visiting Lassiter Trojans rally back from a 23-6 deficit and defeat the Milton Eagles 47-30. With the win, the Trojans improved to 6-0 and took over sole possession of first place in Region 5-AAAAAA. Printz completed 22 of his 34 attempts, including 11 passes to Willie Police, who finished with 145 receptions and two touchdowns. The Eagles, who fell to 5-2, were led by their rushing attack with 129 yards and a touchdown from Trayvon Paulk and 113 from Peyton Barber, who scored three touchdowns.
Lovejoy 60, Luella 0: The visiting Wildcats took a 38-0 halftime lead and were never challenged by Luella. Quarterback Alejandro Bennifield completed 10-of-13 passes for 200 yards and three touchdowns to lead Lovejoy. Running back Travis Custis added 81 rushing yards and two touchdowns for the Wildcats.
Marietta 44, Campbell 36: The visiting Spartans scored on nearly every possession, but could not score on the last possession that could have tied the game. The Blue Devils were sparked by Jordan Mathis' 69-yard punt return for that gave them the lead for good. Mike Rogers scored on a 19-yard touchdown run for Campbell.
Mill Creek 56, Duluth 21: Jacorey Lewis broke two school records for the visiting Hawks. He rushed for 302 yards on 26 carries with six touchdowns. His last run went for 73 yards and a score. DeVozea Felton added 93 yards on seven carries and Daniel David scored a touchdown on 72 yards and five carries. On defense, Keanu James had an interception and Kelsey Griffin had another impact performance. Griffin recorded three sacks, a tackle for loss, a pass deflection and returned an interception 58 yards for a touchdown.
Newton 27, Rockdale County 6: James Hardeman rushed for 152 yards to help lead the visiting Rams past the Bulldogs. Newton held Rockdale County to negative rushing yardage and just 32 yards of offense in the second half. The Rams stayed unbeaten in region play with a big showdown against Lovejoy next week..
Norcross 48, Mountain View 6: Junior Myles Autry scored on runs of 25 and 10 yards, a catch of 37 yards and a punt return for 72 yards to lead the host Blue Devils. Quarterback Joseph Wilber pitched in by tossing three touchdowns for Norcross.
North Gwinnett 44, Habersham Central 6: Michael Haynes passed for 197 yards and three touchdowns to lead North Gwinnett past Habersham Central. The visiting Bulldogs also scored twice on the defensive end with interception returns by C.J. James and Jalen Brooks. Nate Brown hauled in two touchdown passes while Nick Andryusky added a 25-yard touchdown run for North Gwinnett.
Parkview 28, Shiloh 0: Two interceptions and two fumbles lost doomed the visiting Generals at the Big Orange Jungle. Parkview played a ground control game, attempting just four passes. Quarterback Mac Marshall did score twice on 1-yard runs. Running backs Chris Carson and Justis Rosser each rushed for over 100 yards and a score for the Panthers.
South Cobb 26, Harrison 21: Stephon Masha threw for 294 yards, including a touchdown strike to Chris Simon, as South Cobb held off Harrison. Jeremiah Alphabet made seven catches for 193 yards and Chauncey Ingram added 178 rushing yards and one score on 21 carries for the visiting Eagles. Harrison returned a fumbled for a touchdown in the final minute, but could not recover the ensuing onside kick.
Walton 24, Wheeler 23: Walton trailed 23-10 heading into fourth quarter, but Tyren Jones cut into the deficit with a 22-yard touchdown run. The game-winning score came with 4:40 left on a 33-yard strike from Price Wilson to D.J. Smith. Jones also gave the visiting Raiders a 66-yard touchdown jaunt in the first quarter, while Anthony Price added a second quarter field goal from 40 yards.
Woodstock 26, Roswell 24: Senior Addison Bass gave the hometown fans something to remember on Senior Night. The Wolverines' wide receiver scored two touchdowns including a reception from Alex Motsinger and recovered a pair of onside kicks, one while on the kicking team and one while on the receiving team. Placekicker Eric Cervantez added two field goals for Woodstock.
Class AAAAA
Allatoona 38, Villa Rica 7: Quarterback Jeremy Uzee threw for 178 yards and three scores for the host Buccaneers. Tony Perkins was on the receiving end of two of Uzee's passes including a 50-yard strike. Tommy Harris had Allatoona's other touchdown catch, and running back T.J. Herron added two ground scores.
Creekview 41, Cambridge 0: The Grizzlies coasted past Cambridge thanks to two touchdowns and 103 yards on the ground by Chandler Wold. Isaih Rodgers and Will Kirby also ran for scores. In the air, Hayden Hall connected with Connor Dulmage for another touchdown. Hunter Udall returned an interception 63 yards for the game's final score.
Flowery Branch 35, Heritage-Conyers 27: The host Falcons overcame a 27-6 halftime deficit to defeat the Patriots. Flowery Branch scored 29 third quarter points to rally back for the victory. The Falcons took a 28-27 lead on a 30-yard screen pass from Jackson McDonald to Darius Curry, and stretched the lead to eight on an 18-yard pass from McDonald to Jamaad Stephens after Quinton Mayfield's third interception.
Johns Creek 35, Lambert 28: Johns Creek survived a wild one in which it led 21-0 only to see Lambert score 28 unanswered points to steal a fourth-quarter lead. Skye Overton responded with one of his four touchdown runs to tie it before Lambert missed a last-second field goal prior to overtime. The host Gladiators won it on a touchdown run by Chase Solomon.
Mays 38, Dunwoody 12: Senior quarterback Tre Jones threw touchdown passes of 25 and 11 yards to lead the victorious Raiders. Jones led host Mays on a 9-play, 89-yard drive to finish off the scoring and run out the clock in the fourth quarter.
McIntosh 30, Starr's Mill 13: The host Chiefs notched their first-ever win over the Panthers. The Chiefs outgained the Panthers in total yards 365 to 271, and quarterback Andrew Johnson was the catalyst for the McIntosh victory. Johnson rushed for 90 yards and a touchdown while completing 9-of-14 threw the air for 197 yards and two touchdown passes, both to Brian White.
Mundy's Mill 55, Forest Park 8: The host Tigers took a quick 33-0 lead in the first half. Mundy's Mill was led by running back Rodney Smith, who ran for 154 yards and three touchdowns in the first half. Forest Park managed to score a late touchdown and 2-point conversion.
Northview 56, North Springs 0: The visiting Titans took the lead early as Terrance Upshaw returned the opening kickoff 98 yards for a touchdown. Upshaw would later add rushing scores of one and 43 yards. On special teams duty, Upshaw returned a punt 39 yards for another touchdown. Northview held North Springs to 10 yards of total offense.
Riverwood 49, Osborne 7: Grant Drakeford led Riverwood by accounting for four touchdowns. He threw two touchdown strikes to Jonathan Goodson and also scored via a rush and a punt return. The host Raiders, who jumped out to a 35-7 halftime advantage, also got defensive touchdowns from Aaron McIntosh on an interception return and Zack Houston on a fumble return.
Class AAAA
Fayette County 38, LaGrange 35: The visiting Grangers fought back from 21 down in the fourth quarter to send the game into overtime. Demoton Boyd scored on a 1-yard run to tie the game. LaGrange was unable to complete the comeback when Fayette County converted a field goal to seal the victory in overtime.
Sandy Creek 42, Alexander 6: The visiting Patriots ran their way to a victory with 4 rushing touchdowns. They were led by Eric Swinney who accounted for two rushing scores with a long of 54-yards. Antonio Williams and Delvin Weems also added rushing score. Kyle Wilson returned a kick-off 70-yards for a touchdown and Demarre Kitt scored on a touchdown catch. Mitchell McMillin converted all 6 point after attempts.
Stockbridge 45, Dutchtown 19: Malik Bryan rushed for 180 yards and three touchdowns to help lead the host Tigers over the Bulldogs 45-19. Trenton Earl passed and rushed for touchdowns to go along with 130 total yards in the victory, which improved Stockbridge's record to 6-1 while dropping Dutchtown to 5-3.
Class AAA
Blessed Trinity 59, Towers 12: Tim Mertz carried the ball nine times for 100 yards and a score to lead visiting Blessed Trinity over Towers. Milton Shelton contributed with 71 yards on the ground and two touchdowns while Ryan Mediate sparked the defense with two interceptions. The Titans improved to 6-1 on the season.
Buford 34, Dawson County 3: Fullback Donte Gordon scored on a 15-yard run to put the host Wolves on top early in the first quarter. Quarterback Montgomery VanGorder led the host Wolves to a 24-0 halftime lead, connecting with Tre Neal on a 32-yard touchdown pass. Kicker Matthew Bonadies kicked two field goals.
Cartersville 41, Gordon Central 19: Purple Hurricanes quarterback Brooks Barden made easy work of visiting Gordon Central mixing the run and the pass. Barden threw for a pair of touchdowns, one to T.L. Ford and the other to Mark Quattlebaum, For good Barden also ran for a score. Running back Brandon Long added another pair of rushing touchdowns for Cartersville.
Woodward Academy 48, McNair 0: Quarterback Terry Googer threw for 163 yards and three touchdowns for the visiting War Eagles. Steven Smith had two receiving touchdowns, of 42 yards and 14 yards, as well as a 5-yard touchdown run. Woodward Academy was up 28-0 at the half, and scored 20 in the third before coasting to victory.
Class AA
Lovett 33, Hapeville Charter 0: The host Lions scored three second quarter touchdowns to lead Hapeville Charter 26-0 at the half. Quarterback Willie Candler hit Andrew Siegel on a 25-yard scoring pass and Winn Martin on an 83-yard touchdown toss. Candler tacked on a 7-yard run just before the half.
Westminster 42, Wesleyan 17: Westminster led 14-3 at halftime then pulled away as Nigel Walker and Cole Haverty scored touchdowns and Clay Smith returned an interception for a score. Quarterback Jake Forte rushed for two first half touchdowns and the visiting Wildcats capped off their scoring on a 70-yard pass from Hunter Davis to Conrad Cornell.
Class A
Holy Innocents' 28, Strong Rock Christian 3: Clay Pfohl carried the ball 11 times for 100 yards and two scores as the visiting Golden Bears defeated Strong Rock Christian to improve to 5-3. Owen Penn added 77 yards and two touchdowns.
Landmark Christian 38, Pace Academy 14: The visiting War Eagles were led by Jeremiah Kirkland, who had 216 yards on 31 carries and three touchdowns, and Stockton McGuire, who had 82 yards on 15 carries and a touchdown. Denzel Franklin had a big game for Pace Academy with eight carries for 121 yards and an 82-yard score. He also added 21 tackles on defense.
Walker 24, King's Ridge 6: Evan Kasian rushed for 186 yards on 26 carries and had an 81-yard touchdown run to lead the visiting Wolverines over the host King's Ridge. Patrick McPherson and Bradley Moore each added rushing scores to help keep Walker unbeaten on the season at 7-0, while King's Ridge fell to 3-4.
Whitefield Academy 28, Mount Pisgah Christian 6: The WolfPack gained exactly twice as many yards in total offense (264-132) as their opponents in their homecoming win. Running back Richard Sherrell ran for a score and threw a touchdown pass out of the backfield to Carter Fiveash. Running back Everett Pollard and quarterback Max Kemether added scoring runs for Whitefield Academy.