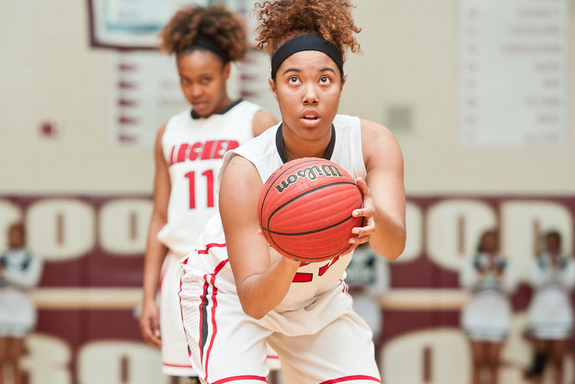 Photo by Ty Freeman
Archer trailed No. 1 seed Tift County 44-42 with 6.1 seconds left before Georgia State-signee Madison Newby hit a pair of must-have free-throws to force overtime. In the extra period, second-seeded Archer used four free-throws and a Tatiana Wayne baseline layup to outscore the Blue Devils 6-4 and hold on for a 50-48 victory.
The 200-mile, one-way trip south to Tift County was neck-and-neck from start to finish. The teams were tied 10-10 after the first quarter and No. 2 seeded Archer took a 21-20 edge at the half before a 12-12 scoring margin in the third quarter kept the Tigers' lead at one entering the fourth (33-32).
Tift County senior Moneisha Goldsborough led the Blue Devils in scoring with 16 points and the aggressive guard play resulted in 25 trips to the foul line. However, Blue Devils would struggle in that department and connect on just 11-of-25 attempts from the charity stripe (44 percent).
"Tift County is a very scrappy team," admitted Archer head coach Ryan Lesniak. "They are a guard heavy team and kept coming after us."
Archer used its offensive balance to fuel the victory as Amber Skidgel worked the perimeter with five made three-pointers for a team-high 15 points. Madison Newby finished with nine points and five assists and her younger sister Autumn Newby worked the paint with nine points and 12 boards, while 6-foot-3 sophomore center Linsey Marchese added 10 points.
Class AAAAAA

Parkview 61, Colquitt County 25: Top-seeded Parkview opened up a 25-3 lead over third-seeded Colquitt County at the end of the opening quarter. The Panthers' lead grew to 40-9 at the half before ballooning to 59-16 entering a shortened fourth quarter. Parkview's Makenna Pouengue netted a game-high 15 points and teammate Vicki Harris finished with 14.
Norcross 43, Valdosta 33: No. 1 seed Norcross trailed visiting second-seeded Valdosta 11-6 after the first quarter but outscored the Wildcats 13-4 in the second quarter to gain a 19-15 halftime lead. Junior guard Vashnie Perry led Norcross with a game-high 10 points and teammates Allison Johnson and Tylia Gillespie finished with eight points apiece. Johnson also corralled a team-high 10 rebounds. Valdosta's Tiaera Phillips netted a team-high eight points.

Westlake 62, Woodstock 47: A sluggish third quarter doomed the visiting No. 2 Wolverines (27-2) as No. 1 Westlake (28-2) outscored Woodstock 35-16 in the second half. Lia Thomas scored 15 and Anriel Howard finished with 13 for the Lions. The Wolverines received 17 points from Kennedy Montgomery and 12 from Devyn Lowe in the loss.
Class AAAAA
Sequoyah 50, Grovetown 34: Kelley and Lauren Hartman helped lift No. 1 Sequoyah (27-3) to another victory at home over visiting No. 3 Grovetown (22-6). Kelley scored 14 while Lauren added 12 to lead the Lady Chiefs in scoring. Alyssa Cagle chipped in 10 while Peyton Satterfield netted eight.
Class AAAA
Fayette County 61, Henry County 53: No. 2 seed Fayette County got a huge game from Kayla Smith in the win against No. 4 seed Henry County. Smith had seven rebounds, five steals and scored 36 points on 14-of-28 shooting and went 8-from-10 from the free-throw line. Smith was helped by Whitney Williams with 11 points and seven rebounds. Henry County was paced by Camreen Whitehorn and Ariel Joyner, each with 11 points, Brooke Moore added 10.
Marist 59, Griffin 45: No. 1 seed Marist had four players in double figures in the win against No. 2 seed Griffin. Dominique Oden led the way scoring 19 points, Elizabeth Quirk added 15 points, Annabella Farabaugh had 11 and Ansley Gross put in 10. Marist opened the game with an 18-7 run and continued to apply pressure to put it away. Griffin received a strong night from Shacoria Jones with 10 points and Tyleslie Johnson and Nia Flowers, both with eight.
Dutchtown 52, Miller Grove 41: The No. 3 Bulldogs (17-13) managed to hold off a scrappy No. 4 Miller Grove (15-12) behind team captains Tiara Scott and Janessa Murphy. Scott poured in 18 while Murphy added 17. The Wolverines received a team-high 12 points from Imani Richardson and Chrystal Ezechukwu pitched in 10 in the defeat.
Class AAA
Central-Carroll 46, Hephzibah 44: No. 1 seeded Central-Carroll rallied past second-seeded Hephzibah with a 20-12 scoring advantage in the fourth quarter. With the game tied at 44, Central-Carroll's Elizabeth Minick missed a jumper with seconds left but Brianna Cousin was there to gather the rebound and beat the buzzer for the game-winning putback. Cousin finished with a game-high 21 points and 14 rebounds. Shashana Miller and Daeundra Jordan led Hephzibah in scoring with 15 and 13 points, respectively.
Class AA
Wesleyan 79, Putnam County 46: The No. 2 seeded Wolves (22-7) visited No. 1 Putnam County (23-6) and had little trouble with the Eagles as Nikki McDonald exploded for 29 points and 16 rebounds to lead Wesleyan. Cairo Booker stuffed the stat sheet with 14 points, seven rebounds, and eight assists in the win.
Holy Innocents' 68, Bleckley County 20: No. 1 seeded Holy Innocents' (29-0) remained undefeated as the Golden Bears handled visiting No. 2 Bleckley County (13-12). Kaila Hubbard led all scorers with a game-high 13 points as Holy Innocents' advances to the Class AA Elite Eight.
Lovett 75, Metter 37: Te'Erica Eason put on a show recording a triple-double as the No. 3 seeded Lovett Lions (20-8) went on the road and dropped No. 1 Metter (21-8) from the playoff picture. Eason scored 37 points, grabbed 13 rebounds, and recorded 11 steals en route to her triple-double. Jenna Brown also had a big game scoring 24 points.

Vidalia 63, Armuchee 60: The No. 1 Lady Indians (25-4) advanced to the Elite Eight after a thrilling victory at home win over over No. 2 Armuchee (20-8). A Chynna Hodge three-pointer with 6.5 seconds left gave Vidalia the lead for good. Hodge finished with 19 points while Trinity Hamm added 11. Chambria Harrison chipped in nine in the win. Armuchee was led by Claire Tibbetts' game-high 22.
Class A-Private
Southwest Atlanta Christian 49, George Walton Academy 25: Defending Class A-Private state champion and No. 2 seed Southwest Atlanta Christian trailed 15th-seeded George Walton Academy 7-5 after the first quarter before taking control. The Warriors used a 15-6 scoring advantage in the second quarter to take a 20-13 halftime lead and a 12-6 run in the third quarter built the lead to 32-19. Nicole Martin (12) and Tiamya Butler (11) reached double-figures for Southwest Atlanta Christian and George Walton Academy's Zalandria Hill and Sophie Chapar finished with 12 and 10 points, respectively.

Tattnall 69, Pinecrest 54: No. 4 seed Tattnall mounted a third-quarter charge against No. 12 seed Pinecrest Academy for the upset. The score at half was 30-26 in Tattnall's favor until Pinecrest Academy tied the game with three minutes left in the third quarter. Tattnall mounted an 8-1 run to close the quarter. Tattnall was paced by Kendra Green with 25 points, 18 in the second half. Pinecrest found scoring from Margaret Metz with 16 points. In the final quarter Tattnall utilized post play from Green to pull away and put away the game.

Eagle's Landing Christian 58, Fellowship Christian 45: No. 7 seed Eagle's Landing held a four point lead at half and put together a 16-9 run in the final quarter to put away the game against No. 10 seed Fellowship Christian. Eagle's Landing got double digit scoring from three players, Peyton Lewis (20), Sydney Spencer (16) and Abigail Rogers (10). Kelsey Royalty paced Fellowship with 19 points and Cameron Swartz added nine.