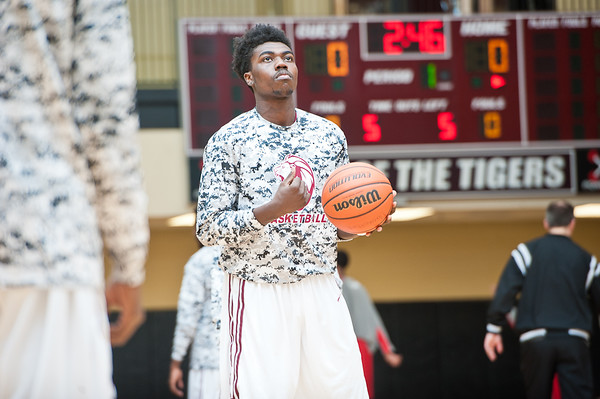 Photo by Ty Freeman
As they have all season long, ML King (24-5) yet again faced adversity and yet again overcame its trials and tribulations. The No. 2 seeded Lions were on the road facing No. 1 McIntosh (29-1) which stood as the only undefeated team left in Class AAAAA. ML King rallied from a 52-37 deficit with a minute left in the third quarter and shocked the Chiefs with a 66-65 victory.
The Lions, whose gym burned down before the season started, had not played a home game all season. The coaching staff has deemed the bunch the "Road Warriors", having to play at opposing teams' gyms twice a year. Entering the postseason, the experience of having the crowd against them the entire season, has given the Lions an edge against opposing teams.
With that said, McIntosh still got off to a hot start. The Chiefs led 20-13 after the opening quarter and had its offense running smoothly with Will Washington and Jordan Lyons pacing the attack. Lyons would finish with 22 points on the night. MLK managed to surge back in the second quarter and held a 31-28 lead at the half. The momentum built up from a big second quarter was soon erased however as the Chiefs regained control in the third quarter with a 24-8 scoring advantage. A game-changing play took place near the end of the quarter when Will Washington, who was controlling the game with his passing, took a hard fall. Washington went up to lay the ball in, but Andre Brooks of ML King pinned the shot on the backboard. Washington tried to cushion his fall but ended up breaking his wrist after coming down hard and his night was done.
With McIntosh's floor general out of the game, Coach Tony Brinson decided to switch up the defense. The Lions moved from a 2-3 Zone to a 2-2-1 Zone to a Man defense and began to trap Lyons every time he touched the ball. With Washington hurt, the ball handling duties shifted over to Lyons' hands. Brinson's Lions forced the ball out of his hands as MLK gambled on letting others beat them. Braxton Shaw canned four 3-pointers and Chase Walter scored 13 points all on dunks and free-throws, but the rest of the Chiefs struggled to shoulder the load.
Juquan Jones scored a game-high 35 points for the Lions and fueled the comeback as ML King outscored the Chiefs 27 to 12 in the final frame. Jordan Lyons connected on two late free throws to give the Chiefs a 65-64 lead, but Jones would answer, streaking to the basket and getting fouled with 6.1 seconds remaining. Jones calmly sank both free throws and ML King was able to hold on for the thrilling victory. Jones banged home five 3-pointers in the win and Jordan Martin added 15 points to help lift the Lions to the Elite Eight.
Class AAAAAA
Norcross 102, Lowndes 59: No. 1 seed Norcross took a 38-24 lead over second-seeded Lowndes into halftime and exploded for 37 of its 64 second-half points in the third quarter. Norcross sophomore Zach Cooks netted 11 points in the third and finished with 17. Tim Cameron led the Blue Devils with a team-high 19 points and Rayshaun Hammonds (14), Octavious Gage (14) and Ricky Madison (11) finished in double-figures.
Newton 58, Dacula 54: The No. 4 seeded Newton Rams (22-8) proved that their win over Tift County was no fluke. Donovan Grubb scored 12 points and Jaquan Simms netted 11 as the Rams prevailed on the road over No. 2 Dacula (20-9). Keshawn Gibbs poured in a game-high 21 points including 11/11 from the line and Derek St. Hilaire added 17 in the Falcon loss.
Pebblebrook 78, Pope 59: After trailing by five points at the half, the No. 1 seeded Falcons (25-5) blew past No. 2 Pope (24-6) at home, outscoring the Greyhounds 45-21 in the second half. Clemson-signee Ty Hudson scored a team-high 26 while Trhae Mitchell added 16 to help Pebblebrook advance to the Elite Eight.
Hillgrove 73, Lambert 59: The No. 2 seeded Hawks (23-5) knocked off a short-handed No. 1 Lambert (24-6) on the road. Collin Sexton led Hillgrove with 20 points while Jourdan Julian pitched in 17. Antonio Wade added 13 and Brandon Schick scored 11. The Longhorns received a game-high 22 points from Connor Mannion. Patrick Noble netted 11 in the loss.
Shiloh 55, Rockdale County 45: No. 1 seed Shiloh had three players in double figures in the win against No. 2 seed Rockdale County. Shiloh took advantage in the third quarter, outscoring Rockdale 18-11 as Josh Okogie led the way with 17 points, Dejon Waters scored 13 points and Cedric Guillaume added 11 points. Rockdale County was paced by Jalen Jordan with 21 points, Dwayne Brown added 13 points and Connor Ferrell scored seven.
Tucker 55, Archer 32: No 1 seed Tucker outscored No 3 seed Archer 29-16 in the second half to advance. Tucker was led by Bryce Brown with 22 points and five rebounds, Avinde Russell added 10 points and seven rebounds and Adondis Green scored eight points with seven rebounds. Archer's Kwei Larty had 12 points and Darrion Taylor finished with nine.
Class AAAAA
Miller Grove 50, Statesboro 42: No. 1 Miller Grove took a 25-16 lead into the half before No. 2 seed Statesboro outscored the Wolverines 13-9 n the third quarter and cut the deficit to 34-29. Statesboro continued chipping away but Miller Grove's Alterique Gilbert (8) and Raylon Richard (6) combined for 14 of the team's 16 fourth quarter points and iced the game. Gilbert finished with a team-high 16 points and Richard finished with 14.
Stephenson 80, Brunswick 70: Third-seeded Stephenson (25-5) exploded for 48 first half points and handed top-ranked Brunswick (28-1) its first loss of the season. Davion Wingate paced Stephenson with a game-high 28 points and senior teammate Chloe Culpeper reached double-figures with 10.
LaGrange 65, Heritage-Conyers 52: The No. 1 seeded Grangers (22-7) advanced to the Elite Eight after outscoring the visiting No. 2 seeded Patriots (20-11) 28-13 in the final quarter. Rico Smith led the way for the Grangers scoring 21 points. Laperion Perry added 17 and Danterrius Bray chipped in 12 in the win.
Warner Robins 79, Apalachee 60: Nate Curtis and Marquez Callaway powered the No. 1 Demons (23-4) into the Elite Eight. Warner Robins' used its height to harass Kamar Baldwin and the rest of the visiting Wildcats. The Demons scored 19 points off offensive rebounds in the first half. Curtis scored 21 points and Callaway finished with 18 to lead the Demons. The Wildcats (20-9) received a game-high 22 from Alantae Billings. Baldwin, who was held to two points in the first half, finished with 19 on the night and nine rebounds in the loss.
Class AAAA
Johnson-Gainesville 75, West Laurens 60: Undefeated No. 1 seeded Johnson (29-0) behind Ty Cockfield and Rod English's 57 combined points were able to thwart No. 2 West Laurens (22-8). Cockfield produced a double-double scoring 33 points while grabbing 14 rebounds. English followed suite by pouring in 24 points and snatching 10 rebounds of his own as the Knights advance to the Elite Eight.
Lithonia 81, Mt. Zion-Jonesboro 60: No. 1 seed Lithonia makes its first trip to the Elite 8 since 2004 with a win against No. 2 seed Mt. Zion . Lithonia was led by Kesean Warren with 27 points. Teammate Tyheem Freeman finished with 16 points, seven assists and seven rebounds and Rodney Chapman added 11 points, seven assists and six rebounds. Lithonia led 42-21 at halftime. Mt. Zion was paced by Paul Miller with 27 points.
Class AAA
Cedar Grove 52, Calhoun 42: Visiting Cedar Grove took a 24-19 halftime lead over No. 1 seed Calhoun and kept pace while extending the lead to 35-29 entering the fourth quarter. Syracuse football signee Christopher Frederick led Cedar Grove with a game-high 19 points.
Callaway 58, Blessed Trinity 56: The No. 3 Titans (24-6) missed a corner three at the buzzer and fell on the road to the No. 1 seeded Cavaliers (20-4). Jackson Svete scored a game-high 25 points for Blessed Trinity. Braylon Sanders and Dre Martin led Callaway scoring 23 and 15 points, respectively.
South Atlanta 103, Central-Carroll 38: No. 1 seed South Atlanta found scoring from all 15 players in the win against the No. 3 seed. South Atlanta's Orlando Bebee led the way with 21 points. Bebee was helped by Artavious Banks's 12 points, Tyreek Baisden with 11 points and Dexter Swift had 10, Devontae Dean led in assists with nine. Central-Carroll found scoring from Jarrod Jackson with 10 points and Emmanuel Bullock added eight.
Class AA
Crawford County 88, Greater Atlanta Christian 81 (OT): Two-time defending champion Greater Atlanta Christian was held scoreless the final 1:31 of regulation and No. 1 seed Crawford County got a game-tying layup from William Jarrell with 26 seconds left that forced overtime at 71-71. Crawford County dominated the overtime, outscoring the Spartans 17-10 and advancing to the Elite 8. Jarrell finished with a game-high 28 points and Marcal Knolton netted 17. Crawford County also got double-figure scoring from Monkeize Moore (13), Quay Wiggins (13) and Jeremy Raines (11). Garrett Covington led GAC with 22 points.
Pace Academy 82, Lamar County 51: Top-ranked Pace Academy took a 34-21 halftime lead over No. 2 seed Lamar County. Wendell Carter flirted with a triple-double and finished with 27 points, 12 rebounds and eight blocks to lead the Knights. Senior teammate Elijah Holifield finished with 14 points and 10 boards.
Thomasville 72, Greene County 54: Jordan Willis helped lift the No. 3 seeded Bulldogs (22-8) on the road over No. 1 Greene County (23-6). Willis scored a game 20 points while Jay Bowdry added 16. Shedric Cooper also netted 14 in the win.
Class A-Private
St. Francis 103, Lakeview Academy 59: No. 1 St. Francis jumped to a 55-24 halftime lead and exploded for 37 points in the third quarter to take a 92-43 lead into a shorted fourth quarter. Malik Beasley led the Knights with a game-high 32 points while teammates Kobi Simmons (27), Kaiser Gates (17) and Chance Anderson (11) helped fuel the scoring outburst. Lakeview Academy junior Tae Turner finished with 22 points.
Landmark Christian 83, St. Anne Pacelli 75: Landmark Christian took advantage of a 30-20 run in the final quarter to put away the game. Landmark Christian found scoring from Zach Allen and Daniel Sharitz, both with 23 points.
Class A-Public
Greenforest 103, Southwest Atlanta 31: No. 2 seed Greenforest had five players in double figures in the win against No. 15 seed Southwest Atlanta Christian . Greenforest led 59-16 at halftime as John Ogwuche led the way with 25 points. He was helped by Justin Ravenel (19), Justin Forrest (17), Precious Ayah (10) and Faisal Abdulmalik (10). Southwest Atlanta was paced by De'Andre Ballard with 10 points.
Girls
Class AAAAAA
McEachern 56, South Forsyth 47: Tennessee-signee Te'a Cooper got No. 2 seed McEachern off to a fast start with 10 of the team's 17 first quarter points as the defending champion Indians built a 17-9 lead over No. 1 seed South Forsyth. Cooper continued dominating the game and finished with a game-high 29 points while adding 10 rebounds, seven assists and five steals. McEachern Freshman Chanel Wilson added seven points.
Class AAAAA
Stephenson 80, Brunswick 70: Third-seeded Stephenson (25-5) exploded for 48 first half points and handed top-ranked Brunswick (28-1) its first loss of the season. Davion Wingate paced Stephenson with a game-high 28 points and senior teammate Chloe Culpeper reached double-figures with 10.
Class AAAA
St. Pius 65, Jonesboro 50: No. 1 ranked Jonesboro opened the game on a 14-0 run before St. Pius superstar Asia Durr took over and scored the Golden Lions' first 17 points. Durr netted 20 of St. Pius' 25 points at the half as Jonesboro clung to a 27-25 lead. In the third quarter, St. Pius gained complete control, outscoring the Cardinals 23-10 while taking a 48-37 lead. Durr, who scored 52 points in the first round, finished with a game-high 44 points. St. Pius teammate Miah Allen hit three 3-pointers and finished with 11 points. Jonesboro was led in scoring by Victoria Sutton (11) and Mohogany Hall (10).
Carrollton 70, Mt. Zion-Jonesboro 45: No. 1 seeded Carrollton led visiting Mt. Zion-Jonesboro 18-13 after the first quarter before outscoring the third-seeded Bulldogs 17-2 in the second quarter and gaining a 35-15 halftime lead. Alecia North led Carrollton with 20 points and three others finished in double-figures. Jasmine Gamble finished with 12 points and Erial Daniel and Malariah Ranson finished with 11 and 10, respectively.
Class AAA
Dawson County 71, Dodge County 40: Dawson County took advantage of a 22-12 opening quarter and stretched it to 41-28 at half. Sheyenne Seabolt and Ashley Parker each at had 18 points for Dawson while Payton Porter, Karlie Bearden, Katelynn Simpson and Haley Burgess all scored eight.
Class A-Private
Mount Paran 79, Paideia 76 (3OT): No. 8 seed Mount Paran outlasted No. 9 seed Paideia in a triple-overtime thriller. Paideia held a two-point lead with 4.5 seconds left in the second overtime when Mount Paran fed the ball to Caroline Etheridge, who converted a short basket to ensure a third overtime. Paran was led by Bree Brown with 34 points and 13 rebounds, Que Morrison with 21 points and 11 assists and Etheridge with 12 points and 22 rebounds. Mount Paran outscored Paideia 10-7 in the third overtime to put away the game. Paideia's Ellery Koelker-Wolfe had 26 points, Jordan Battle scored 19 points and Shivani Beall added 13.
St. Francis 57, Mount Pisgah 30: No. 1 seed St. Francis had three players in double figures in the win against No. 16 seed Mount Pisgah. Kasiyhana Kushkituah led the way for St. Francis, scoring 22 points and grabbing 12 rebounds. She was helped by Mya Dodson with 14 points, Taja Cummings added 13. St. Francis led 26-13 at the half. Pigsah was led Paige Peterson's 12 points.