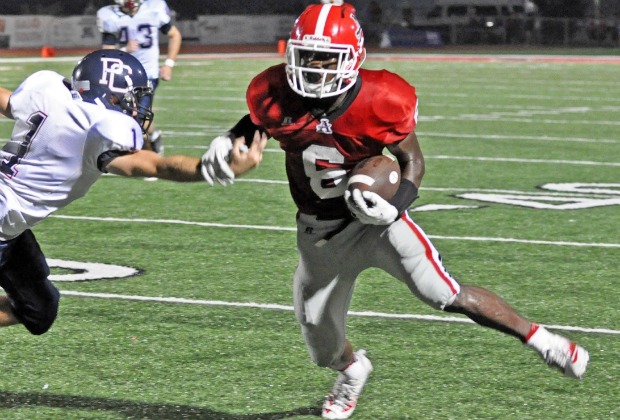 Photo by Ron Hughes
In the first Friday of the season, dozens of teams locked horns in season-openers around the state. More than half of the state's GHSA programs didn't compete tonight, but there were several games of note. See below for recaps of some of the top matchups from around Georgia.
Class AAAAAA
Cherokee 42, Chattahoochee 7: Visiting Cherokee recovered two Chattahoochee fumbles in the first quarter and turned them into a pair of touchdown passes from Spencer Ashley to Andrew Harris. Vance Taylor and Bryson Perry rushed for Cherokee touchdowns in the second quarter to give the Warriors a 28-0 lead at the half. Spencer found Harris on a 40-yard toss for the duo's third touchdown in the third quarter before Spencer connected with Montrell Washington for his fourth touchdown pass of the game that would give the Warriors a 42-0 lead.
Dacula 34, Collins Hill 14: Dez Howard ran in a Collins Hill touchdown with 2:22 left in the first quarter to tie the game at 7-7, but one minute later Kevin Ficklin answered with a Dacula touchdown to put the Falcons up 14-7. Cory Ames ran in a blocked punt for a Dacula touchdown to end the opening quarter. Collins Hill scored on a 1-yard Jordan Bertrand touchdown, but Dacula quickly answered with a 50-yard C.J. Mayes touchdown run to extend the halftime lead to a 27-14.
Hillgrove 47, Lassiter 35: Grant Daniels rushed for three Lassiter touchdowns in the opening half, but the Hawks' running game was even more impressive. Out of Hillgrove's 533 yards of offense, 431 came on the ground. Eric Montgomery ran in the first and final of Hillgrove's four rushing touchdowns and quarterback Matt Wilson scrambled his way to touchdowns of 33 and 12 yards. Wilson was efficient passing the football and finished 7-11 passing for 102 yards and three touchdowns. Hillgrove trailed 21-14 before scoring 33 straight points to take a 47-21 lead. Lassiter quarterback Russell Aarons added a 53-yard touchdown pass to Micah Grigsby and a 7-yard rushing touchdown late in the fourth quarter.
Lowndes 37, Rowell 14: The host Vikings rushed for 234 yards and held Roswell to 50 yards on the ground. Lowndes led 37-0 at the end of three quarters. The Hornets attempted 30 passes, but completed just 10 for 109 yards and threw one interception. Roswell mustered just eight first downs.
North Paulding 55, Creekview 20: North Paulding fumbled its opening possession and saw Creekview turn it into a 31-yard Chandler Wold touchdown pass from Kyle Wilkie. The Wolfpack answered back quickly and scored 24 first quarter points to jump to a 24-6 lead. North Paulding's Meshach Mays ran in two first half touchdowns and caught an 8-yard touchdown pass in the third quarter. North Paulding's Kyle Banks was outstanding in his debut and finished 22 of 29 passing for 320 yards and four touchdowns while adding a 5-yard touchdown run in the third quarter.
Walton 16, South Gwinnett 13: Walton began a new era under head coach Mo Dixon in style, posting a come-from-behind victory over visiting South Gwinnett. The Raiders led 6-0 at halftime, but soon found themselves trailing 13-6 in the fourth quarter after South Gwinnett scored a touchdown off of a blocked punt for the second time during the game. Walton responded with 10 unanswered points to win, capping off the scoring with what proved to be a game-winning field goal by Chris Jensen in overtime.
Wheeler 24, Duluth 6: Junior quarterback Ryles Kirkland passed for a touchdown and rushed for a score to help give visiting Wheeler the win. Kirkland opened the scoring when he hit wide receiver Benaiah Franklin for a touchdown, then scored on the ground to put Wheeler up 14-0 at the end of the first quarter. Tabius Padgett added a rushing touchdown in the third quarter. The Wheeler defense recovered two fumbles and shut out Duluth until a late touchdown.
Class AAAAA
Allatoona 27, East Paulding 21: Russell Halimon had 41 carries for 209 yards and a touchdown as host Allatoona pulled outlasted East Paulding. Cameron Pena also starred for the Buccaneers, making one interception and returning a blocked punt for a touchdown. Connor Larson threw a touchdown pass to Zach Nichols before the Bucs had to hold off an East Paulding rally. The Raiders erased a 14-0 halftime deficit to tie the score at 21-21, but the Buccaneers scored the game-winner on a touchdown run by Bryant Dallas.
Dunwoody 48, Clarkston 7: Host Dunwoody got on the board first with a 25-yard Tylor Scales rushing touchdown and the Wildcats took a 13-0 lead at the end of the first quarter. Dunwoody poured on three more touchdowns in the second quarter and took a comfortable 34-0 lead into halftime. Dunwoody tallied 387 rushing yards on 32 attempts and Scales and Daniel Hinton each finished with two rushing touchdowns. Senior running back Devin Francois and junior Kaseem Duke also rushed for Dunwoody touchdowns.
Lanier 27, Lambert 14: Former offensive coordinator Korey Mobbs won his first game as head coach of Lanier after his team took down host Lambert in a battle of Longhorns. Lanier trailed 14-7 at the end of the first quarter but ended the night on a streak of 20 unanswered points. Timothy Leazer caught two touchdowns for the visitors, one from Tahj Tolbert and a second off the arm of Canyon Cook. Bolaji Ojolola added 70 yards and a touchdown on four receptions for Lanier.
McIntosh 28, Fayette County 25: Josh Ange scored all four touchdowns for McIntosh as the visiting Chiefs came from behind to beat Fayette County. Ange rushed for one score and had three touchdown receptions from Duke Kinamon. A 71-yard strike put McIntosh ahead 7-0, but it eventually trailed 25-14 in the third quarter. Ange made it 25-21 heading into the final frame of play and scored the game-winner with seven minutes left on a 21-yard catch.
Miller Grove 50, Towers 26: Meco Jackson rushed for two touchdowns and scored on an 87-yard kickoff return for Miller Grove on the road at Avondale Stadium. Miller Grove quarterback Sedric Jefferson threw three touchdown passes and linebacker Jonathan Mitchell started the scoring for Miller Grove with a fumble return for a touchdown.
South Paulding 24, Sprayberry 19: The host Spartans opened the scoring with a Jake Oglesby quarterback sneak, but Sprayberry took a 10-7 lead with two minutes left in the half after a Rodrigo Blankenship field goal and the defense returned an interception for a touchdown. Anthony Brown scored a 40-yard touchdown before the half to give South Paulding a 14-10 lead. Brittany Havenner knocked in a 33-yard field goal to open the second half and senior Kameron Watts scored the Spartans' final touchdown from seven yards out before the start of the fourth.
Villa Rica 28, Rome 26: Josh Perkins kicked off the scoring for host Rome connecting on a 59-yard pass with Jai Cramer to gain the early lead. Villa Rica answered with a 30-yard strike by Noah Smith to Tye Hill to tie everything up at seven. Rome's Perkins would pass for four touchdowns in the game while Smith had three for Villa Rica. Late in the fourth quarter, with Rome on offense trailing 28-26, they failed to convert on a fourth-down try, sealing the win for Villa Rica.
Class AAAA
Southwest DeKalb 13, Columbia 12: In a Region 6-AAAA matchup, the host Eagles led until late in the fourth quarter when the Panthers broke off a go ahead 30-yard touchdown run. The Eagles mounted a late drive, but Panthers defensive back Rock Yasim picked off a pass near the goal line to seal the win. The Panthers (1-0) open up home play against Cedar Grove on Aug. 29 at 7:30, while the Eagles (0-1) have a bye next week.
Class AA
Greater Atlanta Christian 24, Benedictine 21: Visiting Benedictine missed a 22-yard field goal with 3:25 remaining that would have tied the game. GAC quarterback Davis Mills found Darius Slayton for three touchdowns (18 yards, 48 yards and 63 yards). Benedictine's Stevie Powers rushed for a touchdown and threw passing touchdowns to John Kennedy (42 yards) and Brad Stewart (46 yards).
Lovett 38, Pace Academy 3: Five Lions scored as host Lovett rolled past Buckhead neighbor Pace Academy. Lovett took a 21-0 halftime lead behind scores by Murphy Lee, Jay Harris and a 30-yard reception by Jon Thomas from Willie Candler. In the second half, Nick Sear caught a 63-yard touchdown pass from Candler and Nolan Edmonds rushed for a 44-yard score to cap the Lions' scoring. Lovett rushed for 201 yards and Candler threw for 118 on 4-of-7 passing. The Lions held Pace to 57 rushing yards.
Wesleyan 45, Walker 7: Wesleyan quarterback Banks Ramsey rushed for a touchdown and passed for two for the visiting Wolves. Ramsey scored on an 11-yard rush, and found tight end John Kraus (10 yards) and wide receiver Harrison Cook (36 yards) through the air. Fellow quarterback Cedric Lynch came in on a special package in the first quarter and rushed for a 65-yard score. Josh Garrard and George Bielan added rushing scores for Wesleyan, and Jordan Weaver capped the scoring with a 45-yard field goal.
Class A
Hebron Christian 35, East Jackson 16: Connor Holliday rushed for a pair of 2-yard touchdowns and also hit Jacob Harper with a 55-yard scoring strike to lead visiting Hebron Christian past East Jackson. Jaquan Gibson kicked off the scoring with a 90-yard interception return for a touchdown, giving the Lions a 28-0 halftime advantage. Hebron Christian also scored on a blocked field goal return by Victor Gibson en route to a commanding 35-0 lead before East Jackson salvaged two late inconsequential touchdowns.
Strong Rock Christian 8, Athens Christian 7: In the first quarter, Demetrius McCourter ran 80 yards for a touchdown on the first play from scrimmage to give Athens Christian the early 7-0 lead. Strong Rock responded in the second quarter with a five-yard touchdown pass from Ryan Butterfield to Torrie McKissick, but the extra point was blocked, making the score 7-6. Late in the fourth quarter, Strong Rock recorded a safety to gain the 8-7 lead and eventual win.
Stephen Black, Matt Cason, Ricky Dimon, Alex Ewalt, Darrin Heatherly, Craig Sager II, Jalisa Smith and Patrick Tighe contributed to this report.