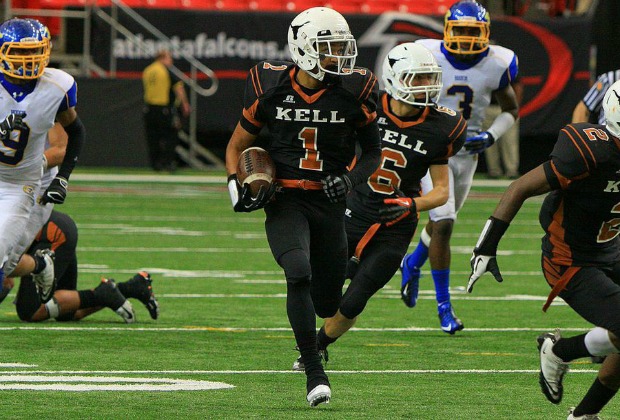 Sonny Kennedy
The Kell Longhorns and the Carrollton Trojans both came out of the gates slowly during the third game of the Metro PCS Corky Kell Classic Saturday morning, but all it took was a timely turnover to give Kell full momentum the rest of the way. The Longhorns were unproductive in their first three possessions, but a strong 54-yard punt by junior Julien Chang pinned Carrollton inside its own 1-yard line, giving Kell's defense the opportunity to step up.
They took advantage of the opportunity when a forced fumble from junior defensive end Evan Carnes was recovered by Kell's Bryson Armstrong in the Carrollton, putting the Longhorns up 7-0. The spiral trended down soon after for the Spartans when quarterback Jack Garrett threw a pick on the first play of the second quarter, setting up an eventual field goal for Kell giving them the 10-0 lead.
Cam Rosendahl then took over when he led the charge with under two minutes remaining in the first half, setting up a TD run for Itabari Mason and the Longhorns with a 17-0 lead. A 38-yard run by Carrollton's Jarvis Terrell gave hope to the Trojan fans, but it was all for naught as a 22-yard field goal sealed the deal with two minutes remaining, giving Kell the 20-7 victory. The spotlight performance of the game was from senior quarterback Rosendahl, who went 16-for-22 for 180 yards while rushing for an additional 81 yards on the ground.
It was a performance that head coach Derek Cook expected from the senior captain. "He doesn't surprise me at all. He leads our team, and he's the leader of our team and nothing he does here surprises me at all," said Cook.
Running back Itabari Mason provided support on the ground for Kell with 90 yards and a touchdown before leaving with cramps late in the third quarter. Jarvis Terrell was the offense for Ed Dudley and Carrollton, running for 81 yards and a touchdown while the passing game was non-existant, as Spartan quarterbacks completed just 8 of 17 passes for 67 yards.