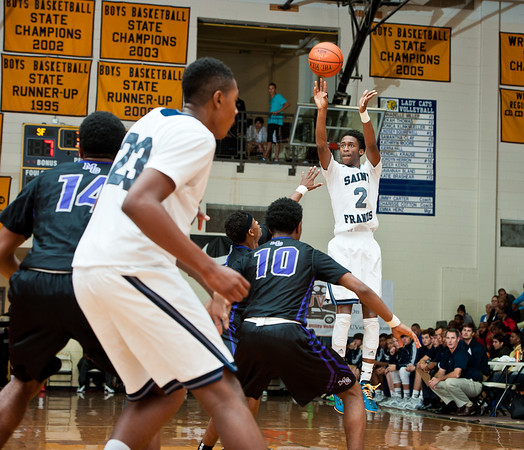 Photo by Ty Freeman
No. 1 St. Francis (16-3, 6-0) @ Fellowship Christian (4-16, 0-7)
Georgia's smallest classification arguably fields the team with the most talent in the state. Region 6-A's St. Francis is loaded with Kaiser Gates (Xavier), Malik Beasley (Florida State), and five-star junior Kobi Simmons. The 6-foot-8 Gates averages 13.4 points and 7.5 rebounds while Simmons pitches in 21 points per game as a 6-foot-5 guard. Beasley, a senior guard, is a high flyer that can get to the rim at will. He is averaging a team high 22.5 points and 7.7 rebounds while shooting 91 percent from the line. This will be the first meeting between the two schools this season. Fellowship will be at a height disadvantage as its tallest player is 6-foot-4 junior Reed Kroeber.
 Newton (16-4, 3-3) @ No. 5 Tucker (20-2, 6-0)
The rise from Class AAAAA to AAAAAA has not hindered powerhouse Tucker. The Tigers have rolled in their new Region 2 home. Tucker's only two blemishes came in succession when they dropped to rival Miller Grove 60-58, and to Heritage 56-53. The Tigers are back on track winning six straight games heading into a rematch with Newton who they beat by 15 earlier in the season. Auburn-signee Bryce Brown is a sweet shooting guard who leads the Tiger offense. Seniors Jon Stephens and Joshua Parker are also lethal on the perimeter. A win for Newton would give head coach Rick Rasmussen his 200th career victory. Guards Darvin Jones, Jaquan Simms, and D.J. Hill control the backcourt for the Rams. Antonio Smith battles inside at 6-foot-5.
South Gwinnett (12-7, 5-5) @ No. 2 Shiloh (18-0, 12-0)
The Generals are off to a hot start behind the play of Kareem Brewton and Joshua Okogie. Okogie, a junior forward, is averaging over 18 points and seven rebounds a game while Brewton scores 19 points and grabs 3 rebounds a night. Cedric Guillaume patrols the paint at 6-foot-6 and Malik Chandler controls the point. South Gwinnett lost by just three points in the two teams' first meeting. Roberto Gallinat is a knock down shooter who leads the Comets in scoring at 16.8 per game. Fellow senior Aaron Udell brings the same sweet stroke and averages 10.1 points. The two combined for 44 points and six threes in their 71-68 loss at home to the Generals. The Comets are currently in a three-way tie for third place in Region 8-AAAAAA.
No. 3 Pebblebrook (15-4, 9-0) @ Langston Hughes (15-4, 6-3)
The Falcons only loss to an in-state team came in a non-region game against Laney. Pebblebrook has blitzed through Region 3-AAAAAA, leaving no doubt that they are the team to beat. They came away with a 75-70 win over Langston Hughes at home earlier in the season, their closest region game all year. Ty Hudson (Clemson), Derek Ogbeide (UGA), and Jared Harper (Undecided) are the catalysts. 5-foot-9 Harper leads the team in points (21.5) and assists (8.2). Langston Hughes is led by a talented group of sophomores. 6-foot-7 Chuma Okeke is already drawing interest from scouts. Okeke is averaging over 20 points and seven rebounds per game while Khalil Cuffee hovers in the high teens in scoring. After winning just seven games a year ago, the future is extremely bright for the Panthers.
Landmark Christian (16-3, 8-1) @ No. 2 Greenforest Christian (17-1, 8-0)
Region 5-A could be in line for a huge shakeup if Landmark Christian is able to upend the Eagles. Greenforest's only loss came by three points at the hands of No. 3 in 6A Pebblebrook. The Eagles are long defensively and have some division-one talent. Junior guard John Ogwuche is pegged as a three-star talent. Seniors Justin Ravenel and Faisal Abdul-Malik have been scouted by college coaches. 6-foot-7 Precious Ayah mans the middle for Greenforest. High scoring Landmark Christian is led by junior Zack Allen who averages 20.7 points and 7.3 rebounds while hitting threes at a 46 percent clip. Senior Jackson Schultz scores 18.4 points and hands out 6.3 assists on average. Junior Eddie Windsor anchors the paint for the undersized War Eagles at 6-foot-4, but still manages to grab seven rebounds and block nearly two shots per game.
North Clayton (12-8, 3-3) @ No. 2 Cedar Grove (14-3, 5-1)
Coming off a loss against No. 10 South Atlanta, Cedar Grove will look to regain its footing in Region 4-AAA. 6-foot-6 forward Jacara Cross leads the Saints in scoring (14.7) and rebounding (6.7). Three seniors score in double figures led by Christopher Fredrick's 12.9 points. Kenneth Lewis (12.4) and Benjy Parrish (10.3) round up the main offensive threats.  North Clayton is led by 6-foot-7 forward Reginald Scurry who averages 19 points. Taiyon Hector, a senior guard, is second in scoring at 11.8 per game. The Saints knocked off the Eagles 57-46 at North Clayton in December.
Lambert (17-3, 12-1) @ No. 9 Alpharetta (16-4, 13-0)
Lambert looks to avenge a five-point loss in a crucial Region 6-AAAAAA matchup. The Longhorns are led by a three-headed guard attack. Sophomore Andrew Melms, junior Tanner Hall, and senior Jake Morris are all key cogs in the Lambert offense. Patrick Noble and 6-foot-7 forward Ross Morkem also play big roles. UNC-Wilmington-commit Devontae Cacok leads the Raiders. The 6-foot-7 forward teams up with fellow 6-foot-7 post Jaylon Gamble. The two combined for 40 points and 17 rebounds in their 76-71 win over the Longhorns back in December.
No. 3 Allatoona (17-2, 12-0) @ Lithia Spring (12-6, 7-5)
The Buccaneers hit the road and try to knock off Lithia Springs for the second time this season. The Lions fell 51-45 in the two teams' first meeting. Allatoona is very balanced receiving scoring from Bradley Brevet, Rodney Brown, and Chris Ifill. Tylen Walker is one of three Lithia Springs players to average double figures. Walker scores 13.7 points per game while Qunta Bedford (12.2) and Daquan Huff (10.9) also eclipse the 10 point barrier. Bedford is also the team's best rebounder averaging 5.6 per game. Lithia Springs is currently in a tie for third place in Region 5-AAAAA with Paulding County.
Etowah (12-7, 5-6) @ Milton (11-8, 8-3)
Region 5-AAAAAA features an important road game for the Etowah Eagles if they want to grab the fourth seed heading into the region tournament. The Eagles sit in sixth place with Cherokee (6-5) and Walton (5-5) ahead of them. Etowah lost 51-47 in its first meeting with Milton this season. Josh Fulenwider leads the Eagles in scoring (14.2) and rebounding (5.7). Ryan Grigsby adds 10.4 points and Dante Richitelli averages 9.9. Harvard-commit Chris Lewis averages 15.8 points for Milton and Quart'e Sapp scores 11.2. Jordan Burrow and Alex O'Connell also play big roles for the Eagles.
Mill Creek (14-6, 6-3) @ Peachtree Ridge (12-8, 5-4)
Mill Creek will look to break a three-way tie for third place with a victory over Peachtree Ridge in Region 7-AAAAAA. The Lions are a game back of the tie and still have a shot to jump up the standings. The Hawks knocked off the Lions in their previous meeting, 75-69. Mill Creek is very balanced and receives scoring from a multitude of players. Davion Clark, Scotty Chadwick, Sha Powell, Charles Botchway, and Miles Riley are all capable of scoring in double figures. The Lions' go-to player is Aaron Augustin, a junior guard averaging 16.3 points to go along with four assists and four rebounds. Sophomore Jay Estime is Peachtree Ridge's second leading scorer at 10.9 points. The Lions will need to avoid a slow start if they want to win. They trailed 40-17 at the half before rallying to close the gap.