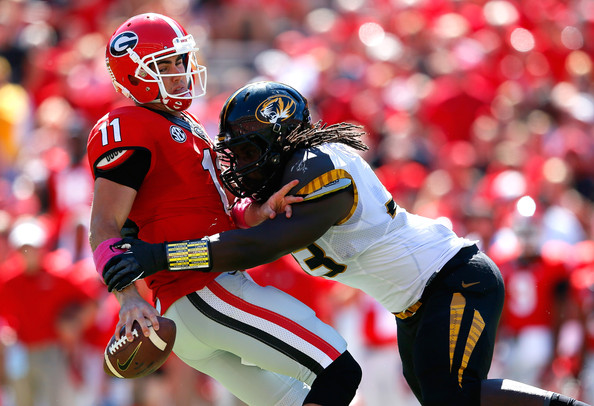 Kevin C. Cox/ Getty Images
MOBILE, Ala.– Many players across all positions are trying to make an impression on the NFL scouts, coaches, and general managers in town this week for the Senior Bowl. Missouri defensive end Markus Golden is one of those guys who hope to have their name called early in the NFL Draft.
Golden knows how to win as a player. He was part of the last two SEC East champion teams at Missouri. He was part of a team that has also won two straight bowl games in the Cotton and Citrus Bowl's. The pass rusher knows personal success as well with 20 tackles for a loss on 78 total tackles this season. He also sacked opposing quarterbacks 10 times in 2014.
Another stat in Golden's corner is the fact he also forced three fumbles and broke up two passes last season for Mizzou.
Although Golden wasn't forgotten in 2014, he also was lined up on the other side of projected first round pick Shane Ray. The junior defensive end finished this season with 22.5 tackles for a loss, 14.5 sacks, and three forced fumbles.
Golden wasn't jealous of his teammates success this season. In fact, he brags about him.
"(He is) very competitive, great player, and great pass rushing guy," Golden said. "He's going to get after the quarterback. Really we just love to compete. That's what I've said about the Mizzou D(efensive) line. When you've got guys like Michael Sam, Kony Ealy, Shane Ray, and Harold Brantley. Everybody loves to compete."
Golden added that the pass rush is heavily encouraged by the Missouri coaching staff and that when they had one on one battles, they were confident someone was going to get to the quarterback.
This is the time of year when players are trying to better themselves for their potential NFL teams and not just rely on what they did in college. Leading up to the Senior Bowl, Golden worked out with former Falcon and now pass rush trainer Chuck Smith.
"Chuck Smith is great and I'm blessed I had the opportunity to work with him," Golden said. "I learned a lot in just one week of working with him. I leaned so much, more than I thought I could learn. He's a great coach. He taught me a lot of different moves, feet work, and quickness. Of course, he's got a lot of confidence in me too. So it was great working with Chuck Smith."
Smith has worked with many pass rushers over the years. Names like current Falcon Osi Umenyiora and also current Pittsburgh Steelers outside linebacker/Georgia alum Jarvis Jones come to mind.
It is no secret that the Falcons will be in play for help in the defensive front seven when they make their picks in the draft. If they were to select Golden in any of the seven rounds, he knows what he could bring to Atlanta.
"I'll be able to get after the quarterback for you," Golden said. "I'll be able to come in there and make plays. I'm going to be a guy that comes to work to get better every day. Most of all, I'm going to play hard every play. No matter what the situation is, I'll be able to play hard and get out there to compete."
Those words are very welcomed by the Falcons fans and they would no doubt like to see an increase in pass rush from this team.
NFLDraftScout.com has Golden slated to be a second or third round pick this spring. Much like we saw of the 2013 NFL Draft, when the Falcons took cornerbacks Desmond Trufant and Robert Alford in the first two rounds. Could we see something similar with pass rushers in the early rounds this year?
Lucky for them, there looks like there is good depth at the spots of need.