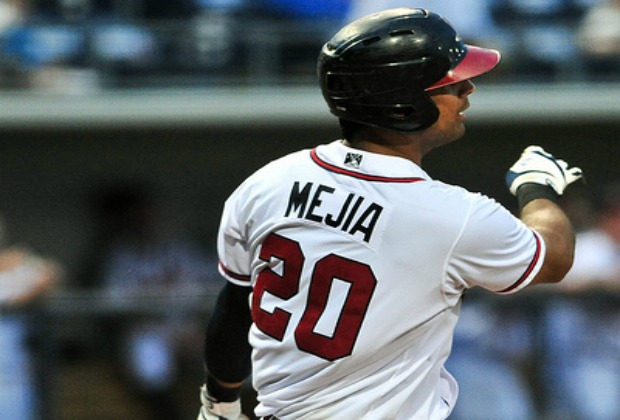 Kyle Hess/Gwinnett Braves
The Gwinnett Braves opened their fifth season of play in early April with some familiar faces. More than half of the 25-man roster played in Gwinnett last year, including infielder Tyler Pastornicky. This year's newcomers bring the hope of a fruitful season, as pitchers David Hale, Cory Rasmus and David Carpenter, who are all on the Atlanta Braves' 40-man roster, will start the year in Gwinnett. Sports fans expecting Gwinnett to just be a place for rehabbing Atlanta stars will find that this team is competitive and chock full of talent.
Returning to Gwinnett after several stints with the Atlanta Braves is Pastornicky. The middle infielder is hitting everything thrown at him so far, with a .392 batting average and a team-high 20 hits. Pastornicky also currently rides an eight-game hitting streak, and has managed to get multiple hits in seven of those eight games. Monday, he delivered a walk-off home run to help Gwinnett stay hot at home. Ernesto Mejia has a .333 batting average thus far with a whopping seven home runs in 11 games. Currently, the Braves are 5-2 with Mejia in the lineup and a lot of that has to do with his incredible power. Rasmus is taking care of business for the G-Braves pitching staff with a 1.29 ERA and six strikeouts through only seven innings of work.
When playing at CoolRay Field, the pitching staff has been able to hold opponents to a 2.50 ERA. Playing on the road has yielded far less desirable results: Gwinnett is 1-6 on the road with an unruly 7.00 ERA. The G-Braves rarely give up runs, but when they do, they give them up in bunches as they have lost three consecutive games on the road by nine runs or more. On April 9, Daniel Rodriguez gave up 9 earned runs in the first inning and was pulled after recording just one out. The next day the Braves bullpen fared almost as poorly by giving up seven runs in two innings. The bullpen woes continued this past Tuesday when the G-Braves gave up three runs in the top of the ninth, allowing Norfolk to rally for a 4-3 victory. Despite some stellar pitching performances from the starters, the G-Braves' bullpen keeps finding ways to lose games.
In almost every International League statistical category, Gwinnett is in the middle of the pack. The team's 6-7 record reflects those statistics as the G-Braves find themselves smack dab in the middle of the standings. The team doesn't have a pitching staff that will blow its opponents away, and the bats aren't anything to be scared of outside of Mejia and Pastornicky. As is often the case in baseball, pitching will write the story for this Gwinnett team. One bad inning can lead to insurmountable deficits with few positives to take away from the games. The G-Braves are hoping to ride the coattails of Pastornicky and Mejia, but when those offensive flames dwindle, so do the G-Braves' chances at success.