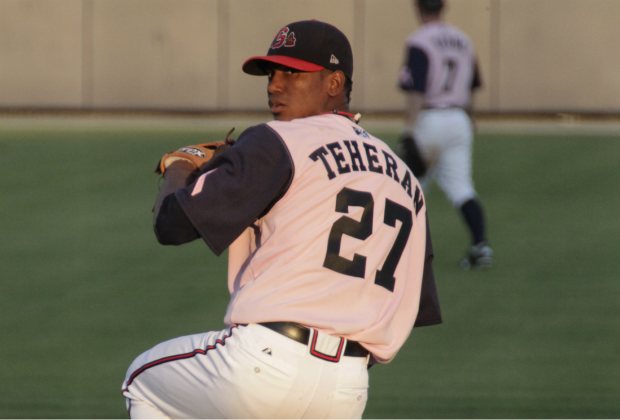 Gwinnett Braves
June hasn't been so kind to the Gwinnett Braves. The team has struggled to regain its early season form that saw them race out to a big divisional lead. After a rough past few weeks dating back to the end of May, the Charlotte Knights have taken over first place from Gwinnett as the bats and starting pitching have been in a bit of a slump.
Ernesto Mejia continues to play at an all-star level, however, as he continues to lead the team with his above .300 batting average to go along with his team-leading totals in home runs and RBIs. He is second in the International League in batting average, trailing just Steve Pearce of the Scranton/Wilkes-Barre Yankees, and he is also in the top 10 in the league in home runs and RBIs. While Mejia remains hot for the G-Braves, the team is relying on others to attempt to shoulder the remaining offensive load. Jose Constanza has returned to the lineup and is expected to resume his solid play that got him called up to Atlanta for the better part of May and into June.
CHANGING LINEUP …
Although the team has seen its recent share of struggles, Gwinnett hopes that the reemergence of some familiar faces from Atlanta will help jumpstart the offense and the starting rotation to keep Gwinnett in the divisional race. To go along with Constanza's return to Triple-A, Atlanta optioned shortstop Tyler Pastornicky back to Gwinnett as Andrelton Simmons was called up from Double-A Mississippi. Last season, Pastornicky hit .365 in 27 games for Gwinnett, which led to his emergence as Atlanta's starting shortstop to start the 2012 season.
Kris Medlen was also sent down to Gwinnett to regain his role as a starting pitcher after Tommy John surgery sidelined him for much of the 2010 and 2011 seasons. Upon returning to Atlanta at the end of 2011, Medlen made relief appearances prior to being optioned to Gwinnett. The G-Braves hope that his development as a starter will help the team get back on track and bolster a starting lineup that, outside of Julio Teheran, has had recent difficulties.
Speaking of Teheran, he made a spot start in place of Tim Hudson in Atlanta against the Blue Jays on June 10. He allowed four hits and four runs and received a no decision in the team's loss.