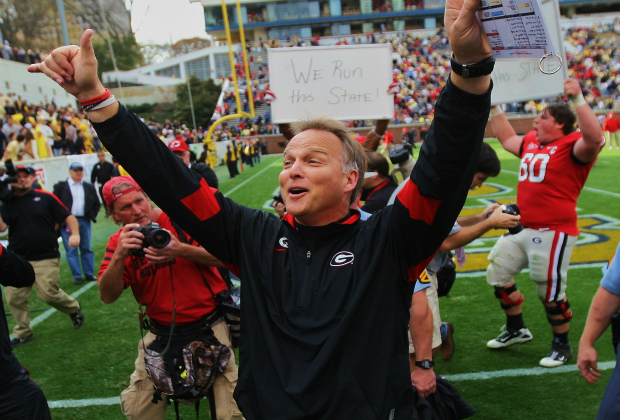 Rob Saye
Football coach Mark Richt and athletics director Greg McGarity received their approved contracts on June 7 by the UGA Athletic Association's board of directors. While McGarity was extended to the 2017 season, Right was extended through 2016.
Richt is currently the dean of SEC coaches, having been at UGA since 2001. While Steve Spurrier has coached in the SEC in two different stints since 1990, Richt has been continuously in Athens longer than Spurrier has been at his current gig at South Carolina.
"Mark Richt is not only the dean of SEC coaches, he is a person who has represented the University of Georgia extraordinarily well since he arrived in December of 2000," said Adams. "He has compiled a very strong record of wins and losses over that period. I am glad we were able to work out this contract extension which I believe is good for the University, good for football and good for Mark."
McGarity has been AD at Georgia since fall of 2010.
"One always has concerns about how any new hire might turn out," said Adams. "But two years into our relationship with Greg McGarity, he has proven to be not only competent but extraordinary."
One day after Richt and McGarity received their contracts, defensive coordinator Todd Grantham received a raise to $825,000 per year through 2014. One odd note about the deal is that Grantham can leave without a financial penalty for an NFL or college head coaching job or NFL coordinator job.
The Virginia Tech graduate becomes the fourth-highest paid defensive coordinator in the SEC with the deal behind LSU's John Chavis, Alabama's Kirby Smart and Auburn's Brian VanGorder.
RAIDER DOG …
Richt's program received its 20th commitment for the 2013 recruiting class Saturday when Alpharetta defensive end Naim Mustafaa revealed his intentions to sign with Georgia next February. Mustafaa was reportedly down to the Bulldogs and in-state rival Georgia Tech before informing UGA coaches that he was committing on a visit to Athens Saturday.
Mustafaa will likely play outside linebacker in UGA's 3-4 defensive alignment. The rising senior at Alpharetta also had offers from programs such as Florida, Florida State, Missouri, Nebraska, Oklahoma State, Tennessee and Virginia Tech, in addition to Georgia Tech and UGA.
The class lost a player Wednesday when Florida running back Derrick Henry de-committed from Georgia to explore his options.