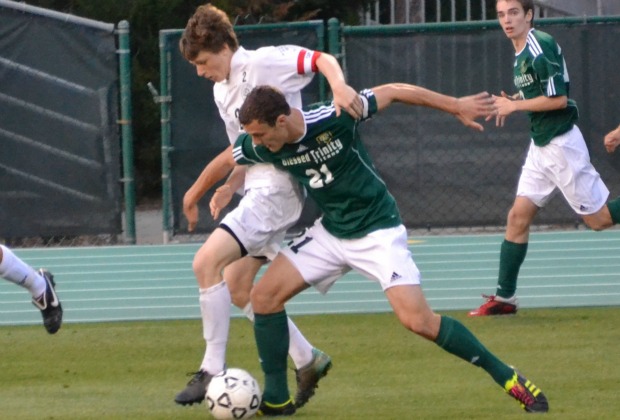 Annie Rizzo
In Class AAAAAA, Lambert moved back into the top five after putting together wins against Alpharetta and Johns Creek. Brookwood and Central Gwinnett, meanwhile, took a short fall out of the top five after taking losses last week. Berkmar, winners of Region 8, entered the top 10 after beating Brookwood last week in a crucial match.
Gainesville erupted in a 4-1 win over Heritage-Conyers Friday and was rewarded with a No. 6 ranking. Starr's Mill dropped to No. 5 after a lopsided defeat to McIntosh while Houston County and Allatoona moved up a spot.
West Hall moved up to No. 2 in Class AAA after quality wins against East Hall and North Hall in the past week. Blessed Trinity dropped to No 3 after losing to Roswell. Jackson entered the rankings for the first time sporting a 13-0 record.
Calhoun took over at No. 2 in Class AA after a quality win over Murray County. Coosa dropped after losing to Murray County, while Thomasville, Westside Augusta and Benedictine each moved up.
Holy Innocents' made a meteoric leap into the top five after beating Fellowship Christian and Pinecrest Academy convincingly last week. Mount Paran dropped out after losing to Walker and North Atlanta while Savannah Christian returned to the top 10 after winning three straight.
Class AAAAAA
1. Lassiter
2. Centennial
3. East Coweta
4. Lambert
5. Harrison
6. South Forsyth
7. Brookwood
8. Central Gwinnett
9. Berkmar
10. Collins Hill
Class AAAAA
1. McIntosh
2. Glynn Academy
3. Houston County
4. Allatoona
5. Starr's Mill
6. Gainesville
7. Clarke Central
8. Greenbrier
9. Heritage-Conyers
10. Lithia Springs
Class AAAA
1. Dalton
2. Chestatee
3. Carrollton
4. Johnson-Gainesville
5. Northwest Whitfield
6. Spalding
7. Alexander
8. Grady
9. Southeast Whitfield
10. Mary Persons
Class AAA
1. St. Pius X
2. West Hall
3. Blessed Trinity
4. Dawson County
5. Cartersville
6. Woodward Academy
7. North Murray
8. Cross Keys
9. East Hall
10. Jackson
Class AA
1. Greater Atlanta Christian
2. Calhoun
3. Westminster
4. Thomasville
5. Westside-Augusta
6. Benedictine
7. Coosa
8. Murray County
9. Wesleyan
10. Lovett
Class A
1. Atlanta International School
2. Paideia
3. Hebron Christian
4. Pacelli
5. Holy Innocents'
6. First Presbyterian
7. Savannah Christian
8. Fellowship Christian
9. Pinecrest Academy
10. Galloway