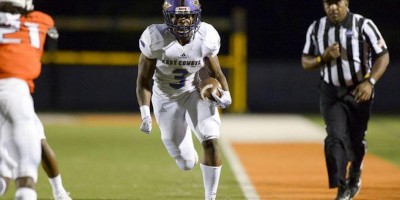 East Coweta and Lambert headline the Game of the Week. This week's Drive For The GHSA State Title matchup is between Douglas County and Langston Hughes, who will face off on Peachtree TV at 8 PM this Friday. The game of the week features the first-ever matchup between East Coweta and the Lambert Longhorns in both teams' final non-region game. Lambert comes in this game at 4-0 after their 43-20 victory last Friday against Flowery Branch. East Coweta is 4-1 with their only loss to undefeated Starr's Mill and is coming off a 49-34 victory against Lowndes last week.
First-year head coach Marc Beach of Lambert talked about what has led to the success this season.
"They play extremely hard. Play as hard as you can, play with class, and expect to win every play," said Beach. "I think our kids are doing that. We've played some good teams. We expect to win when we step on the field. That's our goal, and that has kind of been our mentality. We've been fortunate to get a good start, which is important for us. The defense has played well against the run."
A player to watch out for in this one is WR Brady Tillman for East Coweta. Tillman has 479 yards receiving and ten touchdowns on the season. An intriguing story on Tillman is that he just started playing football a few years ago. Coach John Small spoke about his breakout playmaker.
"He's a kid that played basketball for two years. He came out with us before his junior year. He played a little bit as a junior and made plays towards the end of the year because he was figuring out football," said Small. "He had a tremendous offseason and put on about 15 pounds of muscle. Tillman increased his speed exponentially. He's strong and hard to tackle in the open field. He can play three positions on offense. I think he is a diamond in the ruff and a power five football player that someone will steal."
Another playmaker to keep eyes on is Lambert's Brandon Jones, who has 452 yards and five touchdowns on the season. Jones is averaging 113 yards receiving per game.
"Brandon is a three-year starter for us. He played as a sophomore. In the first game, he didn't have any targets," said Small. "He didn't pout or anything. In the 2nd game, he had a bunch, and in the 3rd game, he didn't have a lot. It's doing your job when you are called upon. He had 8 catches for 170 yards and two touchdowns the other night. He made plays."
A matchup to look out for in this one is the offensive line for Lambert against the defensive line for East Coweta. Lambert has only one returning starter on the offensive line this year.
"Our center is the only returning starter. We are starting a left tackle who is a sophomore. A junior who played a little bit of JV last year which has gotten extremely good in the last four weeks," said Beach. "They've progressed really well for us. You see improvement every week. You talk about the good teams who can improve every week, and I think our o-line has done that."
East Coweta can create pressure with three or four-man fronts without having to devote extra pressure on blitzes to get home.
"The Kornegay brothers, Tyler Horsley and Calvin Phillips can play the run and rush the passer," said Small. "We can play with four or three down and still get pressure, then drop seven or eight in coverage. We haven't been forced to play a lot of man coverage and bring a lot of people because those guys are so sound in what they do."
Crosby Ellis on defense for East Coweta could also play a pivotal role in this one. He is versatile, grew an inch and a half, and put on some weight this offseason. Ellis leads the team in total sacks and tackles.
"He's kind of a throwback player. He is physical, and he's a great kid off the field. He loves to play football and compete," said Small. "He's 6'3 and a half, 227 pounds, but has no offers right now, which I can not understand. Last year he was 6'2 215. Ellis can play multiple positions on defense for us, we don't have to sub out packages for different offensive formations because he can play down on the line and be a rush end and play the run. He's a unique player and a very cerebral player."
James Tyre takes excellent care of the football for Lambert. He has 897 yards passing, ten touchdowns, and no interceptions.
"Our quarterback, we lean on him. He's a three-year starter. He makes a lot of good decisions with the football," said Beach. "He doesn't turn the ball over. He's such a competitor. He's the starting point guard on our basketball team. He plays with that savvy and swagger you want in a quarterback. He makes a lot of plays with his legs too."
The final impact player to pay attention to is sophomore quarterback Christian Langford. Langford has 1,062 yards passing and 15 touchdowns. He is having a breakout season thus far.
"You never know as a young kid how he will handle 7A football, the speed of the game, ebbs, and flows of the game, but he's the same kid whether he throws a touchdown or an interception," said Small. "He's even-keeled and has a presence about him that the guys feed off of. He can make plays with his arm or with his feet. He's just a kid that has been raised right. He will make his mistakes, but he will make some big plays as well."
Coach Small emphasized execution and being themselves as keys to victory for East Coweta.
"We just want to go out there Friday and play well and continue to get better at what we are doing to prepare ourselves to be as successful as we can be down the road. It's going to come down to being able to execute each night, have a short memory each week, and get ready for the next one," said Small. "We try to take a 1-0 approach every week and every day. We are going to be who we are and be the best version of ourselves every time we step on the field."
Coach Beach honed on protecting the football and knowing the details of the assignment on defense.
"Offensively, we have to protect the football. Drive the football and keep their offense off of the field. On defense, we have to know details of our assignment like we talked about," said Beach. "Don't give up big plays in the screen game and over the top stuff. Make them drive and earn it. We have to win the special teams. We have an unbelievable kicker. I believe he was 6/7 on touchbacks. He made two 40-plus yard field goals the other night. We are going to try and treat this as a playoff game."