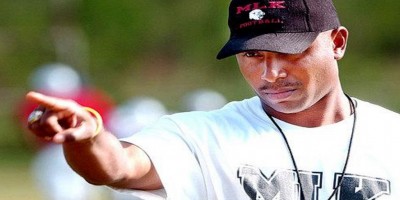 The 10th Annual Georgia Elite Classic is introducing the event's first-ever border battle and out-of-state team with its newly-formed Alabama Seniors vs. Georgia Seniors All-Star Game as part of the four-game lineup on Dec. 29 at Rome's Barron Stadium. In the previous nine years of the Classic, more than 1,400 of its participants have gone on to play collegiate football and this 2022 four-game lineup will have five different graduating classes represented in addition to the first out-of-state team. The Class of 2027 kicks off at 10 a.m. in the 8th Grade All-Star Game and Georgia's Class of 2023 seniors will square off with Alabama's Class of 2023 next at 12:45 p.m. The Junior All-Star Game filled with Class of 2024 prospects follows with a 3:30 p.m. kickoff before the finale at 6:15 p.m., which will be the Class of 2025 versus the Class of 2026 in the Sophomore vs. Freshman All-Star Game.
Former Peachtree Ridge state championship head coach Mark Fleetwood is in his sixth season as head coach of the Huntsville Panthers in Alabama and will be returning to the Peach State to lead the Alabama Seniors against the Georgia Seniors.
"It's a neat deal," said Fleetwood. "It's going to be great for exposure for the players and the competitive edge will be fantastic for high school football."
Fleetwood has been impressed with the tradition and pride shared by both states over his 30-plus year head coaching career and is excited for the introduction of this new cross-state all-star showcase.
"When I was at Peachtree Ridge we had a lot of success. I'm in Year 6 at Huntsville now and we are trying to reach that level of success, but it has been great," said Fleetwood. "Alabama has great high school football. I think with Georgia you do get areas like Atlanta where there is a denser concentration of major programs, but in terms of the individual programs, the pride, the support from the community and the caliber of player, I think Alabama is just as outstanding."
The Georgia Elite Classic has represented the state of Georgia over the years with players coming from every classification and nearly every program in the state. Coach Fleetwood expects that same statewide representation with the Alabama seniors as they faceoff with Georgia's Class of 2023 all-stars.
"It's a great state at every corner," said Fleetwood. "In the southern part from Dothan to Mobile, then Montgomery to Auburn to Phenix City and Birmingham up to Huntsville and down to Gasden, the entire state is filled with tremendous programs and we will have a team that represents Alabama well."
Fleetwood expects several of his own seniors to make the trip with him to participate in the Classic and has multiple offensive lineman, a wide receiver and a cornerback that have been on the college radar that he hopes to have on his roster. He will also get to handpick his coaching staff for the game—which will consist of five coaches from Alabama.
The Georgia Seniors will be led by veteran head coach Corey Jarvis—who has 16 years of head coaching experience in the state of Georgia. Jarvis is in his fourth season serving as Lithia Springs head coach and has also served as head coach of Dooly County, Mays, Duluth and ML King.
"The No. 1 reason for doing this is exposure," said Georgia Elite Classic Director of Player Personnel Rusty Mansell. "I think when you add the out of state element to this, it is going to be good for everyone. Any time you do a state versus state, it's a different level of pride. We are going to have guys with power 5 offers in this game and other guys that will still be unsigned after the early signing period. I expect college coaches from Division II down to come out because it is more bang for your buck with top seniors from two states. I've been trying to figure out how to make this senior game have the most value and this is going to be a great opportunity for exposure and to play on television."
Georgia Elite Classic
December 29 at Rome's Barron Stadium
10 a.m. 8th Grade All-Star Game
12:45 p.m. Alabama Seniors vs. Georgia Seniors All-Star Game
3:30 p.m. Junior All-Star Game
6:15 p.m. Sophomore vs. Freshman All-Star Game