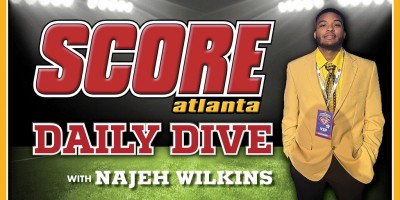 A battle of two undefeated teams will take place in South Georgia Friday night at 7:30. Lowndes leads the all-time matchup 5-1 vs East Coweta. The Indians got their first win of the series last year in a 49-34 home victory. The Indians are off to a hot start and are 4-0. Last season, East Coweta finished 2022 6-5 and head coach John Small talked about the changes he made to get the most out of the team heading into 2023.
"We went back to the drawing board last January after a disappointing season. We started off hot but didn't finish well. We looked at every situation and everything that happened. We came up with a plan of how to address these things with kids and get through to them," said Small. "Sometimes as a coach and a staff you have to look at yourself too. We did that and were honest with ourselves. We just went back to work with the kids and had a great offseason. One of the things we talked about was mindset and how to approach every day. We try to be physical every day in practice, so that we can develop some grit, focus and toughness. This is the youngest football team I've had as a head coach in 20 years. We are as young as we can be and we knew it going into this year. We have a group of kids that love each other. They learned a lot of hard lessons last year from watching the team before them. These kids come every day to work and play extremely hard and they give themselves a chance every week by doing that."
Lowndes has gotten off to a great start under new head coach Adam Carter. Carter already has an excellent reputation for winning in his seven-year head coaching career winning the state championship in 2020 with the Grayson Rams. He also has only one losing season in his career. The Vikings are 3-0 and have won every game out of state (Christ School (NC), Gadsden County (FL), and Rock Creek Christian Academy (MD). East Coweta will be their first Georgia opponent this season.
Coming into this matchup the Indians are allowing 13 points per game. Their defense has been on another level and head coach John Small talked about what has led to their dominant play this season.
"Probably because I named another guy on the staff the defensive coordinator and I stepped away from doing it. Coach Barfield is our new defensive coordinator," said Small. "He has a great rapport with the kids. We had to replace eight starters on defense and the coaching staff was able to take those kids and mold them into exactly what they wanted them to do. They have tremendous buy-in. It has really freed me up to do other things that we need to do as a team. Those guys have stepped in and done a tremendous job."
Lowndes has a great offensive line anchored by Daniel Jones (Coastal Carolina Commit) and has been excellent at running the football this year rushing for 593 yards and nine touchdowns this season. Jacaree' Fleming leads the Vikings with 298 yards rushing and six touchdowns. Fleming is an impact player to watch on offense in this game.
Seth Gritton and Deshaun Horsley have been dynamic playmakers for the Indians. Gritton leads the team in receiving yards and catches this season becoming the go-to target for junior QB Cohen Peeples. Peeples is a first-year starter for the Indians and has excelled at everything thrown at him this season.
"Deshaun is a guy that can run really well. He's gotten better at catching the ball and worked hard at it. He didn't play much as a junior but he continued to work on his craft," said Small. "He is an amazing young man and is really making some big plays for us. It is fun to see him have success. Seth Gritton is a kid that played safety for us that we knew was a guy that needed to touch the ball on offense, so we moved him over there. He is a very versatile kid. We feel like we have three or four guys at receiver and those two guys really stand out."
"Last year coming into his sophomore year Cohen didn't win the job. As a youngster, that is not fun to deal with. I think he grew up tremendously character wise," said Small. "He has great parents. He faced that adversity and I think it prepared him. He has gone out there and made good decisions with the football. He is leading us well and is very coachable. I know how hard he has worked and what he has been through to get to this point. I've been really impressed by him."
A matchup to watch in this game is the East Coweta offense against the stout and aggressive Lowndes defense. The Indians are averaging 33 points per game and have gotten off to great starts this season reaching the end zone and building a lead early.
Defensively, Lowndes does a good job of putting their offense in opportune positions and on short fields. The Vikings have forced 13 turnovers (nine interceptions and four fumbles) making life for opposing offenses very difficult. Safety KJ Massey leads the Vikings with three interceptions and 3 star LB Coleman Lewis leads the team in tackles (26) and is t-2nd on the team with two interceptions. Lewis has offers from Arkansas, Colorado, Georgia Tech, LSU, Michigan and more.
Coach Small talked about the keys to coming out with a victory Friday night and matching up with a historic program that has won five state championships and 19 ten-win seasons in its history. The atmosphere will be electric and it is always at Martin Stadium.
"You are playing a powerhouse team from South Georgia. We played them here last year and we were fortunate enough to win that ball game. I am excited to take this group on the road and make a four-hour trip. Seeing how they handle that maturely and seeing them go down and play in that atmosphere," said Small. "We have had some great environments at our place this year, so they are used to that. Going down there is a little different deal with the tradition they have. We are really excited to see our young kids go into that environment. We have to play well. Our recipe to win is don't turn the ball over and do your job. Go to the next play and we preach every day to do the best you can when you get the opportunity and pull for your teammate."
It will be interesting to see who comes out on top in this marquee matchup between two great teams in one of the best games in the state on Friday night.