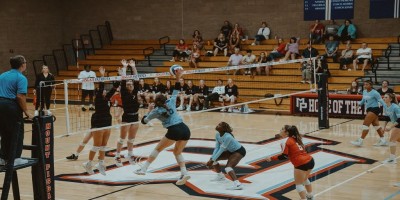 In Class 7A, No. 1 ranked Walton improved to 12-5 and picked up a 3-1 win over No. 3 Cherokee on Tuesday to improve to 4-0 in Region 5-7A. Walton has two more top 5 matchups next week to close out the regular season schedule with No. 2 Hillgrove on Sept. 16 and No. 4 North Cobb on Sept. 19. Hillgrove has won nine-straight and is 26-2 with its only losses coming to North Cobb (2-1) and Mt. Paran (2-1). Hillgrove has since avenged its loss to North Cobb by winning 2-1 and will have an opportunity to avenge its loss to Mt. Paran this Thursday on the road in a best of 5-set 3/5 showdown. The Class 7A poll did not shift this week as all the top 10 teams had impressive runs.
Class 6A No. 1 Pope will host No. 5 ranked Johns Creek in a key Area 7 matchup on Thursday and this will be their first meeting this season. No. 2 Alpharetta improved to 21-2 and extended its win-streak to 20 matches this week and was able to score a 3-2 win over Johns Creek this Tuesday in a five-set thriller. Alpharetta's next match will be at No. 9 ranked Blessed Trinity Thursday night.
Kell ascended to No. 1 in Class 5A after picking up its eighth-straight win and topping Greater Atlanta Christian (2-0) and previously undefeated Northview (2-0) and earned the jump from No. 5.
Class 7A
1. Walton
2. Hillgrove
3. Cherokee
4. North Cobb
5. Buford
6. West Forsyth
7. Norcross
8. North Gwinnett
9. Marietta
10. Richmond Hill
Class 6A
1. Pope
2. Alpharetta
3. Lakeside-Evans
4. North Forsyth
5. Johns Creek
6. Allatoona
7. St. Pius
8. Marist
9. Blessed Trinity
10. Newnan
Class 5A
1. Kell
2. Greater Atlanta Christian
3. McIntosh
4. Northview
5. Jefferson
6. Dalton
7. Loganville
8. Cartersville
9. Midtown
10. Calhoun
Class 4A
1. Pace Academy
2. Westminster
3. Lovett
4. North Oconee
5. Starr's Mill
6. Chestatee
7. Trinity Christian
8. Heritage-Catoosa
9. Whitewater
10. Holy Innocents'
Class 3A
1. Sandy Creek
2. Oconee County
3. White County
4. Hart County
5. Morgan County
6. Savannah Christian
7. Richmond Academy
8. Wesleyan
9. St. Vincent's
10. Hebron Christian
Class 2A
1. Mt. Paran
2. Landmark Christian
3. ELCA
4. Savannah Arts
5. North Cobb Christian
6. ACE Charter
7. Providence Christian
8. Athens Academy
9. Elite Scholar's Academy
10. Model
Class 1A
1. Mt. Pisgah
2. Armuchee
3. Whitefield Academy
4. Mt. Bethel
5. Savannah
6. Tallulah Falls
7. Mt. Vernon
8. Woodville-Thompkins
9. Heard County
10. Chattooga