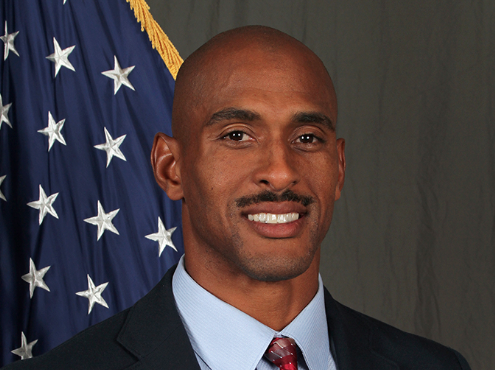 Riverside Military Academy head coach Gary Downs has plenty of football experience to share with his players but his reach has been much further than just teaching his players the game. On the gridiron, Downs' career began to grow as a running back for Spencer High School, while his father was stationed at Fort Benning. His talents took him to N.C. State where he'd earn Academic All-ACC honors off the field and earn All-ACC honors on the field.
The New York Giants took Downs in the third round of the 1994 draft and he'd play for the Broncos in 1995 before returning to New York in 1996. In 1997, the Falcons gave Downs the call and he'd spend the next four seasons playing for Atlanta. Downs emerged as a leader on special teams during the Falcons 1998 NFC Championship season that took the team to its first-ever Super Bowl.
Downs dove into the coaching profession in 2003 as Riverside Military Academy's running backs coach. He took over the offensive coordinator duties the following season and helped lead the Eagles to the 2005 GISA state championship. Downs would serve as a coaching intern with the Falcons and had a brief stint in NFL Europe before he took over the play calling at Mount Pisgah Christian School from 2007-2011. Downs returned to the Eagles in 2012 and helped the program improve to a 5-5 record last season.
Riverside Military Academy is presented with its own set of challenges that other programs do not face. As a boarding school, younger players can get homesick and need a mentor to look up to while they adapt. Downs always makes himself available to help his players. Downs has played football at the most competitive level and understands the importance of safety. He set in motion for Riverside Military Academy to bring in the Falcons Helmet Safety Camp. The Camp set up the workshops to help the parents and his players understand how to play the game correctly and put safety as a priority.
Downs has players from all over the country and even outside of the U.S. borders on his team and each summer he will make sure to keep up with each of them. The team participates in Buddy Curry's Kids and Pro's Camps and helps out at local Boys and Girls Clubs around North Georgia. Whether it is on the football field, in the classroom or in the community, Downs has led by example and continues molding the lives of young men that will set out to do the same.