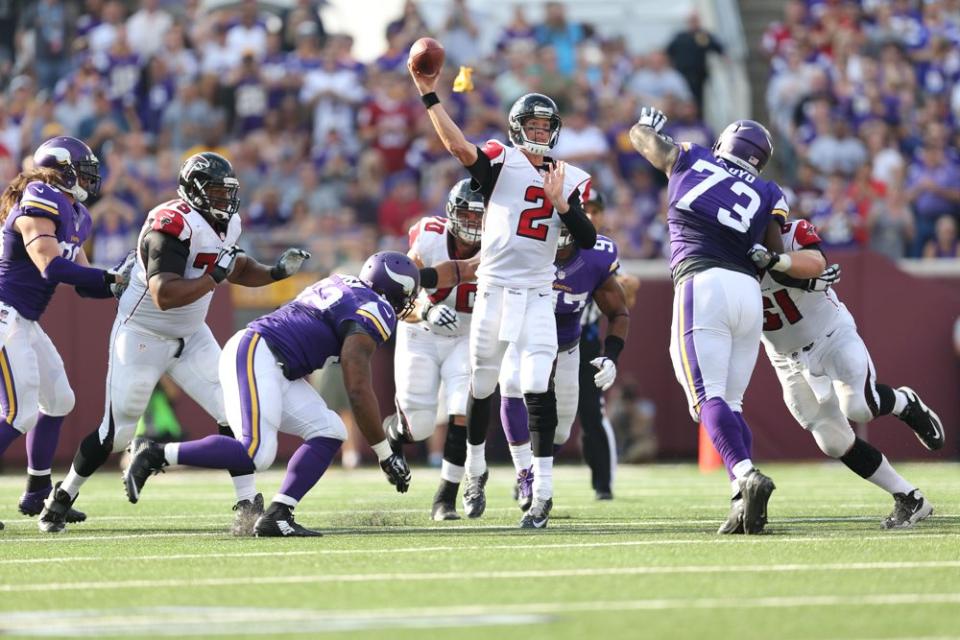 Photo by AtlantaFalcons.com
For the second straight season, the Falcons are dealing with key players being lost for the season to injuries. They're also going to be without one of their leaders for the next eight weeks.
Gone for the rest of the year are center Joe Hawley to a knee injury and right tackle Lamar Holmes to a foot injury. Safety William Moore is going to be off the practice field for at least the next six weeks and off the game field for the next eight with a shoulder issue.
Wednesday in Flowery Branch, the Falcons players and head coach Mike Smith went about business pretty much like any of the previous Wednesday practices. However, the team also practiced without wide receiver Harry Douglas or starting left guard Justin Blalock taking part in the work. That being the case, Smith again isn't using injuries as an excuse for his team.
"You always feel bad for the guys that are injured, but this is a don't blink mentality that you have to have," Smith said. "I don't think it's an issue. We know that when someone goes down, the next guy has got to step up. We're not going to cancel the game because we lost a couple of linemen. We're going to have to go and play the next week."
This next week is another road game and it's a matchup with the New York Giants. Running back Steven Jackson is trying to improve on his 49 yards rushing performance last week against the Vikings. He was one of the numerous players that Falcons had to deal without during last season. He believes that experience of the team going through shuffling players in and out of the lineup will help them this season.
"The front office has done a really good job of making sure that we have depth," Jackson said. "The offensive line guys have been rotating in since training camp and have been doing a good job there. We're all looking forward to those guys stepping up and playing a key role for us trying to get this first win on the road."
As of now, the Falcons will rotate veteran offensive lineman Gabe Carimi over to the right tackle spot with Lamar Holmes done for the season. Fellow Wisconsin alum and teammate Peter Konz is back in as the team's starting center, after losing his job last season to Joe Hawley. He's let those experiences motivate him heading into this season.
"Starting in January I was in the weight room, I was in the film room, I was doing everything possible, and I saw a nutritionist," Konz said. "I'm not even thinking about last year. It's all about this year and going in there with confidence, knowing how we say we've invested money in the bank, with the type of reps we've put in and the type of film work we've put in. So, I'm excited to go out there and play."
On the defensive side, second year safety Kemal Ishmael is going to step in and get the starting reps while Moore is dealing with the shoulder injury.
Falcons quarterback Matt Ryan is another player that was around last season to see left tackle Sam Baker and wide receiver Julio Jones lost for the season. Plus, the team had to deal without wide receiver Roddy White, running back Steven Jackson, and linebacker Sean Weatherspoon for much of the season. As we saw on HBO's 'Hard Knocks' Ryan has emerged as a team leader for the Falcons. So I asked if he's putting that leadership to work right now.
"That's part of leadership is understanding that throughout the course of the season different things are going to come up and you have to be able to overcome them to be the football team you want to be," Ryan said. "I think it's across the board that guys will talk to some of the young guys that have go out there and play for us. Just tell them to just go out there and do what they're capable of doing. Don't do anymore, don't do any less."
The quarter of the season gets underway for the Falcons on Sunday in the Meadowlands. It will be very interesting to see if indeed this team can maintain the course towards the playoffs despite the injuries.