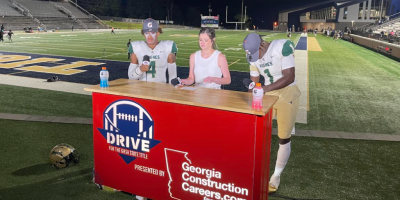 PepsiCo believes in supporting the local communities where we live, work, and play. The company encourages youths to play sports, stay in sports, and play sports safely alongside its new partner, RaceTrac, which also supports grassroots community events.
The Gatorade brand supports youth sport programs in all sports and at all levels. Gatorade, a PepsiCo brand, has proudly sponsored the Offensive and Defensive player of the game for the Corky Kell + Dave Hunter Classic, the Great Atlanta Bash and the Drive for the GHSA Title games, which are broadcast on WPCH/Atlanta News First each week.
Last year, players like Brookwood quarterback Dylan Longergan (Alabama), Kell quarterback Bryce Clavon, and Mount Pisgah wide receiver Tyler Hunnicutt were awarded the Offensive Players of the Game awards in the Corky Kell + Dave Hunter Classic alongside defensive players like Parkview defensive back Jay Crawford, West Forsyth linebacker Brody Sanderson and Mill Creek linebacker Jalen Smith.