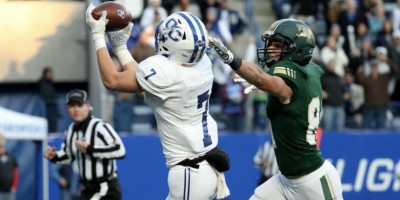 In Class 7A, Buford debuts at No. 1 and is the highest-rated Georgia team in the preseason national poll heading into 2023 after bolstering the roster with additions like five-star quarterback Dylan Raiola from Arizona. Walton comes in at No. 2 and will have Jeremy Hecklinski back at quarterback after a brilliant junior season that included the Raiders' second-round road win over Buford. Milton earned the No. 3 slot ahead of last year's runner-up Carrollton and Colquitt County at No. 5. Parkview returns at No. 6 ahead of reigning Class 7A state champion Mill Creek. Grayson, Westlake and North Cobb round out the star-powered top 10.
Hughes leads Class 6A with Gainesville, Houston County, Roswell and Woodward Academy rounding out the top 5. Douglas County, which will have Sire Hardaway returning at quarterback for his senior season is coming in at No. 8 and the Score Atlanta poll is the only preseason ranking so far to include the Tigers. Creekside opens at No. 1 in Class 5A and Cass comes in at No. 8 with region foes Cartersville and Calhoun also represented in the top 10.
In Class 4A, No. 1 Benedictine is the only team in the state this season with the opportunity to win a third-straight state title and leads the top five with North Oconee, Cedartown, Bainbridge and Troup.
After hiring former Warner Robins head coach Marquis Westbrook, Peach County debuts at the top of the Class 3A poll entering the season with Cedar Grove, Carver-Atlanta, Calvary Day and Oconee County rounding out the top 5.
In Class 2A, Fitzgerald leads the pack with Thomson, Rockmart, Callaway and Appling County filling the top 5. In Class A Division I, Prince Avenue Christian returns a majority of its moving parts from the state championship team last season and debuts atop the poll. Swainsboro, Brooks County, Irwin County and Bleckley County fill the top 5.
In Class A Division II, Bowdon enters at the top with Wilcox County, Schley County, Clinch County and Johnson County in the top 5.
See the full rankings below.
Class 7A
1. Buford
2. Walton
3. Milton
4. Carrollton
5. Colquitt County
6. Parkview
7. Mill Creek
8. Grayson
9. Westlake
10. North Cobb
Class 6A
1. Hughes
2. Gainesville
3. Houston County
4. Roswell
5. Woodward Academy
6. Rome
7. Lee County
8. Douglas County
9. Thomas County Central
10. Marist
Class 5A
1. Creekside
2. Warner Robins
3. Cartersville
4. Ware County
5. Calhoun
6. Kell
7. Coffee
8. Cass
9. Jefferson
10. Dutchtown
Class 4A
1. Benedictine
2. North Oconee
3. Cedartown
4. Bainbridge
5. Troup
6. Stockbridge
7. Burke County
8. Perry
9.  Wayne County
10. LaGrange
Class 3A
1. Peach County
2. Cedar Grove
3. Carver-Atlanta
4. Calvary Day
5. Oconee County
6. Sandy Creek
7. Thomasville
8. Carver-Columbus
9. Stephens County
10. Savannah Christian
Class 2A
1. Fitzgerald
2. Thomson
3. Rockmart
4. Callaway
5. Appling County
6. Pierce County
7. Northeast
8. Fellowship Christian
9. Athens Academy
10. Eagle's Landing Christian
Class A Division I
1. Prince Avenue Christian
2. Swainsboro
3. Brooks County
4. Irwin County
5. Bleckley County
6. St. Francis
7. Lamar County
8. Dublin
9. Elbert County
10. Trion
Class A Division II
1. Bowdon
2. Wilcox County
3. Schley County
4. Clinch County
5. Johnson County
6. Early County
7. Charlton County
8. McIntosh County Academy
9. Manchester
10. Lincoln County