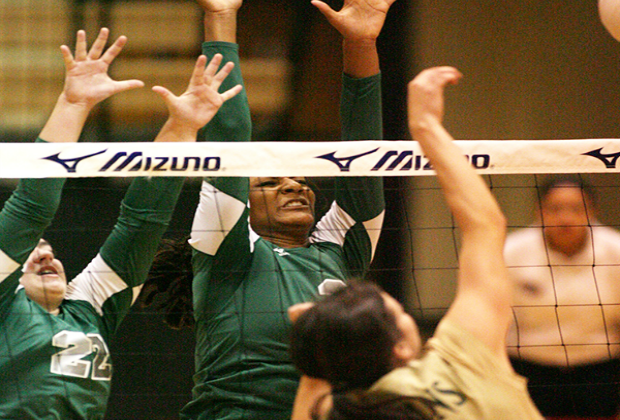 GHSA
The top spot in Class A has once again changed hands as George Walton Academy has taken over the No. 1 spot in the poll thanks to another strong week. Eagles' Landing Christian Academy remains No. 2 in the poll based on a strong showing Saturday when the Chargers defeated Class AA No. 1 GAC, as well as Class A No. 10 Holy Innocents', a team ranked No. 3 at the time of the match. The former No. 1 Landmark Christian lost three times Saturday, falling to Class AAA No. 3 St. Pius X, Class AAAAA No. 3 McIntosh and Class AAAA No. 4 Northview. The War Eagles dropped to No. 7.
Ringgold fell out of the Class AAA poll as East Hall moved into the rankings at No. 10. North Oconee and Hart County each moved up a spot as well. Class AAA No. 1 Woodward Academy won four games last week with victories over Chattahoochee (22-25, 25-22, 25-23), Sandy Creek (26-24, 25-23), Starr's Mill (25-15, 25-15) and Columbus (25-23, 25-16). Lexie Norfleet had 30 total kills in the four games, Sydney Morton had seven service aces and Elizabeth Muse had 20 digs.
Class AAAAA Ola moved to No. 8 after claiming the Decatur Invitational title, but Woodland-Henry and Locust Grove each made their way into the Class AAAA poll after knocking off Ola over the weekend. Columbus fell in the rankings from No. 3 to No. 10.
Whitewater, Pope and McIntosh still begin the Class AAAAA rankings, but Northview jumped up to No. 4, pushing Starr's Mill down to No. 5. Greenbrier also appears on the rankings this week as Creekview slides out.
In Class AAAAAA, Mill Creek and North Gwinnett moved into the No. 3 and 4 spots, respectively, as North Cobb dropped to No. 5. Johns Creek and Hillgrove also bumped up spots in the latest poll. Mill Creek won the Brookwood Aloha Bash with a 4-0 record in the event. The Hawks defeated Brookwood (25-21, 25-15), Providence Christian (25-21, 25-13), Class A No. 1 George Walton Academy (25-22, 25-22) and Parkview (25-12, 25-15). Mill Creek's Emily Wylie had 25 kills and four blocks, while Cayla Graham had 18 kills, Brittany Moore had 35 digs and Kaitlyn Lattimer had 46 assists.
Class AAAAAA
1. Walton
2. Harrison
3. Mill Creek
4. North Gwinnett
5. North Cobb
6. Johns Creek
7. South Forsyth
8. Chattahoochee
9. Hillgrove
10. Roswell
Class AAAAA
1. Whitewater
2. Pope
3. McIntosh
4. Northview
5. Starr's Mill
6. Sequoyah
7. Northgate
8. Ola
9. Hiram
10. Greenbrier
Class AAAA
1. Veterans
2. Sandy Creek
3. Southeast Whitfield
4. Heritage, Catoosa
5. Jonesboro
6. Woodland-Henry
7. Locust Grove
8. Marist
9. Walnut Grove
10. Columbus
Class AAA
1. Woodward Academy
2. Blessed Trinity
3. St. Pius X
4. Sonoraville
5. West Hall
6. North Oconee
7. Hart County
8. Oconee County
9. Lakeview-FO
10. East Hall
Class AA
1. GAC
2. Westminster
3. Wesleyan
4. Calhoun
5. Lovett
6. Jefferson
7. Johnson, Augusta
8. St. Vincent's Academy
9. Chattahoochee County
10. Westside, Augusta
Class A
1. George Walton Academy
2. ELCA
3. Walker
4. Savannah Country Day
5. Strong Rock Christian
6. Gordon Lee
7. Landmark Christian
8. Darlington
9. Our Lady of Mercy
10. Holy Innocents'