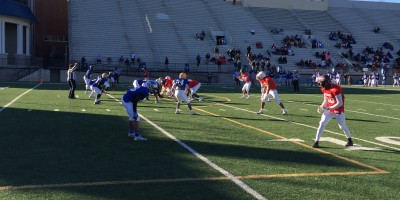 America 27, National 16
A controversial fumble call on a swing pass to the flats changed momentum and helped Team America race away from Team National in the fourth quarter.
On the opening play from scrimmage, North Paulding quarterback Ross Malmgren launched a 70-yard touchdown pass to Milton Jackson(Coffee) to give Team National an early lead at a highlight-laden Georgia Elite Sophomore game at Walter H. Cantrell Stadium at McEachern High School.  The 7-0 lead held up until Team America broke through with a 30-yard field goal from Colquitt County's Ryan Fitzgerald at the 11:07 mark of the second period. Six minutes later Fitzgerald tacked on a 32-yarder to make it 7-6 heading into the half.
A bad American snap resulted in Upson-Lee's Travon Walker falling on Max Brosmer in the end zone ending in a safety to extend the National lead to 9-6 at the 2:51 mark and less than two minutes later, Lowndes' Travis Tisdale ripped off a 60-yard touchdown run to regain a 13-9 lead for the Americans.
With 9:57 remaining in the final quarter, a swing pass fell incomplete and the National players stopped and were heading back to huddle up for the next play, but the ball was never ruled dead and Joel Girtman (Westlake) scooped up the fumble and raced 79 yards for the Americans to go ahead 20-9.
Tyler Goodson of North Gwinnett rushed for an 8-yard score with 5:09 left, to push the lead to 27-9 and the Nationals' Malmgren hooked up with Houston County wideout Tyler Fromm from 15 yards with 2:07 to play, but it was too little too late.
In the win Goodson rushed for 87 yards and a score. Brosmer finished 8-of-16 for 86 yards while Evan Conley (Pope) went 8-of-14 for 102 yards. Malmgren threw for 148 yards and two scored for the Nationals and Dominick Blaylock (Walton) caught four passes for 58 yards and Jackson finished with 89 yards receiving. On the ground Ron Thompkins (Grayson) had 64 yards rushing.