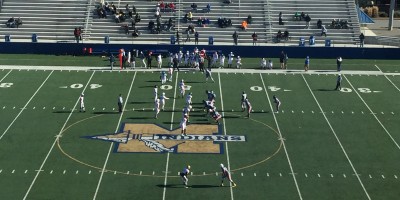 Corey Kiner rushed 27 times for 124 yards and two touchdowns, but Team Nitro was able to hold on 14-13 after a failed 2-point conversion with 52 seconds remaining.
Team Storm took an early lead 7-0 late in the first quarter following a Kiner 4-yard run. After a lengthy injury delay, Nitro got on the board on a Carlos Del Rio 5-yard pass to Jamal Haynes with 29 seconds left in the first half. In the third quarter Del Rio struck again, this time with his legs on a 15-yard touchdown run. Del Rio finished 5-of-9 for 58 yards, one touchdown and one interception while adding 24 yards rushing and a score.
Team Nitro carried its 14-7 lead into the fourth quarter before Team Storm rode Kiner to the finish line. Kiner averaged 4.6 yards per rush throughout the game and punched in a 6-yard score after headlining a 7-play, 62-yard drive. Instead of going for a tie, Coach Chris Slade elected to go for two but Montev Ware Jr. was stuffed.
A wild on-side kick bounced off a Nitro player's facemask and Storm had a chance to fall on it, but the ball squirted away safely into Nitro's hands.