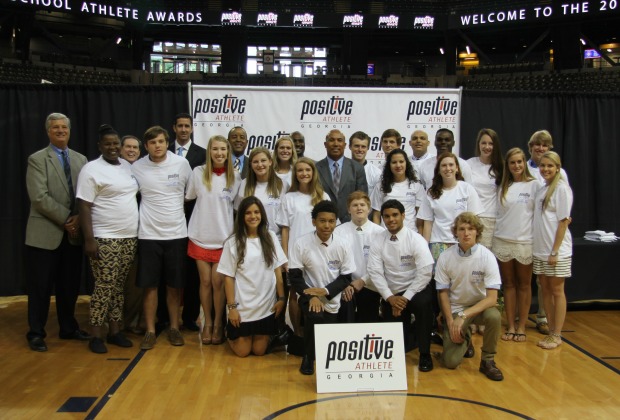 Scott Pederson
Saturday was a time to honor Georgia high school student-athletes for overcoming adversity and giving back to their respective community during the 2013-2014 school year.
On Saturday, Positive Athlete Georgia hosted its inaugural Georgia Positive High School Athlete Awards Ceremony at McCamish Pavilion in Atlanta, Ga.
Retired Pittsburgh Steeler and Positive Athlete Georgia co-founder Hines Ward, former Atlanta Falcon Brian Finneran and former Atlanta Brave and Atlanta Falcon Brian Jordan were among the local former professional athletes to host the event.
"This is really to spotlight all the different schools all over," Ward said. "It's really not taking the best athlete on the team – just a well-rounded student-athlete who does well on the field, who does well academically and also takes it to another level and go over and beyond in doing community work and to hear some of these stories of what kids had to overcome some adversity just to maintain that positive attitude about them and still go about their everyday life and everyday business – we want to spotlight that."
During the ceremony, 22 student-athletes were recognized individually for being the most positive athlete in their sport.
Three awards were also given to coaches: Most Positive Strength Coach Award went to Lou George of Westlake High School in Fulton County, Most Positive Girls Coach was given to Valerie Missick, head cross country coach at Coretta Scott King High School in Atlanta, and the Most Positive Boys Coach was given to Wyatt Wilkie, head wrestling coach at Creekview High School in Cherokee County.
The award that meant the most to Ward was presented this afternoon – Most Positive High School of the Year, which was won by Johns Creek High School.
"I like the whole school positive athlete award because that's a collection of the whole school getting together and being positive," said Ward. "That's what it's all about."
The Most Positive Male and Female Athlete of the Year Awards was also presented in addition to the most positive individual sport awards and school award.
Flowery Branch High School graduate, Keaton Coker, who also won the Most Positive Football Athlete, won the Most Positive Male Athlete of the Year Award.
The summer before his junior year, Keaton was diagnosed with brain cancer. After being released from the hospital for multiple surgeries and several rounds of chemotherapy, he made sure to never miss a workout or practice.
Keaton's positive attitude helped him get through his adversity to continue to play football.
"God's not going to put something on you that's too strong to suck you back in", Keaton said.
Rising senior Madison Lewis of Kennesaw Mountain, who also won Most Positive Softball Athlete Award, won the Most Positive Female Athlete of the Year.
Lewis overcame a brain tumor, brain cancer and epilepsy and never let it stopped her from playing softball
"What kept me going was being able to just go through it without having to not letting anybody bring me down, making sure I played like a regular person and not just pitying what's going on," Lewis said.