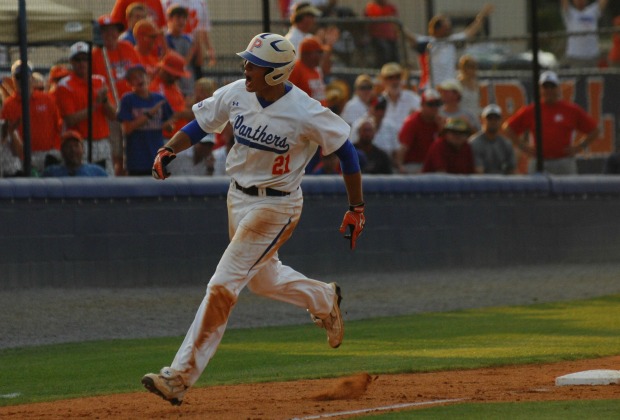 The Blessed Trinity, Cartersville, Parkview and Savannah Christian baseball teams are all in Fort Myers, Fla., this week for the Perfect Game High School Showdown, an event that pits four Georgia programs against four Florida programs. The teams from the Peach State will not face each other, but will play all four Florida teams.
For Parkview, it is a yearly tradition this time of year to play in an out-of-state event. "We always like to take one trip during spring break," said Parkview coach Chan Brown. "It is huge to see different types of teams. The experience and competition helps you in the long run." The Panthers traveled to Nashville last season and Miami during spring break in previous years for similar events.
Three of the four teams traveling to Fort Myers are ranked this week. Parkview is No. 6 in Class AAAAAA, Cartersville is No. 5 in Class AAA, Blessed Trinity is No. 1 in Class AAA and Savannah Christian is unranked in Class A-Private.
Class AAAAAA No. 7 Milton went 2-1-1 over the weekend in the National High School Invitational in Cary, N.C. The Eagles won their opener against Hamilton (Ariz.) 4-3 as brothers Dylan and Alec Crease combined to win the game on the mound. Alec doubled in Dylan for the game-winning run in the sixth inning. Alec had a 2-run double in the Eagles' second game, a 7-4 win over T.C. Roberson (N.C.). Dalton Ewing added an RBI double for Milton. The Eagles lost their only game of the tournament in Game 3, a 9-8 marathon defeat in 14 innings to The Woodlands (Texas), which is ranked No. 1 nationally by Baseball America. The game lasted four hours and 38 minutes. Ryan Gridley led Milton with four hits. Milton's tie came in Game 4 as the 2-2 affair against Bingham (Utah) was halted after 11 innings due to Milton playing 25 innings in a 24-hour period. Erik Peterson went 4-for-4 with both RBIs for the Eagles.
Grayson was also at the NHSI and finished 2-2 in the prestigious event. Austin Meadows, projected to be an early-round pick in this summer's MLB draft, went 3-for-3 with an RBI double in the Rams' 1-0 win over Eustis (Fla.) Saturday. Pitcher Korey Anderson got the win after hurling a complete-game shutout. Grayson also beat Christian Brothers (Tenn.) 5-3, while losing to Cathedral Catholic (Calif.) 14-2 and T.C. Roberson 2-1.
Class AAAAA No. 2 Greenbrier beat Evans 9-1 to clinch the Region 2A-AAAAA title Tuesday. Austin Robinson pitched a complete game for Greenbrier (11-3, 7-1) allowing one earned run and seven hits.
Class AAAA No. 2 Columbus shut out Shaw 10-0 Tuesday as the Blue Devils' pitchers allowed just one hit. Hunter Swilling had three RBIs for Columbus.
Class AA No. 10 Cook beat Valdosta 11-3 Tuesday after scoring 10 unanswered runs to close the game. Cook is now 10-5 on the season.