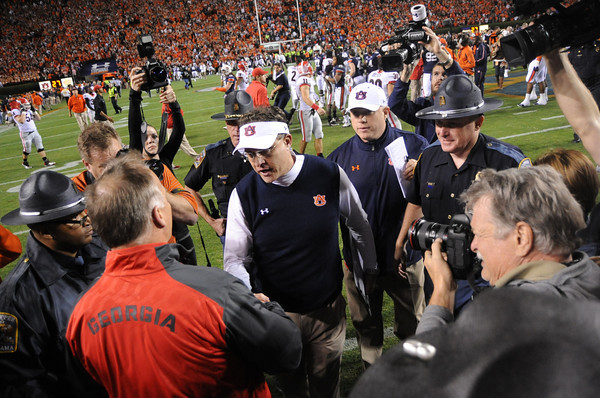 Sean Taylor/ Georgia Athletics
ATHENS, Ga.— Two years ago, we got to see one of the most improbable endings to a football game that has ever been seen. Auburn had the football fourth down and 18 yards to go, when quarterback Nick Marshall (former Georgia defensive back) threw a pass up into the sky…
On the back end of the arching pass were Georgia safeties Tray Matthews and Josh Harvey-Clemons ready to intercept the football. The players collided with each other and the ball went up into the air to only come down into the hands of Tigers wide receiver Ricardo Louis. Then about 15 yards later Louis was in the end zone to make it 43-38 Auburn to cap off the 73 yard miracle play.
The play became known as the "Prayer at Jordan-Hare." Also the play that made head coach Mark Richt get a face full of the turf at Auburn's home stadium.
"I hit my knees and then I my chest hit on the ground," Richt said.  "I was like, what in the world is going on? But gosh you see so many of those, I mean the very next time they played, the game against Bama. What happened there? Then what happened at Florida State/Georgia Tech, what happened to Michigan and what happened to how about Arkansas/ Ole Miss?"
Richt isn't the only person in the Georgia program that remembers the heartbreak from the last trip to Auburn. Senior defensive end Josh Dawson was also a part of that team.
He said Tuesday that it still stands as a reminder to the team on how to handle certain situations.
"Nobody saw it coming but it was a lesson learned for us," Dawson said. "That's all life is about lessons learned. Hopefully it won't happen again."
This trip to Auburn also means a lot to the overall series record between the two programs. This will be the 119th meeting and the series record is a dead even 55-55-8.
It is a huge rivalry for the Bulldogs, along with Georgia Tech/Florida. They have a chance to split their SEC West portion of the schedule with a win on Saturday.
There are many motivating factors for both teams entering the game on Saturday. Auburn was demolished last year at Sanford Stadium 34-7.
Georgia's players, coaches and fans don't need a reminder of how their last trip to "The Plains" ended
Bowl Projections For Georgia
It is that time of year, when you're trying to decide if a holiday vacation to watch the Georgia Bulldogs play is in the cards. At this point, Bulldog fans are probably hoping for some place warm.
According to the projections after last week's games, that wish could be granted.
Mark Schlabach (ESPN): Outback Bowl-Tampa, Fla. Vs. Penn State.
Brett McMurphy (ESPN): AdvoCare V100 Texas Bowl- Houston, Tx. Vs. Kansas State.
Jerry Palm (CBS Sports): Outback Bowl vs. Northwestern.
College Sports Madness: Franklin American Mortgage Music City Bowl- Nashville, Tn. Vs. Louisville.
Jason Kirk (SB Nation): Music City Bowl vs. North Carolina State.
Bill Bender (Sporting News) Outback Bowl vs. Michigan.
Barrett Sallee (Bleacher Report): Music City Bowl vs. Penn State
Zac Ellis (Sports Illustrated): Texas Bowl vs. West Virginia
-Part of this list compiled by Dawgs247.com-
There are plenty of options when it comes to where Georgia will be playing. Will you be traveling with them?