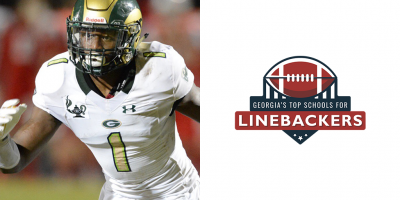 For decades, Georgia High School Football has been home to outstanding linebackers and this star-power has been especially evident in recent seasons with some of the nation's highest rated linebacker prospects coming out of the Peach State. The talent at the linebacker position has continued to attract college recruiters for decades with no sign of slowing down anytime soon. Below, I will list 10 of the state's best programs when it comes to producing linebackers. The criteria that was considered in making this list varied program to program. For example, some of the programs made the list based on historical success at the position, while others were measured by their more recent trends.
1. Stephenson: No school in the state can match Stephenson when it comes to producing NFL linebackers. The DeKalb County-based school opened its doors for the first time in 1996 and quickly became a hotbed of exceptional linebackers. Anthony Cannon was the first Jaguar linebacker to reach the NFL ranks when his name was called in the 2006 draft following his career at Tulane. In 2010, Perry Riley was taken in the fourth round and his former Stephenson and LSU teammate Kelvin Sheppard was drafted the following year in the third round. Riley and Sheppard's old varsity teammate Marcus Ball was the 2005 Defensive Player of the Year, and after attending Memphis, Ball was able to make his NFL dream a reality with the Saints in 2014. Preston Smith attended Mississippi State and was taken in the second round of the 2015 draft and Montez Sweat was a first round pick in the 2019 draft after his career at Mississippi State.
2. Griffin: Class of 2019 Griffin linebacker Larry Corbin is now playing at Murray State and is the latest talented Bear linebacker to come through the program. Griffin's other notable linebackers include Atlanta Falcons and Valdosta State legend Jessie Tuggle, former Georgia Bulldogs Chris Clemons and Charlie Clemons, in addition to Jeff Jackson (Auburn) and Ben Talley—giving the school five former linebackers that have reached the NFL.
3. Washington County: The Golden Hawks have a rich tradition of linebacker talent that can be traced back almost three decades. Demetro Stevens was the first WaCo linebacker to earn DPOY in 1993. Next, Takeo Spikes earned back-to-back Player of the Year honors and starred at linebacker for Auburn before going in the first round of the 1998 draft. The program has also produced Jessie Miller (Georgia) and Brandon Watts (Georgia Tech) who was taken in the 2014 draft. Will Coneway earned Defensive Player of the Year in 2014 and went on to play at Mercer. Class of 2018 Washington County linebacker Preston Daniels is now at Kennesaw State where he has switched to running back.
4. Tucker: Tucker High School is a college football pipeline and has dozens of alumni suiting up across the college landscape each season. The Tigers' have been particularly loaded at the linebacker position in recent years and its Class of 2018 incredibly saw a total of five linebackers earn college scholarships. This group included four-star Michael Harris (Auburn), Gerry Vaugh (Iowa State), Tre Leslie (Western Kentucky), Cam'Ron Carter (Colorado State) and Antonio Showers (Troy).
5. Grayson: The Grayson football program is notorious for its speed, physicality and college-ready talent on the defensive side of the ball and the Rams have had incredible linebackers come through the program. Terry Williams was a first-team All-State linebacker before attending East Carolina where he switched to a defensive tackle. Class of 2010 grad Michael Peek signed with N.C. State and then Wayne Gallman earned a scholarship to Clemson. While at Clemson, Gallman switched to running back and he is currently on the New York Giants roster. Class of 2014 linebackers Daniel Fennell (South Carolina) and Mohamed Berry (Nebraska) each landed on college rosters and Breon Dixon, a four-star Class of 2016 linebacker joined Berry at Nebraska. Five-star Owen Pappoe earned Defensive Player of the Year in 2019 and is now playing at Auburn. Grayson's Class of 2019 also included linebacker Allen Smith (Louisville). Class of 2021 prospect Grady Bryant will help anchor the Rams' defense in 2020 after earning Honorable Mention this past season.
6. Lanier: Lanier High School opened in 2010 and pulled students from North Gwinnett and the Sugar Hill area to form its first student body. In its first decade, the football program has blossomed into one of the state's top producers of college football talent. Class of 2013 linebacker Izzy Sam was amongst the first graduates from the new school and he went on to become a starting linebacker for Kennesaw State. The Class of 2017 saw linebackers Juwuan Jones (Western Kentucky) and Tyler Taylor (LSU) emerge from the program. In 2018 Kameron Brown was named Defensive Player of the Year before signing to play with Auburn. This past season, Class of 2020 linebacker Phillip Webb won Defensive Player of the Year and signed with LSU—giving the program back-to-back years of SEC-bound linebackers winning Defensive Player of the Year.
7. Lee County: The Trojans have been one of the toughest defensive teams in the state over the last decade with a steady stream of tremendous linebackers helping to lead the way. Recently, Dextric Green was an Albany Herald Dynamite Dozen selection in 2013. After Green, Akileis Leroy (FAU), Quin Geer (Georgia Southern) and Otis Reese (Georgia) have come through the program. Additionally, Class of 2021 linebacker Baron Hopson earned Honorable Mention for his play this past season and is a three-star prospect.
8. Colquitt County: The Packers' last six graduating classes have a strong group of linebackers. Bull Barge was named Defensive Player of the Year in 2014 and went on to play at South Alabama, while teammate Quinton Hampton signed with UCF before signing with Wagner. In the years since, Colquitt County has seen Dee Walker (Arkansas), Rashard Revels (UAB), J.J. Peterson (Tennessee) and Class of 2020 three-star Ty French come through the program.
9. Peach County: The Trojans' linebacking corps featured one of the top prospects in the country over the last few seasons with Sergio Allen. The Class of 2020 four-star recruit was ranked as the No. 12 inside linebacker in the nation for his class and signed with Clemson. Peach County has also had talented linebackers like JaQuez Jackson (Troy), Luke Crowell and Darius Dewberry. Crowell knocked down a two-point conversion pass after Gainesville scored a touchdown with no time left and preserved Peach County's 13-12 victory in the 2009 Class AAA State Championship. Dewberry was the No. 1 ranked inside linebacker in the country for the Class of 2006 and went on to play at Georgia.
  10. Creekside: The Creekside Seminoles have provided Georgia Tech with an incredibly talented linebacker tandem with its recent graduating class. Class of 2020 linebackers Khatavian Franks and Tyson Meiguez both attained three-star ratings during their varsity careers and signed to play for the Jackets. Franks was considered the No. 19 inside linebacker in the country for the Class of 2020 and Meiguez was ranked as the nation's No. 37 rated outside linebacker.