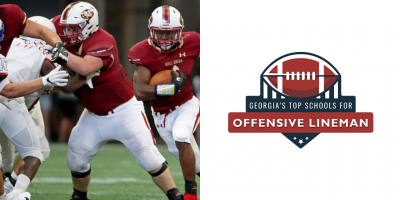 For decades, Georgia High School Football has been home to outstanding offensive linemen, and this star-power has been especially evident in recent seasons with some of the nation's highest rated offensive line prospects coming out of the Peach State. The talent at the position has continued to attract college recruiters for decades with no sign of slowing down anytime soon. Below, I will list 10 of the state's best programs when it comes to producing offensive linemen. The criteria that was considered in making this list varied program to program. For example, some of the programs made the list based on historical success at the position, while others were measured by their more recent trends.
1. Marist: Head coach Alan Chadwick sits second all-time in state history for career victories and has led the program since 1985. In his 36 seasons at the school, Chadwick has coached the program to 386 victories and a pair of state titles. Marist has reached the playoffs 37-straight seasons heading into 2020, and this remarkable consistency is validation of the school's long history of great offensive line play. When Marist won the state championship in 1989, it brought the school its first state title since its inaugural 1913 season. In the 30-8 victory over Worth County, a special play involving the offensive line galvanized the team and shifted momentum in the War Eagles' favor. The game started off slow, but then quarterback Sean Cotter orchestrated a trick play where he set the ball on the ground and darted to the right. Worth County's defense chased after Cotter as left guard Matt Post scooped up the ball and rumbled down the left side of the field and into the end zone.
"That was the one that sparked our team. It just kind of put a dagger in them and just shocked them and then we were able to kind of just slowly, slowly wear (them) down," recalled Chadwick in an interview with The Georgia Bulletin.
Post's momentum-swinging touchdown is symbolic of the proud tradition of offensive linemen at Marist. In fact, the 1989 state championship game was won without throwing a pass as the offense racked up 317 yards on the ground and imposed its will up front. The offense has evolved over the years to a more balanced attack, but the long history of talented offensive linemen remains a staple of Marist football. Here is a quick look back at some of the program's offensive linemen over the years.
Bert Ackermann attended the University of Tennessee in the 1960's. Ken Adamson went to Notre Dame and then played for the Denver Broncos from 1960-62. Boyd Andrews earned First Team All-State on Marist's 1989 state championship team, and the following year, Brian Harpring received honorable mention as a Marist offensive lineman. Brian's younger brother is Matt Harpring, the former NBA player and Georgia Tech great who has since had his No. 15 retired by the Jackets. The 1990's saw more talented linemen like future Georgia Bulldogs David Weeks and Alec Millen. Millen would later be drafted in the 7th Round of the 1993 NFL Draft by the New York Jets. Offensive tackle Gannon Shepherd earned a roster spot with the Jacksonville Jaguars in 2001, and guard Bob Olderman attended Virginia before playing for the Kansas City Chiefs in 1985.
Patrick Mannelly earned First Team All-State as a Marist offensive lineman in 1992. He would go on to play at Duke before getting drafted in the sixth-round of the 1998 NFL Draft as a long snapper by the Chicago Bears. Mannelly played for the Bears from 1998-2013, becoming the franchise's all-time leader in games played (245) and the longest tenured player in Bears' history (16 seasons). He was recognized as one of the Top 100 Bears of all time in a list produced last year.
In the early 2000's Marist continued producing college offensive linemen, including Bartley Miller (Georgia), Kyle Adams (Lehigh), Jeff Edwards (Stanford), Matt Ramsey (Duke) and Alex Salzillo (Amherst). Within the last decade, Marist has sent Nick Brigham (Georgia Tech), Charlie Clark (Georgia Tech), Chat Lagod (Georgia Tech), Mike Fennelly (Georgia), Kendall Baker (Georgia) and Sage Hardin (Georgia) to the next level.
Marist's long history of producing offensive linemen is poised to continue. Class of 2022 offensive tackle Steven Nahmias is the program's next top offensive lineman prospect. The rising junior earned All-State Honorable Mention this past season and already stands 6-foot-3, 285 pounds. So far, East Carolina, Florida State, Jacksonville State, Michigan State and South Carolina have offered Nahmias.
2. North Gwinnett: The Bulldogs have had a strong collection of offensive linemen emerge from the program that went to represent the program exceptionally well at the next levels. Class of 2010 five-star Ja'Wuan James attended Tennessee and his 49 career starts for the Vols set a new school record for an offensive lineman. James was selected with the No. 19 overall pick in the 2014 NFL Draft. While in the pros, James played for the Dolphins before Denver signed him in 2019 with a massive four-year, $51 million deal with $32 million in guarantees–making him one of the highest-paid right tackles in NFL history. James' former high school teammate Austin Shephard also graduated in 2010. Shephard attended Alabama before being drafted by the Minnesota Vikings in 2015.  Manrey Saint-Amour also starred on North Gwinnett's impressive 2010 offensive line. Saint-Amour played college football at Georgia Southern and was the offensive line coach at Savannah State for the 2019 season before being hired by Florida State's staff this past January. Andy Kwon graduated from the program in 2013 became a starting center at Georgia Southern where he'd earn All-Sun Belt First Team recognition in 2016. Kwon is now an Offensive Line Graduate Assistant at Alabama. The Class of 2014 produced Yale signee Jeho Chang, who would play various roles along the Bulldogs' offensive line over his collegiate career.  Alex Stoehr and DeVondre Seymour were both 2013 graduates. Stoehr went on to play at Georgia State and Seymour went to Georgia before deciding to step away from the game shortly after his arrival. In 2015, five-star Mitch Hyatt led the North Gwinnett offensive line. Hyatt continued his career at Clemson and is currently an offensive tackle for the Dallas Cowboys. Alex Mollette graduated in 2016 and went on to play o-line at Marshall. The following year, Chris Sibilia signed with Georgia State and Sean Maginn signed with Wake Forest where he is currently a starter. Class of 2018 standout Warren Ericson earned four-star status and is now attending UGA. Ericson played in six games for the Bulldogs this past season and started every snap at right guard in the team's Sugar Bowl victory over Baylor.
3. Buford: No other school in the state has produced as many college offensive linemen as the Buford Wolves over the past four seasons. This group includes Class of 2015 linemen Hunter Holland (Western Kentucky) and Nick Polino (UNC), Class of 2016's Cooper Simpson (Army), Class of 2017's Dean Powell (Army), Connor Mills (Princeton) and Tyler Thurmond (West Virginia) and Class of 2018's Austin Blake (Campbell). Buford's Class of 2019 contained four of the highest-rated offensive linemen in the state. Out of this group, Harry Miller signed with Ohio State, Riley Simonds signed with Florida and Reece McIntyre and Carter Colquitt both went to Ole Miss. Alabama-signee Seth McLaughlin highlighted the Class of 2020 as one of the top linemen in the country and Jacob Smith is already receiving massive recruiting attention in the Class of 2021.
4. McEachern: The McEachern Indians run a high-tempo offense that demands athleticism, speed and durability out of its offensive linemen, and over the years this has led to some of the most sought-after o-line prospects in the state suiting up for the Blue and Gold. Earlier in the school's history, Adam Meadows graduated and became a four-year starter for Georgia before getting taken in the second round of the 1997 NFL Draft. T.J. Meers went on to play at Auburn and Etta Etta-Tawo earned a scholarship to play at Clemson before a heart condition prematurely ended his career. Class of 2013 graduate Jajuan Dulaney played at Maryland and Texas Tech and is now an Offensive Graduate Assistant Coach at the University of Houston. The Class of 2015 featured Chuma Edoga. After attending Southern California, Edoga was drafted in the third round of the 2019 NFL Draft by the New York Jets. More recently, Class of 2016 guard Tremayne Anchrum was taken by the LA Rams in the seventh round of this year's NFL Draft. Additionally, the McEachern program has also produced All-American Chandler Jones, Jalen Jackson (Class of 2017, Purdue) and Kameron Duhunsi (Class of 2018, Albany State).
5. Grayson: The Grayson program has generated a ton of offensive line talent in addition to nearly every other position over the last several seasons. Class of 2014 grad Owen Painter continued his career at Appalachian State. Then, in 2017 the Rams sent a trio of offensive linemen onto the next level. This group included Tony Gray (Ole Miss), Will Taylor (Duke) and Jalen Jackson (Georgia State). In 2019, Grayson was home to three of the highest-rated offensive linemen in the state; five-star Wayne Morris went to Tennessee, four-star Trente Jones went to Michigan and Jakai Clark went to Miami, where he earned the starting job as a true freshman.
6. Brookwood: The Broncos have been a hotspot for offensive linemen for more than two decades. During the 1996 season, Philip Jones anchored the offensive line for Brookwood's state championship team. Jones played for his father Tom, the school's longtime offensive line coach. Following his varsity career, Jones played for South Carolina and then began his coaching career—which led him to his current position as head football coach of his alma mater. In the past two decades, Brookwood has seen a long list of talented offensive linemen come through the program that went on to represent the Maroon and Gold at the next level. Class of 2002's Stephon Heyer went on to play at Maryland and then earned roster spots with the Redskins and Oakland Raiders. Mansfield Wrotto graduated from Brookwood in 2003 and went on to play at Georgia Tech. Wrotto spent his first three years playing defensive line, but switched to offense and went on to play guard for the Seattle Seahawks and Buffalo Bills. Class of 2005 grad Brian Truelove played on both sides of the football and earned a scholarship to Oregon to play defensive tackle. Class of 2008's A.J. Mackey signed with Army, 2009 grad Kellen Williams signed with Alabama, Class of 2012's Jackson Buonamia signed with Furman and 2013's Blake Fussell signed with Mercer. More recently, offensive tackle Casey Holman (Class of 2018) landed at Duke and Aiden Perkins (Class of 2020) landed at Army.
7. Mill Creek: The Mill Creek program played its inaugural season in 2004 and has grown into one of the most consistent program's in Georgia's highest classification. The Hawks have been especially talented along the offensive line, and their longtime offensive line coach Josh Lovelady was promoted to head coach in 2019 where he led the team to the state quarterfinals. Mill Creek's Class of 2015 featured Kaleb Kim (Auburn) and Josh Fannin (Middle Tennessee State). Robbie Bell signed with Louisville the following year, and then the Class of 2017 produced Tyler Fannin (Virginia), Jack Franklin (Coastal Carolina) and Nick Campbell (Western Carolina). Class of 2018 grad John Harris is now at Virginia Tech, and Class of 2019 lineman Jonathan Leech is at Virginia with the younger Fannin.
8. Stephenson: The Stephenson program has rapidly produced college offensive linemen over the past five seasons and has more upcoming talent ready to lead the Jags upfront. Tyler Jones (N.C. State) and Jordan Harris (Mississippi State) were 2014 grads. Class of 2016's Tyler Johnson went on to play at Tulane. Class of 2018's Jalil Irwin (Auburn) and Class of 2019's Joshua Black (Louisville) also went on to the next level. Rising senior George Jackson is a 6-foot-4, 350-pound three-star prospect that is committed to Florida.
9. Rome: The Rome Wolves achieved back-to-back state titles in 2016 and 2017 with one of the most effective offenses that the state has ever seen. The team's 2017 squad averaged 50.53 points per game, and running back Jamious Griffin would go on to earn Georgia's Gatorade Player of the Year the following season to cap his incredible varsity career. Griffin is currently playing at Georgia Tech and he left Rome after racking up 6,400 career rushing yards off of 781 carries with 104 rushing touchdowns. Griffin's talent is undeniable, but it is worth pointing out how the Rome offensive line played at a level that allowed Griffin to maximize his abilities. Rome had a dominant defense during the championship run and the 2017 Rome defense produced 114.5 tackles for loss. Not surprisingly, suiting up each day at practice on the other side equipped the offensive line for Friday nights. Class of 2017 grad Zach Kadum signed with Samford, and Rome's Class of 2020 linemen Quantavious Leslie (Western Kentucky) and Aiden Gaines (Army) are getting ready to play at the next level this fall. It's worth pointing out that the entire Rome area is a hotspot for offensive line talent with Darlington, Coosa and other schools in the area also featuring top prospects.
10. Roswell: The Roswell Hornets have been quietly turning out top offensive line prospects over the past four seasons. In 2016, Cameron Whiteman signed with Harvard. The following year, Jack Nichols was offered by Gardner Webb and Jordan Tucker earned a scholarship with North Carolina. Class of 2020 graduate Tre Zimmerman also signed with UNC after receiving 19 total offers. This upcoming season, rising senior Corey Robinson II will be featured on Roswell's o-line. Robinson is a 3-star prospect that stands 6-foot-5 and weighs 275-pounds. Robinson received his most recent offer from Austin Peay on May 30.