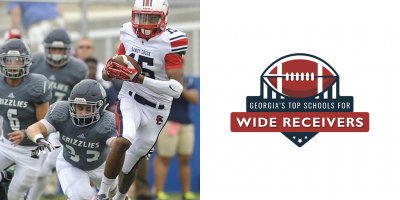 For decades, Georgia High School Football has been home to outstanding wide receivers and this star-power has been especially evident in recent seasons with some of the nation's highest rated wide receiver prospects coming out of the Peach State. The talent at the position has continued to attract college recruiters for decades with no sign of slowing down anytime soon. Below, I will list 10 of the state's best programs when it comes to producing wide receivers. The criteria that was considered in making this list varied program to program. For example, some of the programs made the list based on historical success at the position, while others were measured by their more recent trends.
1. Sandy Creek: Calvin Johnson is one of the greatest wide receivers in the history of football and his Hall of Fame career began at Sandy Creek High School where graduated in 2004. Johnson's No. 81 was retired at the school in 2010—two years before he would set the NFL's all-time single season receiving record with the Detroit Lions (122 catches, 1,964 yards). Johnson would end up playing nine seasons in the NFL before retiring in 2015. Throughout 'Megatron's' exceptional career, and on into the present day, his alma mater Sandy Creek has seen a strong collection of star receivers come through the program. Class of 2006 wideout Brent Brewer was a three-star prospect that signed with Florida State, but eventually played baseball for Tennessee. Braxton Lane also was a 3-star prospect out of the Class of 2009 that signed with Oregon before playing baseball for the Texas Rangers. In 2011, Alex Chisum was named Offensive Player of the Year and went on to play receiver for the Cincinnati Bearcats. Jarrett Davis (Class of 2010) and Class of 2012 receiver JaQuay Williams both played at Louisville after their varsity careers. Class of 2014 All-American Demarre Kitt earned Offensive Player of the Year and put up a 74-catch, 1,235-yard and 11 touchdown season in 2012. More recently, Class of 2016 wide receiver Korey Banks received 25 offers before landing at South Carolina and converting to a defensive back. Class of 2020 grad Ahmad Jackson is continuing his career at Liberty after hauling in a team-high 1,191 yards and 11 touchdowns this past season. Also, All-American safety and Alabama signee Brian Branch exhibited his abilities at receiver this past season with his 61 catches, 1,107 yards and team-high 14 receiving touchdowns.
2. Calhoun: The Calhoun Yellow Jackets are without question one of the top wide receiver producing schools in the state. The program's lineage of star wideouts can be traced back to the Class of 2006 when Kris Durham earned Offensive Player of the Year. Durham would go on to play at the University of Georgia and was taken in the fourth round of the 2011 NFL Draft. Class of 2009 wide receiver Da'Rich Rogers put up a historic senior season in 2008. Rogers set a then-state record with his 84 catches, 1,647 yards and 22 receiving touchdowns. He was named to Georgia's All-Decade team for the 2000's and would go on to play for the Indianapolis Colts after suiting up for the Tennessee Vols. Calhoun has seen several more receivers put up massive statistical seasons in the years since. Class of 2011 wideout JT Palmer caught 71 passes for 1,133 yards and 13 touchdowns his senior season before earning a scholarship at Presbyterian College. Ben Lamb was a senior on Calhoun's 2011 state championship squad and caught 71 passes for 1,008 yards and 14 touchdowns before continuing his career at West Georgia. During the 2012 season, Josh Barnes caught 94 receptions for 1,056 yards and five touchdowns and then the program had cousins Tydus and Chandler Curtis keeping the aerial attack going until they graduated in 2014. Chandler went on to become a starting wide receiver and kick returner at Mercer. The program's astonishing depth at the position is worth additional context. Calhoun alum Rhett McGowan was able to walk-on at the University of Georgia for four seasons and contribute as a punt returner and receiver. During the 2013 season, he even caught a game-high seven passes for 90 yards and a touchdown in Georgia's 59-17 win over Kentucky. More recently, Calhoun's receiving corps has featured Class of 2019 standouts Brannon Spector and Luke Mosley. Spector is now playing a Clemson and Moseley is a redshirt freshman at Georgia Tech.
3. North Gwinnett: The North Gwinnett Bulldogs were the No. 1 team on my list of quarterback schools so it should not come as a surprise to see the school near the top of the wide receiver list. In just the last 15 graduating classes, North Gwinnett can be seen producing receivers at an ever-increasing rate. Jared Cook played wide receiver at the school and graduated in 2005. He went on to play at South Carolina and is now a 2-time Pro Bowl tight end that plays for the New Orleans Saints. In 2012, the passing game was led by Chad Scott, whose father Chuck played football at Vanderbilt before getting drafted in the second round of the 1985 NFL Draft. The younger Scott caught a then-school-record 71 passes for 890 yards and 12 touchdowns in 2011 before signing with Furman. The receiving corps was even more loaded during the span of 2013-2015. Class of 2014 receivers Nate Brown and Caleb Scott combined for 1,857 receiving yards and 20 touchdowns as seniors during the 2013 season. Both went on to play in the SEC with Brown going to Missouri and Scott going to Vanderbilt. After their departure, brothers Daniel and Josh Imatorbhebhe were the next to star for the Bulldogs. Daniel went on to play at Southern Cal after transferring from Florida and Josh went from Southern Cal to Illinois. During the 2014 season, Josh caught 59 passes for 1,072 yards and 15 touchdowns. The most recent North Gwinnett receiver star is All-American Josh Downs—a lightning quick route runner, who graduated in 2020 and is heading to North Carolina.
4. Peach County: Powerhouse Peach County has an extremely impressive group of receivers that have come through the program. This group includes current Kansas City Chief Demarcus Robinson. Demarcus' uncle Marcus was an All-American receiver, free safety and punter at Peach County in the 1990's that went on to play football at South Carolina, the NFL and NFL Europe where he would be named League MVP in 1998. He ended his NFL career with 325 catches, 4,699 yards and 43 touchdowns. Jacquez Green played quarterback for Peach County early in his varsity career before making the switch to receiver and was drafted with the No. 34 overall pick in 1998 after suiting up for the Florida Gators. Peach County's other notable receivers to come through the program include Chris Slaughter (Class of 2006, Auburn), Udom Umoh (Class of 2007, Vanderbilt), Lamar Zanders (Class of 2011, Valdosta State) in addition to Class of 2014 Tyler Gibson (Coffeyville) and Terkal Jefferson (West Georgia). The Class of 2018 sent four-star All-American Kearis Jackson to the University of Georgia and the Class of 2020 produced Army signee Dorrian Smith.
5. Marietta: The Marietta Blue Devils do not have the historical prowess at the position like some of the other programs on the list, but the unparalleled amount of wide receiver talent that has come through the program over the past couple of seasons is enough to give them a spot in the top 5. This placement does not reflect whether or not reigning National Player of the Year Arik Gilbert was technically a receiver or a tight end over the past three seasons. He caught 105 passes for 1,860 yards and 15 touchdowns in 2019 and is without a doubt one of the most dominant Georgia High School Football Players to ever come through the state. Gilbert deservingly received a lot of the attention over the past few seasons, but this occurred as some of the best receivers in the country were coming through the program. Ramel Keyton racked up 1,294 yards and 16 touchdowns in 2017 and graduated as an All-American in 2019 before heading to Tennessee. During Marietta's run to its first-ever state championship this past season, Ricky White caught 103 passes for 1,519 yards and a team-high 19 touchdowns. Teammate Taji Johnson also had a monster season with 847 receiving yards and 123 touchdowns. White signed with Michigan State and Johnson signed with Boston College and Gilbert took his talents to LSU where he will play tight end.
6. Mays: The Mays Raiders have been one of the state's top producers of wide receivers over the last several seasons. Class of 2013 grad DeAngelo Yancey played for Purdue following his varsity career and was taken in the fifth round of the 2017 NFL Draft. During the 2015 season, Mays receiver Randrecous Davis caught 58 passes for 1,024 yards and 17 touchdowns. He is currently a redshirt senior at South Carolina. Class of 2018 grad Amir Abdul-Rahmin also had a 17-touchdown senior season before joining Vanderbilt. Terrance Morton graduated from the program in 2019 and is now a redshirt freshman at West Georgia. Last season's top wideout Zaire Thorton became a three-star prospect and signed with Tennessee State.
7. Cartersville: The Purple Hurricanes' success at the receiver position has been strong over the past several seasons and continues to look bright. Class of 2014 receiver T.L. Ford earned a scholarship at Charlotte. Then in 2015, Terrius Callahan caught 62 passes for 1,224 yards and 16 touchdowns and signed with Austin Peay. Antoine Jefferson went on to play at Lindsey Wilson after graduating in 2017. Avery Showell graduated from the program in 2017 and is now a defensive back for Georgia Tech. Showell transferred to Cartersville for his senior season and contributed not only defensively, but also at receiver where he caught 44 passes for 17 touchdowns. This past season, Class of 2021 receiver Devonte Ross had a breakout campaign that saw him haul in 53 passes for 1,073 yards and 11 touchdowns.
8. Jones County: The Jones County Greyhounds are in their program's Golden Age of receivers. This period starts 2016 All-State selection Tyler Storey and Class of 2017 graduate Nick Singleton. Singleton signed with Iowa Western Community College after finishing his varsity career top 10 in the state with 3,310 career yards. During his senior season in 2016, Singleton caught 19 touchdowns to go with 1,179 yards. Class of 2020 grad Jontavis Robertson signed a scholarship with Duke and hauled in 66 passes for 1,162 yards and nine touchdowns this past season. Robertson starred in the Greyhounds passing attack this past season with Class of 2021 prospect Maleek Wooten, who tallied 63 receptions, 972 yards and 12 touchdowns.
9. McEachern: Amba Etta-Tawo graduated from McEachern in 2012 and went on to play receiver for Syracuse and Maryland before suiting up in the pros; Etta-Tawo was on the New York Giants this past season. The next McEachern receiving star was current Miami Dolphin TJ Rahming, who played his college career at Duke. Class of 2017 grad Tyler Smith earned a scholarship to play at Colorado State. Class of 2021 receiver Dacari Collins was poised to be McEachern's next top target until he transferred to Westlake for his junior season. Collins is currently a four-star prospect committed to Clemson. This past season, however, McEachern still had All-American Javon Baker to lead the receiving corps. Baker is considered the No. 20 overall prospect in the state for the Class of 2020 and he is set to play for Alabama this fall.
10. Walton: I am recognizing my alma mater on this list because of the receiver tandem of Dominick Blaylock and Kendall Alford that graduated in 2019 and what the future looks like for the Raiders. Prior to Blaylock and Alford, Walton was not seen as a school where top receiver talent came from. That changed with these two players. Blaylock received his first SEC offer when he was still in the eighth grade and the collegiate fan mail continued until he signed with the Georgia Bulldogs. The massive attention surrounding Blaylock led to a four-year career at Walton where he was always in the spotlight. He went on to represent the Raiders in the 2019 All-American Bowl and finished his varsity career with 52 total touchdowns and over 3,500 total yards of offense. Blaylock is now a sophomore for the Bulldogs and his freshman year earned him co-Offensive Newcomer of the Year at the team's post-season awards gala. Alford's recruiting journey took a much different path with him bursting to the scene only after breakout junior and senior seasons. The 5-foot-10 receiver closed out his senior campaign with 59 catches and a team-high 1,071 yards to go with 11 touchdowns. Alford's talents were recognized and he earned a scholarship to play for Western Carolina in the Southern Conference. The Walton offense struggled during the 2019 season, but there are underclassmen coming up through the program that have the ability to reignite the passing game. Class of 2023 prospect Pearce Spurlin that already stands 6-foot-6, 205 pounds and is set to play wide receiver and tight end for the Raiders in the upcoming season. The rising sophomore received his latest offer from Nebraska earlier this month.