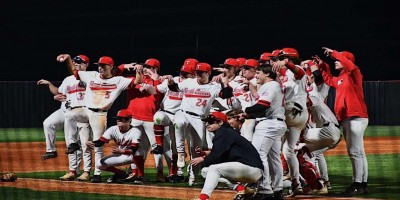 Loganville clinched its sixth all-time title and fourth since 2017 with a decisive 9-0 Game 3 victory over Cartersville Tuesday night in the Class 5A championship at Rome's Adventhealth Stadium. The game was originally scheduled for Monday before weather pushed back the action and Loganville was able to jump out to 2-0 lead in the top of the second inning. The Red Devils added a four-run third to push the lead to 6-0 before closer Trenton Burnett struck out the Canes for the final out.
"This group of guys has been prepared all year," said head coach Bran Mills. "They've really been steady. "They never get too up and never get too down and the delay yesterday really didn't faze them. We were able to get out there yesterday and field balls and hit in the cages."
Coach Mills started Matthew Heard for Game 3 and the University of North Georgia signee excelled in his six innings—allowing just one hit before Burnett closed out the game.
"What you saw out of Matthew today is what you have seen all season," said Mills. "He did great last year as well, but his stuff got better this year, even offensively, and we knew we'd get his best stuff. We pulled Burnett earlier in the series and so we felt like we had our best two arms ready to go tonight. After the sixth inning, Heard's pitch count was getting close to the series limit and we had Burnett ready to go and he is electric. So we felt good, especially with the nine-run lead."
Loganville's offensive tallied 11 hits to the Canes' one hit by Hank Smith and coach Mills praised the selflessness of his team and their outstanding bunting in the victory. Right fielder Gage Fullerton had a big performance—going 3-for-4 at the plate with three RBI and Sherman Johnson also capped a solid series.
"Sherman Johnson was great all series, if it wasn't for some bad luck, he really would've stood out," said Mills. "He just hit a lot of screws right at people and they were able to stab at a lot of balls that would've been a double, but today he had some great at bats. Overall, though, I would say the MVP offensively was the bunt game and we have a selfless team."
Loganville finishes the year 32-9 and Cartersville wraps up a 23-8 campaign.
Class 5A: Games 1 and 2
Loganville and Cartersville split Saturday's double-header at Adventhealth Stadium in Rome and will return on Monday at 7 p.m. for Game 3 with the Class 5A championship on the line. The Red Devils took a 4-0 lead in Game 1 and tacked on the game-winning score in the top of the seventh after Cartersville rallied to tie it up. Loganville had runners on first and third and sacrificed an out on the attempted steal to bring in their first score. Jaylen Jones added to the lead with a RBI single bunt and then Davis Roesler hit an RBI blooper into left field. Roesler later scored on an error to push the lead to 4-0.
Cartersville rallied with a bases loaded triple by Drew Rothschild down the left field line and tied it up 4-4 on a Hank Smith RBI single. Loganville had the go-ahead run on third in the top of the seventh and Jones was able to put it into play to drive home the winning score. In the bottom of the seventh' Loganville iced the game with a double-play and North Georgia commit Matthew Heard closed out his two innings of relief with no hits, two strikeouts and two walked batters.
In Game 2, Rothschild drove home Elliott Eastin from second base to put Cartersville up 1-0 and that proved to be the game-winning score as both bullpens dueled. Cartersville junior Caden Carroll ultimately prevailed and closed out a complete-game shutout—marking just the second time this season that the Red Devils have been held scoreless.
See the results from the Class 4A championship below.
North Oconee (39-1) made the most of its first-ever finals appearance and celebrated a gritty and well-executed two-game sweep over LaGrange (3-2, 9-5) in the Class 4A championship Friday night at Adventhealth Stadium, home of the Rome Braves. The Grangers did not trail in Game 1 until the Titans' comeback in the bottom of the seventh and built a 2-0 lead with a Tanner Langley RBI and Seth Stargell double that brought in Trey Cook in the top of the third. North Oconee cut the deficit to 2-1 in the bottom of the third with a Braeden Smith RBI single, but stranded runners on second and third to keep the game 2-1 in LaGrange's favor until the seventh.
LaGrange starter Trey Cook allowed just three hits through his 6.1 innings pitched and North Oconee starter Ben Stuart also left in the sixth inning with just four hits surrendered. The bullpen duel continued until North Oconee's clutch two-run rally gave the Titans a thrilling 3-2 walk off victory. Bryce Toci drove home KJ Moon on an RBI double to tie it 2-2 and advanced to third on a Jack Fabris single bunt when Justin Byrd came up to the plate.
"It's all about fundamentals. It's the things that we preach to these guys that if you are going to be able to compete for a state title, you've got to be good at the little things," said North Oconee head coach Jay Lasley. "Everyone can catch, throw and hit in Georgia high school baseball, but you've got to be able to throw down bunts, run relays and do all the little things at big moments if you are going to get a chance to play for a championship and win one, especially against a good team like LaGrange."
Byrd seized his moment and placed a fly ball deep into to right field to bring Toci home for the 3-2 comeback and walk off victory.
"Anytime you can win a Game 1, especially when the emotions are high, it almost gives you a little house money," said Lasley. "We can manage our pitchers a little bit different and take some more chances."
In Game 2, LaGrange fought to thwart North Oconee's momentum and prevent the program from extending win-streak to a state-best 36-straight games and went up 1-0 in the bottom the second of on a sac fly by sophomore Cooper Stephens. Byrd, North Oconee's Game 1 hero, answered with an RBI double in the top of the third to tie it 1-1 and sparked a five-run frame that gave the Titans a brief 5-1 lead. North Oconee's Grayson Godbee singled to bring Byrd home and Cale Stricklin notched an RBI infield single that pushed the lead to 3-1. North Oconee's final two runs came off a bases loaded walk and a hit batter before LaGrange was able to get out of the jam.
LaGrange erased the 5-1 hole and tied it up 5-5 in the bottom of the third and the rally was highlighted by a bases loaded 3 RBI double by Cooper Stephens. North Oconee reclaimed a 6-5 lead in the top of the fourth with a Kyle Jones push bunt single that drove home junior Grayson Godbee. The Grangers had a runner on third and nearly tied it back up in the bottom of the fifth, but catcher Cale Stricklin tracked down a passed ball and fired a no-look throw to pitcher Gavin Black—who spun around and tagged out the runner at the plate to preserve the lead.
"It was phenomenal," Lasley said about the play. "Having and athlete like Gavin Black and Cale Stricklin. Cale basically threw that ball without even looking and Gavin being a phenomenal athlete and being able to turn and and tag him out was a huge play in a crucial moment. It's about just going out there and playing the game and that is what this team does. We turn it loose and just let them play."
North Oconee closed out the sixth inning by picking off a LaGrange runner at second base and then tacked on a three-run top of the seventh—including a 2-RBI double by Fabris before clinching the 9-5 victory and capping its historic season.