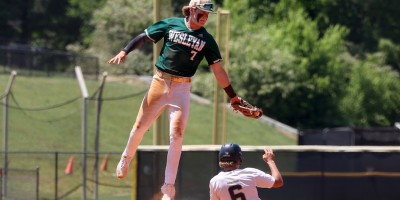 Pike County has one state title (2019) and after a bracket-shaking defeat of top-ranked and defending-champion North Hall in the semifinals (5-2, 9-2) the Pirates are sailing toward the team's second championship. Pike weathered two three-game series in its path to the finals. After beating Thomson 10-0, 10-1 in the first round, it faced Sonoraville in the second round where the Pirates lost the opening game 3-1 but won 5-0 and 8-7 to advance to the quarterfinals. Against GAC in the quarters, Pike again lost the first game (5-2) but rallied to beat the Spartans 3-2 and 8-1 to advance. Last season, Pike County defeated Savannah 19-0, 12-0 in the first round before losing to Long County 10-2, 6-5 in the second round. This season, Pike is outscoring opponents 316-74 and is 13-0 at home, 10-2 on the road and 11-3 at neutral locations.
Redan has one state title in 2013 (4A) and has not been to the state championship series since 2014, but after beating Pierce County in a three-game semifinals series, the Raiders return. Redan lost the first game 6-5 against Pierce County but rallied to an 11-5 victory in the second game to force a decisive Game 3. In the Game 3 victory, Deniel Ortiz held Pierce to one run on four hits to secure the win. In Game 3, Bernard Moon was 2-for-3 with a two-run single and a solo home run. The Raiders are outscoring opponents 376-147 and are 12-2 at home, 9-2 on the road and 7-2 in neutral locations. Redan's path through the bracket went through Dawson County 13-9, 8-6, Southeast Bulloch 2-12, 2-1, 7-5 and Burke County 11-5, 19-9 before it beat Pierce.
It's an age-old question. Cobb vs. Gwinnett?
Wesleyan has four titles – 2008 (2A), 2009 and 2010 (1A) and 2015 (2A) and after a three-game semifinals victory over defending champion Mount Paran, the Wolves are a series win away from another championship. Starring for Wesleyan are the nation's top prospect, senior outfielder Druw Jones and senior pitcher Cooper Blauser. Jones, a Vanderbilt-commit is the son of Braves great Andruw Jones and Blauser, a Clemson-commit, is the son of another Braves legend, Jeff Blauser. Wesleyan was denied a state title by Mount Paran last season when the Eagles swept the series 4-0, 3-0, so it seems fitting for the Wolves to down that same foe this season in the semis. Wesleyan's path to the state title series went through Christian Heritage (16-1, 15-3), Calvary Day (16-0, 10-4), Whitefield Academy (18-0, 9-5) and Mount Paran.
North Cobb Christian is searching for the program's first state title in the program's first appearance in the championship series after sweeping Fellowship Christian 8-6, 6-0 in the semifinals. The victory marked a historic moment for a team that didn't advance past the first round last season when it lost to King's Ridge in a three-game series. However, this season is a different story. The Eagles are outscoring opponents 309-110 on the season and are 7-3 at home, 12-2 on the road and 11-2 at neutral locations. North Cobb Christian has lost just four games to in-class opponents on the season – Mount Paran (6-4 on March 22 and 2-1 on April 21) and Holy Innocents' (7-4 in the first round) and First Presbyterian Day (8-5 in the second round). North Cobb's path through the bracket went through Holy Innocents' (9-5, 7-4, 12-1), First Presbyterian Day (6-8, 12-1, 11-3) and Prince Avenue Christian (2-0, 6-1) before the program's semifinal victory.