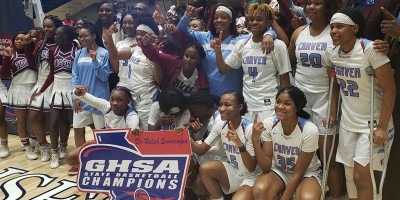 By Seth Ellerbee
Macon – Buford won its second boys basketball title with a 76-69 victory over Fayette County in the Class AAAAA title game on Friday. The Wolves were led by Marcus Watson, an Oklahoma State-commit.
"All season me and my brothers worked for it," Watson said. "It's been tough, it's been hard. We've been through rough patches through the whole season. But we came together to finish it off. Nothing but love for my brothers and my coach (Eddie) Martin, it's just amazing how he kept us together and gave us good advice and just led us the right way. We followed him and all bought in to his way. Once we did that it just all clicked and you see what happened."
Watson finished with 33 points on 9-of-15 shooting from the floor, 4-of-7 from beyond the arc and 11-of-14 from the free throw line.
With 19.4 seconds left in the third quarter and the game tied at 53, Buford looked for a final shot but could not find it and the teams entered the final frame as they entered the game: dead even.
In the fourth quarter, Fayette took the lead with free throws by Terrell Bradley to give the Tigers a 55-53 lead. Buford tied the game with 7:17 left on two free throws from Watson. Eric Coleman, who finished with 25 points, pushed the Buford lead to 58-55 with a three pointer with 6:03 left but Fayette responded on a three-pointer from Ricky Knight just ten seconds later to tie the game at 58.
With 4:38 left, Watson drove the lane, drew a foul and connected on both free throws to give the Wolves a 60-58 lead. Watson then extended the lead to 63-58 on a James Harden-like step back three-pointer from the right corner. The Wolves kept the pressure on with a Coleman layup and foul with 3:40 left. The three points put Buford up 66-59.
Fayette responded on a Coleman three-pointer to cut the lead to 66-60. Buford answered with a jump shot from Caleb Williams with 3:16 left to extend the lead again, 68-60. Knight found the free throw line for Fayette County and, after his two baskets, the Tigers trailed 68-62.
With 2:23 left, Knight's layup got the Tigers within four, 68-64, but Buford's Coleman answered with a three-pointer to put the Wolves back up by seven. Two free throws from Ashton Young extended the lead to nine points, 73-64, with 1:19 left and the frustrations set in for Fayette County.
Will Richard pulled Fayette County to within seven again with two free throws but Buford answered on a free throw from Watson with 51.7 seconds left to make it an eight-point game.
Knight turned it into a five-point game with a three-pointer from the right elbow with 40 seconds left but the Wolves were able to eat 10 seconds off the clock before the foul sent Donell Nixon to the line where he would make both free throws to extend the lead to seven points again, 76-69, which put the game out of reach.
Watson added an assist and a steal in the victory. Coleman was 7-of-12 shooting from the floor and 3-of-5 from range. He added eight free throws on 11 attempts. Donell Nixon scored eight points, Ashton Young finished with six points and Bobby Miller and Caleb Williams each scored two points.
Fayette County was led by Knight, who finished with 26 points. Coleman scored 15 points. Josh Dupree had 12 points and Bradley added 10 points.
Class AAAAA girls: Buford won its third-straight and seventh overall girls basketball title with a 67-59 victory over Villa Rica in the Class AAAAA title game on Friday. Tate Walters led with 16 points.
"It's huge," Walters said. "We've been doing it all year. I can't remember a time when my team didn't play all-out. Especially against tough competition, it just means the world. I mean, three rings and only two losses to very good teams. It means the world."
Walters was 4-of-14 shooting from the floor, 5-of-10 shooting from the free throw line and 3-of-6 shooting from beyond the arc. She added three assists and two steals on the night.
"Tate is our leader," Durden said. "Tate is the kid that everybody looks up to and she the one we always need to make big plays. She has made them all year long. Tate Walters is a winner and she will find a way to get it done. That's what I love about Tate Walters."
Villa Rica controlled the lead after the first quarter, 12-10, and at the break, 33-29, but Buford gained the lead in the second half and expanded the lead in the final minutes to put the game away.
Tee Windom's two free throws off a 1-and-1 with six minutes left got Villa Rica back within two points 53-51. The Wolves then played it slow and chewed 45 seconds off the clock before Ebony Grant's layup to get Buford ahead 55-51. Walters connected with a free throw with 4:47 left to give Buford a five-point advantage 56-51.
Villa Rica struggled to get the ball past half court against Buford's press which caused trouble for the Wildcats all game.
"If you've never seen us play, that's what we do," Durden said. "We play every game, 32 minutes, pressing. There wasn't any preparation in it. That's what we do. That's who we are. I just think in the first half we were a little bit shell-shocked and we had to settle down a bit."
Buford, which entered the double-bonus in the fourth quarter, played for free throws toward the end of the game. When Casey Jones connected with one-of-two free throw shots with 3:51 left it pushed the lead back to six points for the Wolves, 57-51.
Walters' free throw with 3:38 left extended the lead to seven points and Grant's lay-in with 3:11 left gave Buford a nine-point advantage. Abbie Perkins nailed one free throw with 3:04 left to give the Wolves a 10-point spread.
Villa Rica responded with lay-ups by Hindsman and Windom to cut into the lead 61-55 with 2:37 left. Buford extended the lead on a free throw by Jones and a lay-in by Abbi Perkins but a Hannah Goen basket made it a 64-57 game. Buford put the game away with a lay-up by Abbi Perkins and a free throw by Walters.
The first half was a back-and-forth affair that saw players, on both sides, diving for each and every ball.
Buford opened the first quarter with its stifling press which Villa Rica found answers for early on. The Wolves' Ashya Willis got the scoring started with a short jump shot but Villa Rica answered with a three-pointer from Windom. Buford's Blair Willis was fouled and converted a free throw to pull even at three points each.
Villa Rica took its first lead on an Aliyah Hindsman jump shot with an assist from Kentucky-bound Deasia Merrill. Buford then went on a 5-0 run on a layup by Ashya Willis, a three-pointer from Casey Jones and two free throws from Preston Reid. Then Villa Rica mounted its own run with two layups from Hindsman and a pair of Windom three-pointers to take a 12-10 lead at the end of the first quarter.
Villa Rica extended the run into the second quarter with another Windom three-pointer, her third, to take a 15-10 lead. The teams then went back and forth with Jones hitting a free throw to pull Buford to within four points, 15-11. Dekya Cofield's layup with 6:37 left in the first half put Villa Rica up 17-11 but Buford responded with a three-pointer from Jones and Blair Wallis to trail by one, 18-17. Abbi Perkins' free throw with 5:29 left tied the game at 18.
Villa Rica regained the 20-18 lead on a Cofield lay-in on a Merrill assist, her third. Cofield connected again on a short bank shot from the left side to take a 22-18 lead but Buford responded with a Willis jumper to make it a 22-20 ballgame. Kyndal Coleman extended the lead to four points, 24-20, on a put-back off her own shot.
Buford drove down the floor and missed an attempt which was gathered by Merrill and passed down the floor to Cofield for an easy basket to expand the margin 26-20.
With 2:19 left in the first half, a technical was called on the Buford bench which put Merrill at the line. Her two free throws gave Villa Rica an eight-point advantage. The run was put to an end with a Walters jumper from the top of the key to cut into the Wildcat lead, 28-22. Buford's Wallis added two free throws to get the Wolves back to within four points after being fouled on a drive down the right baseline.
Villa Rica's Kyndal Coleman put the Wildcats back up 31-26 with 1:15 left in the first half on a three-pointer but the Wolves responded immediately with a Wallis lay in to get back within five points, 31-26. Sara Viti kept the momentum going with a three-pointer to get Buford within two points 31-29 but Villa Rica's Hannah Goen answered on a layup to enter the locker room up 33-29.
The second half started in Buford's favor on a three-point shot from Walters to get Buford back to within one, 33-32. At 6:31, Merrill extended the lead to 35-32 with two free throws after driving down the lane and drawing the foul.
Katelyn Klein's put-back after a missed three-pointer by Jones cut into the lead 35-34 but Merrill responded with a three-pointer with 5:57 left to put the Wildcats back up four points. Tatum Ozment got Buford back to within two points 38-36 on a lay in with 5:32 left in the third.
A feed to Merrill allowed an easy basket with 4:23 left to get Villa Rica ahead 40-36. Buford then took the lead back on a three-pointer by Wallis and a steal and finish by Reid to put the Wolves up 41-40. Willis then drove the length of the floor, avoided Merrill underneath the basket and gave Buford a 43-40 lead with 3:19 left on a lay in off the right side of the box.
With 2:59 left in the third, the Buford failed to rotate and allowed Windom space. The unchallenged three-pointer touched nothing but the net to tie the game at 43. Walters gave Buford a 46-43 lead on a three-pointer from the right elbow with 1:27 in the third and, with 1:12 left, she connected again, this time from the left elbow on a catch-and-shoot quick-release shot to put the Wolves up six, 49-43.
Windom found an opening with 52 seconds left in the third and connected on another three pointer, her fifth, to cut into the Buford lead 49-46. The Wildcats got within two points, 49-47, on a Cofield free throw with five seconds left in the third.
Buford extended its lead to 51-47 on a steal by Wallis and fast-break lay-in by Ozment just over a minute in the fourth quarter. Walters connected with two free throws to push the Buford lead to 53-47 with 6:16 left in the game. Windom brought Villa Rica back within four after connected on both of a 1-and-1. She added two more free throws to get the Wildcats within two, 53-51, before Buford's final run.
Buford was led by Walters, who added three assists and two steals. Wallis finished with 11 points on 3-of-9 shooting and 2-of-7 from beyond the arc. Jones finished with nine points and an assist. The Wolves relied on 10 different scorers on the night.
Villa Rica's Windom led all scorers with 21 points and a block. Merrill added 11 points with eight assists, five blocks and two steals. Cofield finished with 10 points and two assists.
Class AAAA boys: The Carver boys and girls teams each walked away with a state championship on Thursday and, in the case of the boys team, you might want to call it a comeback. Carver led for just 47 seconds while relying on 19 points from AJ Watts and 18 points from Devin Flowers to complete the comeback against Americus-Sumter to win the Class AAAA title game 58-55.
"We came in the game as underdogs, you know." Watts said. "The whole time we were saying that if we played hard and finished strong we'd win. They beat us at half every time, we had always been down. We are a second half team and we come out strong. We finished the game, they gave the ball to me and my team trusted me. I hit the big shots to get a lead and we got a state championship."
With 28 seconds left, Watts hit a three-pointer, his sixth of the night, to give Carver the 55-54 lead. Americus drove down the floor and with 16 seconds left, Josh Lusane attempted a fade away shot from the left side which went long. The rebound bounced off an Americus player and went out of bounds, allowing Carver the ball. With 12.1 seconds left, Carver got the ball to Jalen King for a 1-and-1. King made both to push the lead to three, 57-54.
On the way down the floor, Wallace Bradley was fouled with seven seconds left and was only able to convert one of the baskets to cut into the Carver lead, 57-55. With 5.5 seconds left King was fouled again and made just one to put Carver up 58-55. On the way down the floor, Americus coach Michael Hoffpauir called a timeout to set up the game-tying three-point play.
On the inbounds pass, Watts got a hand on the ball at center court, which allowed the time to run off, sealing the victory.
"I just finished the game strong," Watts said of his presence of mind to disrupt the inbounds pass. "I wasn't going to get them an easy shot. I dreamed of this. I always wanted to do this in high school and I did it. I'm a AAAA champion."
Americus led 13-8 after the first quarter and 23-20 at the break. It kept the same margin after both teams added 14 points in the third quarter and Carver trailed 37-34 entering the final frame before its 24-18 effort to overtake the Panthers. Americus expanded the lead to nine points, its largest of the game, with 4:44 left in the second quarter. Carver's largest lead was three points with 12 seconds left in the game. Americus scored with 1:25 left, its last basket of the game. Carver's final basket was Watt's three-pointer with 28 seconds left.
The championship game was the fifth meeting between Americus and Carver this season. Americus won 80-54 on Dec. 28 but Carver won the rematch on Jan. 11 72-67. On Jan. 19, Carver won again, this time in overtime, 52-49. On Feb. 8, Carver took the 55-54 victory in the 1-AAAA championship.
Watts led with 19 points, two blocks and two steals. Flowers' 18 points came on a 7-of-16 effort from the floor with three assists and a steal. Jalen King finished with 12 points on 4-of-5 shooting with one assist.
Americus was paced by Joshua Lusane's 19 points, two assists, one block and one steal. Quevoluia Willoughby and Bradley each finished with 10 points. Joshua Moore added six points.
Class AAAA girls: Carver-Columbus won its first-ever girls basketball title after holding Spalding, the defending-champions, to just two points in the third quarter while expanding the lead steadily to put the game away 56-44. The Jaguars had four players in double-figures in the victory led by Olivia Cochran's 15 points.
"It's incredible," Cochran said. "We've worked so hard for this over the last year and its just great. We have talent everywhere. They came in and showed that they can be on the floor and score some points"
Cochran was 5-of-13 shooting from the floor and 5-of-8 from the free throw line. Jailyn Shaw added 13 points on 5-of-11 shooting from the floor and 3-of-4 from the free throw line. Kionna Gaines scored 11 points on 4-of-10 from the floor and 3-of-5 from the free throw line. Sadrea Mabry finished with 10 points on 3-of-8 shooting from the floor and 4-of-4 from the free throw line with four steals. As a team, Carver was 20-of-29 from the free throw line.
Carver led 17-9 after the first quarter as it took advantage of Spalding's rhythmic struggles. The Tigers found their pace in the second frame and outscored Carver 17-15 to trail 32-26 at the break before Carver's defensive stalwart in the third quarter.
"We had to give them our all," Cochran said about the defensive effort in the third quarter. "We had to slow down the pace of the game. We got them out of their game and so that's how we stayed in control of it."
Spalding was led by Corriana Evans who scored 21 points on 7-of-13 shooting from the floor and 7-of-9 from the free throw line. Evans added three steals. Aniaya Jester finished with 12 points and three assists with six steals.
AAASP Wheelchair State Championship: Houston County Sharks 39, Gwinnett Heat 17
The Houston County Sharks won their seventh-straight state championship in the AAASP Wheelchair Basketball Championship with a 39-17 victory over the Gwinnett Heat. Houston star Jordan Zozloski led with 19 points.
"It's very exciting," Kozloski said. "It's a great opportunity for us. We are a great big family with great energy. The Heat are great and we double teamed. They are great shooters and we were able to get up and pull it out. It's awesome. As a team we did great. The Heat is very tall and they have long arms and so we were able to overcome that."
Kozloski led with 19 points and Jacob Stevens added 10 points. Olando Hicks scored six points and Emmanuel Dawson scored four points to help the Sharks.
Seth Earley led the Heat with 11 points. Will Millikan scored six points.