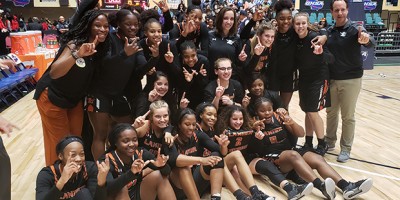 By Seth Ellerbee
Macon — McEachern capped off a perfect 32-0 season with a 62-54 victory over Meadowcreek in the Class AAAAAAA title game which closed down the GHSA Championship weekend at the Centreplex in Macon.
"I am overwhelmed right now", said McEachern's five-star guard Sharife Cooper. "You dream about stuff like this, you know, going undefeated and winning a state championship. I am just thankful."
Cooper finished with 20 points, 17 in the first half. Cooper added four assists in the win.
McEachern entered the fourth quarter nursing a 49-42 lead with its star point guard Cooper on the bench with four fouls. Meadowcreek guard Jalen Benjamin got the Mustangs to within four, 49-45, on a 3-pointer with 6:52 left but the Indians responded. With 6:20 left, senior forward Isaac Okoro scored a lay-up to push the lead to 51-45.
Meadowcreek got back within four, 51-47, on a jump shot from Jalen Benjamin with 6:07 left and the margin would stay the same until a free throw from Okoro with 3:41 remaining.
"They are a tough team, gritty," Cooper said. "They're gritty, they talk a lot. You're going to get their best every game. That was definitely a great team we faced tonight. I am overwhelmed. This is surreal. It's crazy to think about. Going 32-0 for the first time in history, I can't even think about it.
On the rebound of Okoro's missed free throw, Meadowcreek was called for a foul which put Quinton McElroy at the line and, following his two baskets, McEachern led 54-47 with 3:31 left. The Indians began to gain momentum and a pair of McElroy free throws with 3:27 left pushed the lead to 56-47.
Meadowcreek cut into the lead 56-49 on a Benjamin lay-up with 3:03 remaining but the Indians responded with confidence. With 2:03 left, Cooper drove the lane and was fouled hard, driven to the ground and the Coliseum went silent until Cooper lifted himself up and encouraged the student section to begin cheering.
Seconds later, a double technical was called on McEachern power forward Jared Jones and Meadowcreek's Jammonie Watkins-Causey. Cooper extended the lead with a free throw and then Okoro was fouled and added two free throws to make it a 59-49 game before Meadowcreek began fouling.
McEachern had three players in double-figures. Cooper led with 20 points. Okoro finished with 16 points, four assists and two steals. Alyn Breed scored 15 points with three steals and one assist.
Meadowcreek was paced by Benjamin's 19 points with one steal and one block. Jamir Chaplin scored 13 points with four steals, one block and one assist.
Class AAAAAAA girls: Westlake successfully defended its AAAAAAA title with a 60-53 victory over Collins Hill on Saturday. The Lions were led by Lydia Freeman and Raven Johnson, who each scored 16 points. The victory tallied 50-straight wins for Westlake.
"It doesn't feel real," said Freeman. "I'm very proud of my team. We worked for this all year long and it was a great win. I can't wait to go home and celebrate. Collins Hill has exceptional guards and Javyn is a good post but, at the end of the day, we just out hustled them and got the win."
Westlake was able to hold off a Collins Hill run in the second half after the Lions led 17-8 after the first quarter and 32-21 at the break. Westlake enjoyed a 15-point lead with 4:34 left in the second quarter but, with 1:10 left in the third quarter, Collins Hill trailed by just two points, 40-38. With three minutes left, however, the Lions expanded the lead to 54-45 and were in control.
The offensive gameplan for Westlake focused on a drive and dish to its 6-5 center Lydia Freeman. In the first half, Freeman only had six points on 3-of-5 shooting from the floor with two blocks. She finished with 16 points on 5-of-13 shooting from the floor while adding nine rebounds, four offensive and five defensive boards.
To be such a powerful force down low is impressive because Freeman had never touched a basketball until her freshman year and even had to be taught the rules during a stint on the junior varsity squad before joining the varsity girls her sophomore year, despite little playing time.
"My coach tells me every day that nobody in the state is your size," Freeman said. "I just love my team because they are able to get me the ball because it can be hard to pass to girls my size. Overall, I think my team did a great job. We practice everyday in practice, we take time out to practice passes to the post and they were willing to learn. Some of us have been playing together since ninth grade so they are used to it. But, in the end, it took practice, practice, practice."
Freeman and Johnson led Westlake with 16 points. Johnson added four assists, a block and two steals. Brianna Turnage scored 14 points with two assists and a block.
Collins Hill was paced by Javyn Nicholson's 17 points, three steals and one block. Bria Harmon added  13 points and an assist.
Class AAAAAA boys: When Da'Marcus Johnson crossed half court after Tucker tied the game at 43 points with two free throws from Nick Watson, Johnson knew what he was going to do.
"I knew I was going to win it," he said.
And he did.
The 3-point shot left his fingers from around 25 feet as the seconds ticked off the clock. The shot had a perfect arc, flawless rotation and led to writers on the press table proclaiming, "That's in," as soon as the ball was released. When the ball found the net, it sealed the 46-43 win, and the first ever state title in any sport, for the Bulldogs.
"This is for East Point, College Park and Hapeville," said head Tri-Cities coach Omari Forts. "This is for every kid that's ever played at Tri-Cities. This is the 30 year anniversary of Tri-Cities High School."
With 1:13 left, Johnson capped off a series of shots, misses and rebounds with a 3-pointer from the top-right elbow to pull the Bulldogs even with Tucker, 41-41. The basket extended a Bulldog run to 5-0 after being down 41-36 with 3:20 left.
Tucker took the ball down the floor and missed a shot but two Tri-Cities players fought each other for the ball, causing a traveling violation. The Bulldogs stole the ball on the inbounds play and Demetrius Rives drove the entire floor, defended, and finished with a right-hand floater over the outstretched arms of a Tiger defender with 25 seconds left. The ball kissed off the glass and into the net as the Bulldog crowd erupted.
Tucker drove the floor and guard Nick Watson drew a foul with 6.9 seconds left and the Tigers in the double-bonus. Watson, who hadn't scored all night, connected with both free throws to tie the game setting up Johnson's heat-check game-winner.
The Bulldogs has three players in double-figures in the win. Johnson led with 13 points with three assists. Peyton Daniels finished with 12 points and Titus Hunter scored 11 points with one assist, one block and one steal.
Tucker was led by Montae Hill who scored 14 points on 5-of-8 shooting from the floor and 4-of-4 from the free throw line. David Giddeon added nine points. Raylan Barrion finished with eight points, one steal and one block
Class AAAAAA girls: Lanier High School won its first-ever state championship title in any sport with a 52-45 victory against Lovejoy in the Class AAAAAA girls basketball title game Saturday. The Longhorns put together a 21-8 run in the fourth quarter to put away the game after being behind 26-21 at the half.
Lanier is in its ninth season since the school opened in 2010 and is playing in its seventh varsity season. Coach Tim Slater entered the season as the third Longhorns coach in as many years. His team finished 29-3.
"It means so much for these seniors," said Slater. "All they've been through, how much work they've put into it and how hard they play. You can see that in every minute of every game we've ever played. Sure, it's my first year here, but it is not their first year. Those girls, they played their tails off. They played about as hard as a team could play. I can't tell you how proud I am of my seniors and how proud I am of my team."
Entering the fourth quarter, Lovejoy was nursing a 37-31 lead, but Lanier cut the margins to 37-36 on a Nala Lawrence 3-pointer with 6:52 left and a Kalen Surles lay-up 38 seconds later. Lanier took the lead with 5:51 left on a Surles floater from just inside the free-throw line, but Lovejoy went back on top with a Bryana Hardy layup eight seconds later.
Mariah Spain added to the Wildcats' lead with a layup with 4:33 left to put Lovejoy ahead 41-38, but Lanier tied it with 3:35 left on a Surles 3-pointer from the left corner. Lanier went ahead on a Campbell basket with 3:09 left and Christabel Ezumah extended the lead to 46-41 on a 3-point play with 2:18 remaining.
Mekala Fuller pushed the margin to 48-41 on two free throws with 1:33 left. but Lovejoy responded with a Genesis Bryant 3-pointer just seconds later to make it a four-point game. With 39.1 seconds left, Lanier's Campbell had a chance to put the Longhorns ahead by six but she missed both free throws.
On the other end, Boyd was fouled on a 3-point attempt with 32.9 seconds left but converted one-of-three to make it a 48-45 game. Lovejoy had no choice but to foul.
Fuller was the first to the foul line and her one free throw made it a two-possession game, 49-45. Lovejoy put up a desperation 3-pointer with 25 seconds left which missed, and Lanier controlled the rebound. Ezumah converted one-of-two from the line to make it a five-point game, 50-45. Fuller added an insurance free throw with 13 seconds left and another with 2.7 seconds remaining, and Lanier had its title.
"We knew Lovejoy was a heck of a team and coach (Cedric) King does such a good job," said Slater. "Obviously they have tremendous players, and we knew it was going to be a battle. We just had to stay calm. There were a lot of times where it kind of got away from us, but in the end, just having those girls that believe in themselves made the difference."
As the state runner up, Lovejoy finished the season at 29-4.